HyperSpin is a frontend, it is not a game or an emulator. A frontend is a menu system that can launch other programs and emulators from one menu. Without a frontend you would have to individually launch each program in Windows. If you're using an emulator you would also have to find and launch the games you want to play. HyperSpin simplifies that process by using a system of menus to launch your games. However, some downloaded MP4 files can't be played in Hyperspin correctly. And you may encounter similiar problems like these:
Q1: MP4 video preview with visual disturbance
Now if I go to a game in Hyperspin (here I should be able to see the preview video). The video is completely pixelated, green and not recognizable. WHILE the sound is played clean. But, outside of Hyperspin, with the VLC or Media Player, Mp4 play videos correct! According to which error sees this screenshot from?
Q2: Video snaps wont show?
I got a set of video snaps for mame in mp4 format, I put it in my Media/MAME/videos folder and when i scroll over a game, only the audio plays. The screen where the vid is supposed to play is black. I can play the video file fine on a media player but it wont show up on hyperspin. Anyone know the problem?? thanks
As some guys complained, the weird thing is that Hyperspin does not play some MP4 files. Actually, you can play MP4 on Hyperspin since 1.3, but need the right audio and video codec. Some guys have the same issue and trying to get it fixed as well. Somebody heard that this can be fixed in the following 2 ways:
1. Your intel processor. For this you could get a aftermarket graphics card
2. You could use the old hyperspin and have all the videos as .flv files
I've tried the two methods, however, neither of them worked. Finally, I converted the MP4 files to FLV files and the converted MP4 files plays well in HyperSpin. Now, in the following paragraphs, I will show a step-by-step guide to convert MP4 to Hyperspin for easier playback.
You can try hunting down a freeware program like Handbrake on the internet. While, those freeware won't work perfectly and the output videos in heavy loss. What I'd like to recommend is a professional and easy-to-use tool entitled EaseFab Video Converter. The program can help you re-encode almost all poular format including MP4, MKV, VOB, AVI, WMV, etc. to Hyperspin compatible FLV files with fast encoding speed and excellent output quality. For Mac OS X users, EaseFab Video Converter for Mac is for you. Now learn how to convert MP4 files to Hyperspin.
Converting MP4 videos for Playing in Hyperspin
Step 1. Add MP4 videos
Start EaseFab Video converter and drag .mp4 files to the software interface to import the file. It support batch conversion.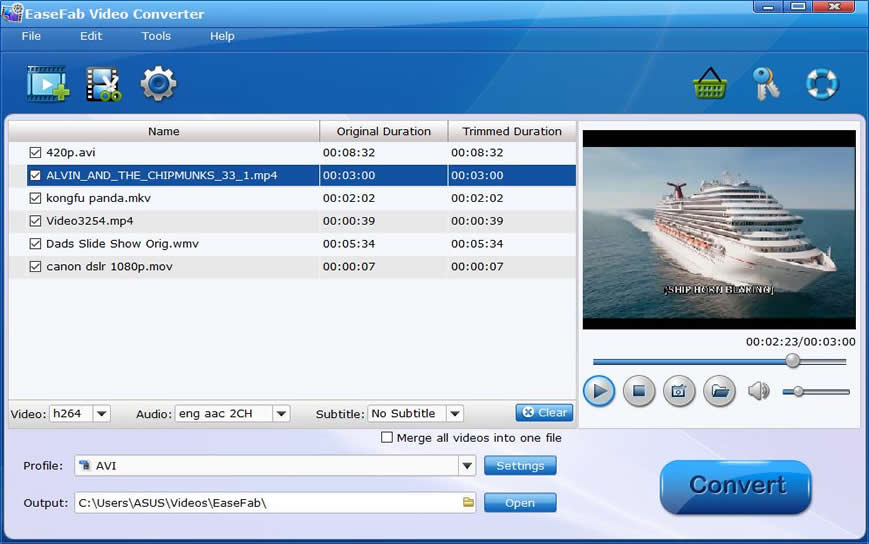 Step 2. Choose FLV as the output format
Click the "Profile" drop down list to select "FLV" from "Online Video" category as the output format. As you see, video presets for Vimeo, YouTube, Facebook, Yahoo Video, etc, are provided. Just select them if you want to upload to these online websites for sharing.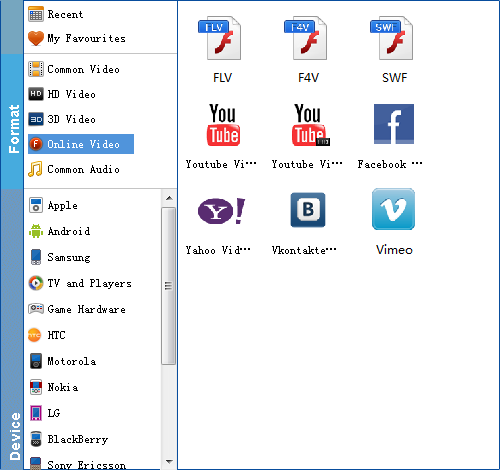 Tip: If it's necessary to change the FLV codec, resolution, frame rate, etc., click the Settings option at bottom. Besides FLV, 100+ video formats are also supported, including MKV, MPG, AVI, MKV, MOV, M4V, ASF, XVID, DV, and so on.
Step3. Start converting MP4 to Hyperspin
Just click "Convert" button to start MP4 to Hyperspin FLV conversion. Within a couple of minutes your videos will be successfully converted into Hyperspin most friendly format. Then, you can click "Open" to find your converted videos quickly and enjoy.
Hope this guide helps you play MP4 files on Hyperspin without hassle.