Eager to find the best and fast video converter to convert VOB to MKV on Windows (10) PC/Mac? Right here you'll find out how to convert and compress VOB file to MKV video format in 3 simple steps, in fastest speed, and in original quality with the best VOB to MKV converter.

What is VOB
Video Object (VOB) is a native DVD storage file format. This container format sometimes contains encrypted files in the form of DVD menu, audio, video, navigation content, and/or subtitles. The VOB file is the core of any DVD video and is usually found in the VIDEO_TS folder with a .vob extension. Each VOB file is usually less than 1 GB and Players with built-in MPEG-2 files can usually play unencrypted VOB files. >> How to Play VOB Files
Why Need to Convert VOB
● VOB cannot be edited.
● It can't be accepted by some popular players and popular devices, such as iPhone iPad.
● VOB is not size-friendly. It will occupy much hard disk space of computer.
● VOB file is part of DVD video. It may be copy-protected with Content Scramble System (CSS) as DVD disc, restricting the playback.
Why Choose MKV as the Target Video File
● High quality. Its video/audio quality can be close to DVD.
● MKV file is highly-compressed. It is very convenient for storing, uploading or sharing and it will not take up too much stroage space on your computer or mobile devices.
● MKV Is as Universal as MP4 Since MKV supports any type of video/audio tracks and subtitles inside, and is quite efficient for storage and streaming, it's widely used on video transmitting.
What Tool Is the Best Program to Convert VOB to MKV with Best Quality and Smaller File Size?
There is a long list of free or paid VOB to MKV conversion tools available. But if you are seeking for the excellent video output quality, fast encoding & decoding speed and the most formatsd supported, EaseFab Video Convreter Ultimate will be your best choice. As an one-stop media converter, it can help you convert VOB and any SD/HD/4K videos to to MKV in H.264/HEVC codec which is highly-compressed but retains high quality and can be easily played and streamed.
Besides converting VOB to MKV, it also enables you convert DVD disc, Video_TS folder, ISO, MKV. M2TS, AVCHD, WMV, MOV, FLV, AVI, Blu-ray, BDMV Folder, and more formats to MKV. What's more, it has 400+ built-in preset device profiles to convert any digital and physical media content to iPhone iPad, Android Samsung, HTC, etc on the journey. The whole VOB to MKV conversion process is superfast thanks to its hardware acceleration technologies.
To convert VOB file to MKV format, first of all download and install EaseFab Video Convreter Ultimate on your Windows(10)/Mac. Then follow the 3 simple steps below to finish the job.
[Tutorial] How to Convert VOB to MKV with Optimal Quality-Size Balance
Step 1. Load Source VOB Files
After downloading, install and run EaseFab Video Converter Ultimate on your PC or Mac, click Add Video button to load your source VOB files. (Note: batch conversion is supported, so you can load more than one file to save time.)
Note: If your VOB files are in a VIDEO_TS folder folder, you can drag the whole VIDEO_TS folder directly to the program, or open the VIDEO_TS folder, and pick the VOB files one by one. There are various VOB files in VIDEO_TS folder including adverting and trailers mostly main video file with the name VT_01_1.VOB. If not, select other big files in size.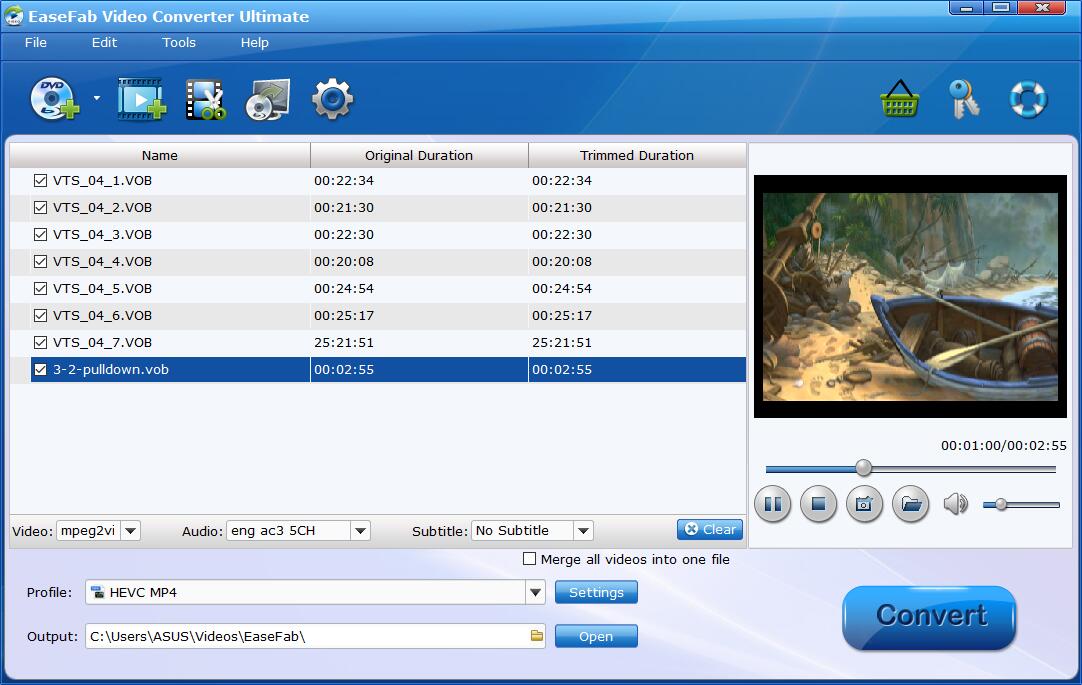 Step 2. Select MKV as Output Profile
Click Profile bar and move mouse cursor to Common Video category, here you can select MKV (codec: h.264) or HEVC MKV as the output profile.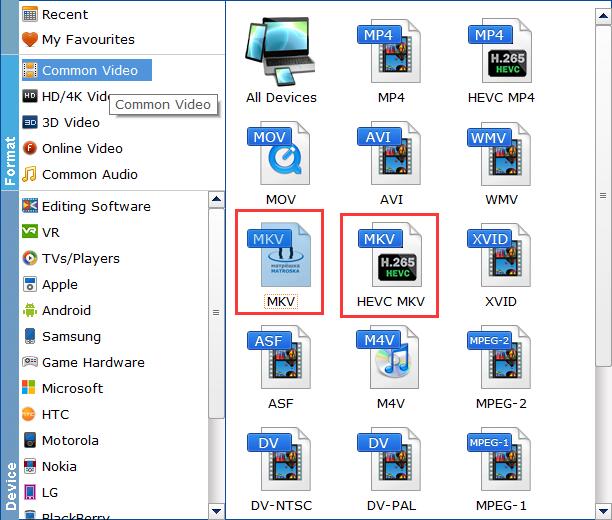 Tech details:
1. To get the best possible output quality and smallest file size, convert VOB to HEVC MKV. It has 50% smaller size at the same quality.
2. In addition to selecting HEVC MKV as the output format, flexible options are offered to further reduce the size of the encoded MP4 video. Click the Settings button beside the profile and enter into the parameter settings page. A slew of other variables such the video/audio codecs, pixel dimensions, frame rate, bit rate, audio sampel rate, etc. will help convert and compress a VOB file to a smaller MP4 file.
Recommended video quality/size settings for VOB to MKV conversion:
◆ You're not suggested to adjust the frame rate and aspect ratio, if not necessary.
◆ Lower the bitrate to a lower level. For example, adjusting the original Normal quality to bitrates of 1500-2000 is acceptable without noticeable pixellation.
◆ Lower the resolution. Typical DVD VOB videos are 720×480 (NTSC) and 720×540 (PAL). Adjust the resolution to 640×480 won't make any quality difference.
Please note: Adjusting these variables have some effect on the re-encoded video quality. You can go smaller, only at the cost of quality loss. Remember the file size and video quality is based more on bitrate than resolution which means bitrate higher results in big file size, and lower visible quality loss.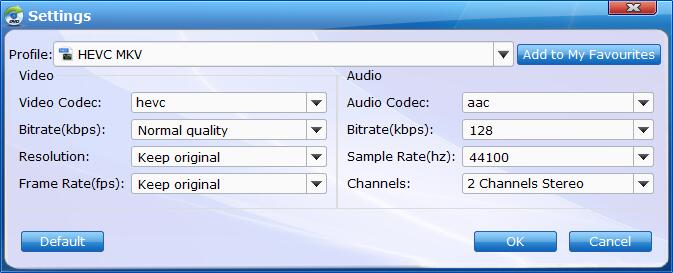 Step 3. Start conversion
Click the Folder button in the Output bar to select a folder to store the converted MKV video. Right click Convert to begin changing file format.