Sony XDCAM EX series (like PMW-EX3, PMW-200, PMW-EX1, PMW 150) are one of the high-end professional Sony camcorders with outstanding video quality. The footages are wrapped in XDCAM codec MP4 format at data rate of up to 50 Mbps. However, due to the codec incompatibility issue, Sony XDCAM EX MP4 footages cannot work smoothly in Final Cut Pro, which makes the editing become harsh to some extend.
As far as we know, native EX and XDCAM support may be up to Sony, not Apple. There is no "native" XDCAM EX support (unlike native DSLR support) in Final Cut Pro X and FCP 7/6- and the XDCAM Browser won't do the trick, nor will the Clip Browser. You have to use something you may not have used before: XDCAM Transfer. Using this plug-in, you can view thumbnails of your video clips and import the videos into your Final Cut Pro project. But the most troubling of all is that some users even struggled to download the plug-in, problems still occurred during the importing process. Then how to solve the problem? What's the best and quickest way to import MP4 footage from Sony XDCAM EX to Final Cut Pro?
FCP is designed to work best in ProRes, so the best method to fix the compatibility issues of Sony XDCAM EX and FCP is to transcode the MP4 footage to Apple ProRes codec. EaseFab Video Converter for Mac can give you easy but effective solution for importing XDCAM EX MP4 footages into FCP for editing. With the assistance of the program, you can effortlessly transcode Sony XDCAM EX media to ProRes 422 which ensures maximum editing quality and efficiency when working with Final Cut Pro 6/7/X. It works well and converts flawlessly. Here is how to do it.
Free download the Sony XDCAM EX Media Converter trial version:
Converting Sony XDCAM EX MP4 to ProRes 422 for Final Cut Pro
Preparation:
Connect your Sony XDCAM EX camcorder to Mac and backup the recorded .mp4 file on Mac.
1. Install and launch the Mac XDCAM EX Video Converter. This professional HD Video Converter can help you convert Sony XDCAM EX to ProRes 422 MOV format for Final Cut Pro, more output formats are also supported.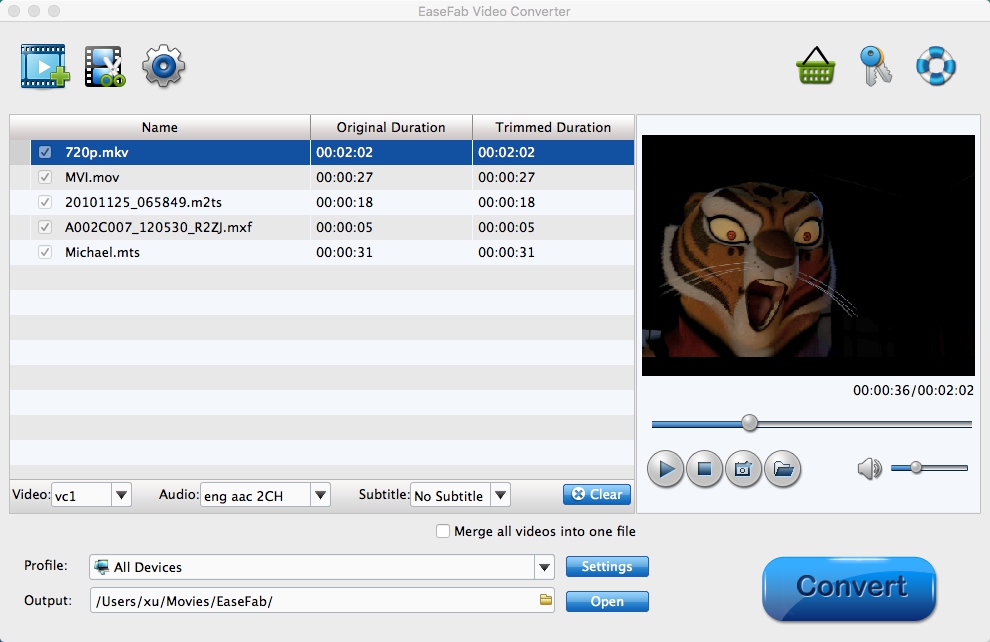 2. Click "Profile" box to choose the output format. Click on the "Editing Software" and you will see options to convert your mp4 video for certain video editing software. Since you will be importing the video to Final Cut Pro after the conversion, have Final Cut Pro or ProRes be your selected output format.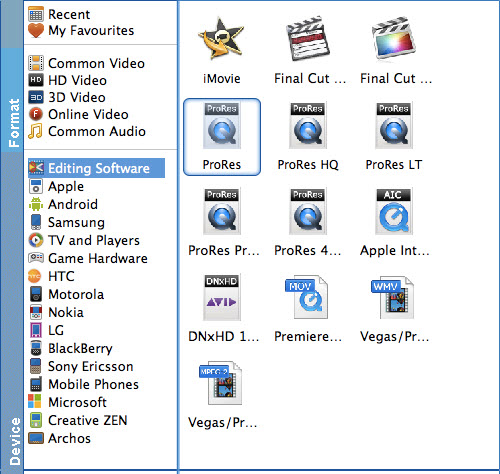 3. Click "Settings" to customize the output parameters, adjust the resolution, bitrate as you want.
4. Finally, simply click the "Convert" button to start transcoding Sony XDCAM EX MP4 to Prores for Final Cut Pro immediately.
After the MP4 to Prores conversion finished, you can easily import video files and projects into Final Cut Pro for further editing without any trouble. Congratulations! You have successfully taken the first step to make your own masterpiece.
With this Sony XDCAM EX to ProRes Converter, you can easily change XDCAM EX files to FCP for editing, this software runs fast, so you can convert your XDCAM EX MP4 footages to FCP in less time, video and audio synchronization are perfectly guaranteed.