It can be extremely annoying when you encounter a common file format like MOV and end up in "fail to open" situation in QuickTime. If you are a QuickTime user trying to open MOV files here, we'll provide you some solutions to QuickTime not playing/recognizing MOV problem.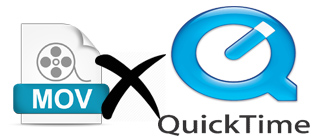 Part 1. QuickTime Won't Play An MOV File - Possible Reasons
As Apple's proprietary media player, QuickTime is distributed in free basic versions for Mac and Windows systems. Apple developed MOV as a digital video format that works natively with QuickTime. Although an MOV file may be compatible with QuickTime, it may still fail to load in the QuickTime player for the following various reasons:
Software Update
If QuickTime fails to play your MOV file, then it is possible that your application is obsolete and no longer supported. The media player may not be able to read the digital video because the technology that was used to encode it was recently developed. When in that condition, make sure to update your QuickTime player to the newest version.
Media Encoding
If your MOV file fails to load in other media players besides QuickTime (e.g. iTunes, VLC, GOM Player, Zoom Player), then the asset is probably corrupt. Since the digital video was not properly encoded in the first place, it cannot be read by QuickTime ( or any other supported application) even it is a compatible format.
Filename Accuracy
A file extension reveals what type of data is contained in a file, it also indicates which type of software should open the file. But since file extensions can be easily edited, they may not always be accurately assigned to files. As a result, your MOV file may not load in QuickTime because it has been misidentified as a digital video that is compatible with the application. But free tools like MediaInfo and FileAlyzer can analyze a problematic file's properties and confirm if it is using the right file extension. Some free tools like MediaInfo and FileAlyzer can analyze a problematic file's properties and confirm if it is using the right file extension.
Codec Support
Digital videos like MOV files are all products of compression. During compression, multiple streams of audio and video tracks are written with a special algorithm called a codec. If your MOV file fails to load in QuickTime, then it is possible that your system is not equipped to read the digital video's codecs.
Part 2. Easiest Solution to Solve QuickTime Won't Play MOV Video
In fact, only MOV file encoded with MPEG-4 or H.264 video and AAC audio is supported by QuickTime. If your MOV files are encoded with other video or audio codecs, QuickTime will refuse to play them. If QuickTime player MOV files playing back issue is caused due to unsupported codec issue, you can either use QuickTime's open architecture, third-party developers to create components or plug-in to QuickTime. Or you can try other third-party players like VLC to play MOV files.
If you don't want to install third-party tools and looking for a simple way to fix this issue, you can use a third-party video conversion application like EaseFab Video Converter for Mac to transcode MOV to QuickTime player compatible H.264 MOV, MP4 or M4V format. Besides converting MOV to QuickTime, the program also helps converting MOV files to iTunes supported file formats for syncing to iPhone 11/iPhone X, iPad Air/iPad Pro, iPod, Apple TV, etc.
For Windows users, you can get the job easily completed by downloading EaseFab Video Converter for Windows. Now just download the right version according your computer OS and follow the tutorial below to start the conversion.
Step 1: Add files
Drag the video files you want to convert to the video files list (Mac Video Converter supports batch conversion, so you can import multiple files at a time). You can also click the Add Video button to browse your Mac hard drive and add the MOV video files you want to convert to the program.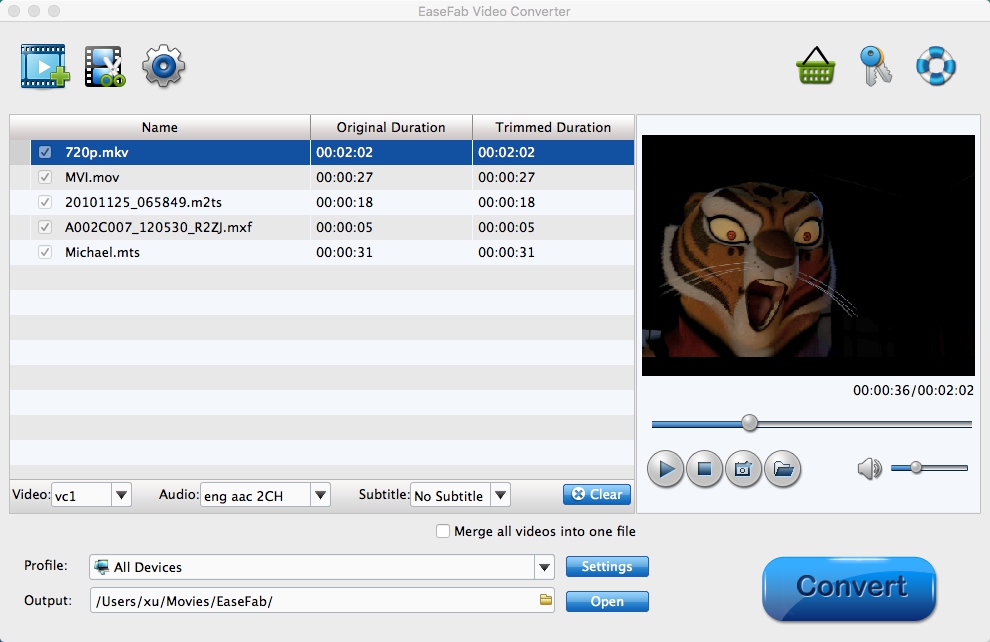 Step 2: Select an output file
Click Profile (located below where your files are displayed) and select the format you want from the drop-down list. Just below Profile is Output, here you can browse your computer for a better destination folder to save your converted movies. As you see, all regular video and audio formats like MP4, MOV, MKV, WMV, AVI, FLV, MP3, WMA, WAV, M4A, etc. are provided. Here you're suggested to select MOV (encoded with H.264 codec) as the output format.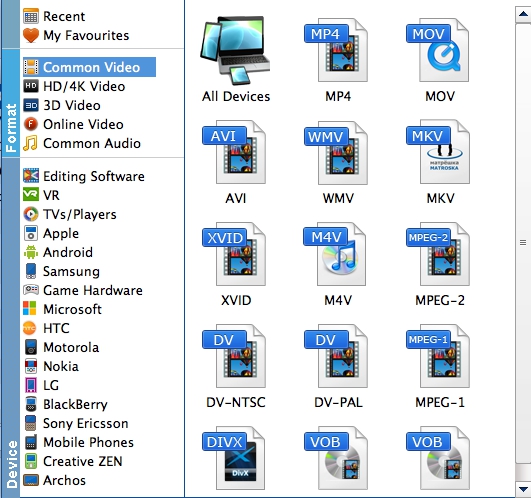 Step 3: Start the conversion
Once you've selected the output file format you want, you're ready to rip. Simply click the Convert button to let the software start converting your movie files. The ripping time depends on the quality and duration of the output movie. Wait for the conversion to be done and click Open to get the converted video files.
Part 3. How to Fix Corrupt MOV Which Can't be Played on QuickTime
There is another situation is that MOV file could be empty if import or conversion terminated prematurely before data could be copied to a newly created target file. Missing EOF might prevet file from opening. Video data rate less than minimum required to create key frames might display as black screen or video codec might not be supported. Corrupted playback in/out points in file might indicate file is empty in the Inspector even though Finder may indicate data is stored in the container. If your MOV files whatever recorded with digital camera or downloaded from website or received from others encoded with QuickTime incompatible video or audio codec, you will encounter cannot play MOV on QuickTime or QuickTime only play MOV with audio but no video.
In this situation, the MOV file is probabaly damaged or corrupted. Feel frustrated? Don't worry! The VLC player offers the option to automatically repair damaged files with an .AVI extension, considering that in this case we have videos in .Mov format, we will need to use the VLC function to convert the format to .AVI and thus the player can perform the automatic repairs.
Step 1. Open VLC and click on Media
This will open the format conversion tool.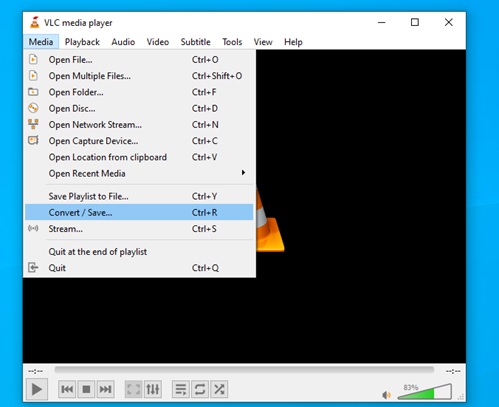 Step 2. Add a corrupted video
Here you will have the option to add the damaged file that you will convert to .AVI, once added the file click on Convert / Save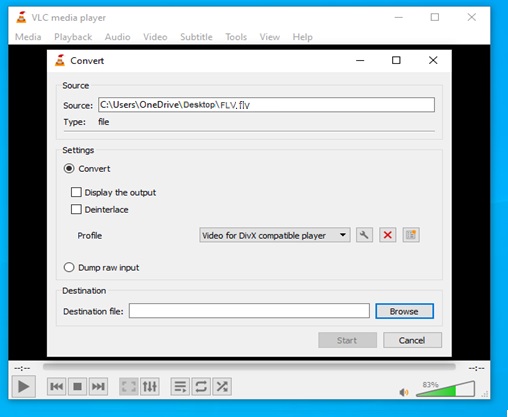 Step 3. Choose settings
Choose a Codec and set a location for your video and click on "Start".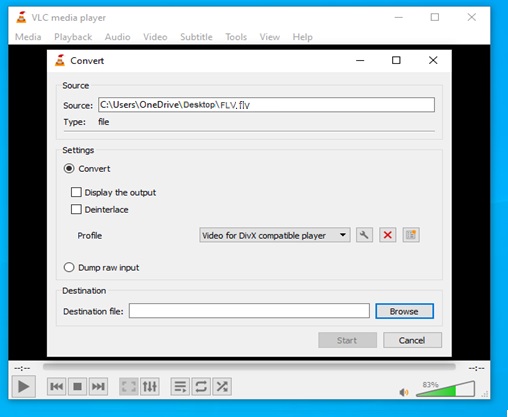 Step 4. Open VLC and click on "Preferences"
You can find the Preferences option in the drop-down menu of "Tools" or by pressing Ctrl + P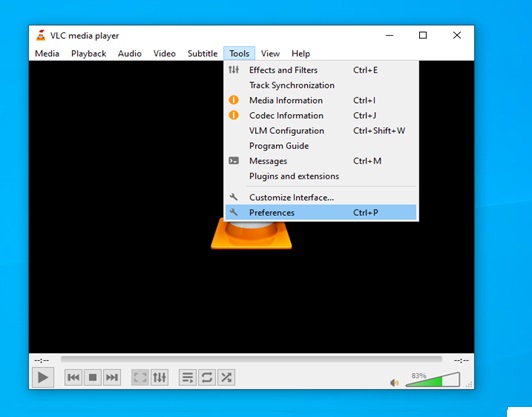 Step 5. Select "Always fix" in the "Damaged or incomplete AVI File" option
This option is located in the Input / Codecs section, once you have selected the Always Fix option, click on "Save"