"I have 3 mkv files that won't play on my Xbox One S. After using mediainfo I see they have DTS audio. Probably why they wont play. What media converter can I use to change the DTS to AC3 audio and retain everything else the same?"
Watching videos or movies on HDTVs will absolutely gives you a crisper and sharper image with better experience on big screens. However, many users find the certain MKV movies with DTS audio files not playing on their HDTVs. In fact, most HDTVs including Samsung TV, LG TV, Panasonic TVs has poor compatibility with some audio codecs, such as DTV audio, Dobly True Audio, which will make MKV not playing your TV. To fix such issue, the easiest way is to convert the video with DTS audio to a video with AC3 audio (Dolby Digital Audio Codec), which is the most commonly used and widely supported by almost all TVs and media players.
In this article, we will introduce an easy and quick solution to convert MKV DTS to AC3 audio while retaining the original quality. Also, you will learn some extended knowledge about DTS and AC3.

Part 1. How to Convert MKV DTS to AC3 Audio Without Quality Loss
The process seems to be troublesome. You extract the audio from MKV with an app, convert MTS to AC3 with another app, and add the new AC3 audio to the MKV files with a third one. Actually, this goal can be achieved effortlessly with an easy-to-use yet professional program called EaseFab Video Converter. This program can help you easily and fast encode/re-encode your MKV files with DTS audio to MKV files with AC3 audio without any quality loss. Besides, you can merge multiple MKV video clips into one file and convert MKV DTS file to any mainstream video formats for easier playback, sharing, sending or uploading.
Guide on Converting MKV DTS to AC3 Audio in Simple Clicks
The step-by-step guide is almost the same on PC and Mac. Here we will take EaseFab Video Converter for Windows as the example.
Step 1: Load the source MKV files with DTS audio
After downloading, install and run EaseFab Video Converter on your PC or Mac, simply drag and drop your MKV files to the program. You can also click Add Video button to load your source MKV files. (Note: batch conversion is supported, so you can load more than one file to save time.)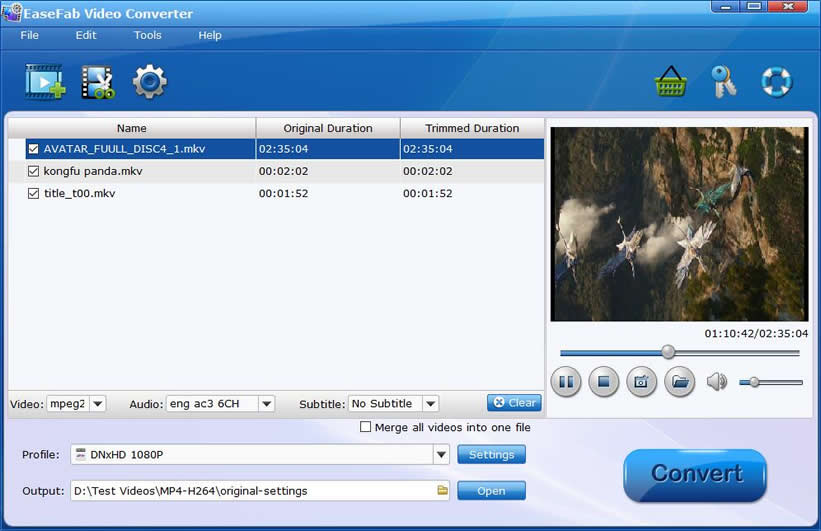 Step 2: Set the output format
If you just need to change DTS audio to AC3 (5.1 channel) audio and don't want to change the original MKV format, then you can select MKV from Common Video category as the output format.
Note: This app directly offers users with an optimized format for Samsung TV, LG TV, Sony TV, Panasonic TV and more. If you want to play MKV files on these TVs, you're advised to directly select the optimized format for your TV. So, you just go to TV/Players instead and then select your TV type.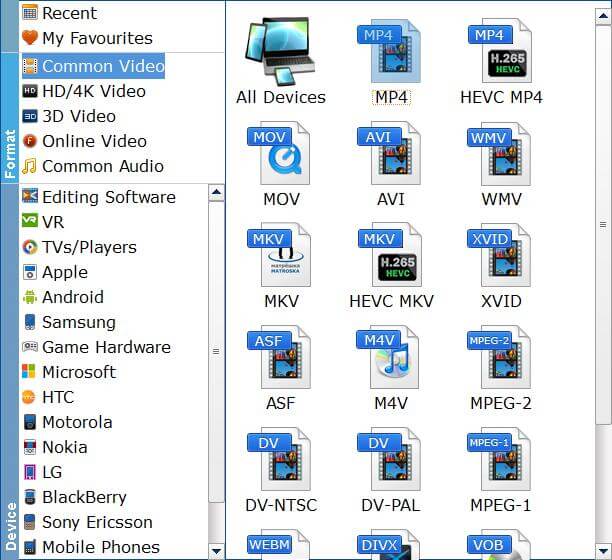 Step 3: Set advanced audio and video settings
Click the Settings button, and the following window will pop up. Here you can adjust video and audio parameters including codec, aspect ratio, bit rate, frame rate, sample rate, etc. For converting DTS to AC3 audio, set the Audio Codec as ac3. You can also adjust Audio sampling rate and Bit rate to fit your player. By the way, 5.1 sound is available in "Channels".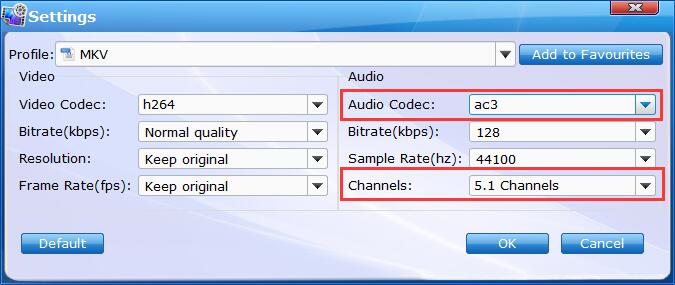 Step 4: Start DTS to AC3 conversion
Click the Folder icon in the Output bar to set a destination folder if necessary. Then hit Convert button to begin converting DTS to AC3 audio.
When it's done, you can click Open button to find the converted files and then you can stream or transfer the result files to your TV for smooth playback.
Part 2. AC3 vs DTS: Extended Knowledge and Comparison
DTS (Digital Theater Systems) and Dolby Digital (AC-3) are the two most famous audio codec used in professional cinema and home theater system to record and play back multi-channel high-definition audio. We often see them at the end of a film when we watch it in cinema or play a DVD at home. Moreover, we often see DTS or AC3 audio in MKV files, because these files are ripped from DVDs and the audio are kept unchanged.
DTS is adopted by DVD specification later than Dolby Digital AC-3, so some older DVD player, hi-fi system and HDTV only support AC3. To play DTS audio on your TV and other systems, you need convert it into AC3 format. For other users who want to enjoy their splendid DTS musics in their portable devices like iPod, iPhone, iPad, Android, etc and popular players like Windows Media Player, QuickTime, PowerPoint, etc, converting DTS to AC3, MP3, WAV, AAC, and FLAC etc is a customarily and highly recommended way to play DTS files anywhere without limit.
Comparison Between DTS and AC3 from Different Aspects:
Aspects

AC3

DTS

What is AC3/DTS

AC3 (Audio Coding) is nothing but Dolby Digital Audio Codec, which we commonly use these days on most of the audio devices. The audio compression for this format is lossy and Dolby Digital is the most commonly used version of this format which can house up to six sound channels together.

DTS is an audio codec that is a part of the LaserDisc, DVD, and Blu-ray specifications, which is a consumer version and used mainly at places where the loud sound is required. This format is used for large music systems and theatrical screenings and it is also a common distribution format for DVDs, for a simple reason that it is compatible with most of the supporting equipment.

History

Originally named as Dolby Stereo Digital till 1994, AC3 was initially called Dolby AC3 surround sound and later came to be known as Dolby Surround digital, which we now call as Dolby Digital.

The work on the development of DTS started in the year 1991, after which it entered the consumer market in 1996. It was suitable for a broad consumer spectrum for multimedia formats and pro audio products. Today DTS is one of the most common audio technology used in DVD players, theatrical screenings, digital media players, high-tech car audio systems, and set-top box telecasting as well as Blu-ray discs.

Compatibility

AC3 is compatible with equipment used for HDTV broadcasts, DVD playing, Blu-Ray discs, gaming consoles, and home theaters.

DTS is used for decoding DVDs and on film prints, especially those which are used for big screen playing like movie theaters and large size projecting purposes.

Quality

When it comes to the sound output quality, both are almost similar to hear but technically, DTS is better, clearer, and sharper than AC3. DTS is louder than AC3, without compromising on the sound clarity. AC3 uses Dialog Normalization, because of which the decoder decreases its volume by 4dB.

DTS, on the other hand, does not use any stabilizing, due to which will produce a higher and clearer volume.

Pros

• Takes up less memory and disk space.
• Plays in all DVD setups.
• Can achieve amazing sound output on home theater systems.

• Better and louder sound quality.
• Requires less compression (only 4.1 adaptive).
• Can house multi-lingual soundtracks without having to change the film.
• Media is less subject to damage even after multiple screening.

Cons

• Does not sound good when compared to DTS.
• Produces disturbing sound when the volume is raised.

• Occupies a lot of memory space on the disc.
• Needs a compatible DVD player and DTS capable receiver in order to play.
• Does not play in all DVD setups.