Summary: Why Plex has so many issues with MKV files, e.g. forced to transcoded, not showing up, skipping? Does Plex support MKV? Follow this article to find the answers and an easy way to play any MKV files on Plex without trouble.
As a streaming media server, Plex can be used as a portable library in which you can stream your collections of high-quality movies, TV shows, music, podcasts etc. from your computer to any other device, or also, share them with your friends. Though Plex claims to support MKV files and let you view them from virtually laptops/desktops to phones to HDTVs, the mkv playing error comes from time to time. For example, Plex won't detect MKV files, or your MKV video does not show up in the library on your dashboard/tablet app, or you can't even add MKV files to Plex's media library.
In fact, nifty this server is, there are always real scenarios where the quality of your Plex experience is decreased due to the problem of video file incompatibility. And MKV playback issue is one of the most common problems. The following article shows you why Plex not working with MKV and offers a quick fix to troubleshoot Plex MKV not showing error.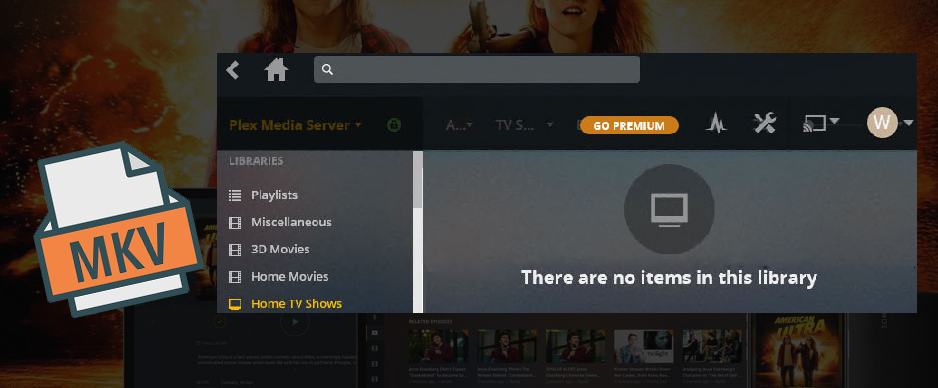 Part 1. Why Plex Won't Recognize or Play MKV Files Smoothly
Why Plex won't recognize the MKV files while scanning library files? Actually, it can be caused by various reasons. To be specific, there's a number of potential scenarios how Plex not working with MKV and below are some of them.
1. Poor named MKV movies might have been matched as a different movie.
If random named MKV video not showing in Plex, you may find it in "rencently_added" column. In such a situation, make sure the whole file names were being recognized by Plex. For example, if all of mkv videos are all Sports videos so the names, there were kind of random. To solve it, you can set 'Scanner' as 'Personal Video Files Scanner' and 'Agent' as 'Personal Media'. Plex picks up pretty much any file with that setting. However, I found it's stuttering on when playing large 4K HEVC MKV files via Plex.
Reason 2. MKV files following the naming convention for multi-file movies end up as a single record in your library (e.g. Movie Name-part 1.ext and Movie Name-part 2.ext will result in an entry called Movie Name which will play both entries in sequence).
Reason 3. Depending on your library settings, movies might be automatically associated with a collection and only display inside that collection.
Reason 4. MKV format/codec is not supported or MKV media with higher bitrate or with soft subtitles
Checked everything OK but still encounter MKV playback issues? Why my MKV file is being transcoded by Plex? Feeling frustrated? Well, accoording to the plex.tv, MKV with the following video and audio encoding is natively supported by Plex.
Video encoding: H.264, hevc (H.265), mpeg4, msmpeg4v2, msmpeg4v3, vc1, vp9, wmv3
Audio encoding: aac, ac3, alac, e-ac3,flac, mp3
This means if your MKV is encoded with the above video and audio codec, it should be able to direct play on Plex. Given this, why your MKV file is still required to be transcoded? Why Plex not recognizing your MKV files? There are many situations that can lead to this issue, for example:
① Your MKV is packed with soft subtitle streams.
② You have turned off the Direct Play and Direct Stream option in Plex by accident.
③ The MKV video is not compatible with the devices that installed Plex media server.
④ The bit rate of the MKV is higher than Plex request.
⑤ Your MKV files are TV shows or series, which will not show in Plex library if you haven't renamed them correctly.

Conclusion: From above, subtitle is absolutely the most likely one for MKV transcoding on Plex. MKV is a video container format which can store video, audio and subtitle streams. That's why many people make their videos in MKV format. However, to play MKV on Plex, such subtitles need to be burned on the video. Even though your MKV file is compatibile with Plex, it is still required to be transcoded. Then you probably find the MKV transcoding process stucks and MKV fails to play owing to underpowered hardware, especially when you're trying to play MKV on Plex from NAS. Most NAS media are based on ARM CPU, which is not powerful enough to transcode 1080p, 4K videos.
MKV is a nice container for video libraries… but some devices or players do not support them via direct play in Plex, making MKV files not playing errors like skipping/dropping frames, stuttering, video lags, grainy image quality and even MKV not showing in Plex library. To avoid lousy matters such as choppy playback and regular buffering, you'll find that transcoding your video files to a suitable format is the most efficient way out.
Part 2. How to Fix Plex MKV Playback Issues (100% Working)
- Convert Plex unrecognized MKV files to MP4 for better compatibility.
Transcoding MKV files to MP4 in advance for more widely support on Plex across desktops, laptops, TVs, and mobiles is a great idea. There is a long list of free and paid conversion programs and tools available. But if you do not want to be held back by slow processing and poor output quality, EaseFab Video Converter is there for you. This program is available for both Windows and Mac PC and it can cope with all MKV files with encoded video/audio streams.
As an excellent MKV video converter, EaseFab Video Converter can convert MKV to MP4, MOV, AVI, WebM, and 420+ profiles, transcodes HEVC MKV to H.264, DTS to MP3/AAC, and changes MKV video specifications like resolution (eg. 4K to 1080p), bit rate, frame rate etc. As for the video quality, don't worry too much. With the constantly updated conversion algorithm and the advanced high quality engine, it guarantees you the MKV file size will be compressed greatly without quality loss. Moreover, the mbedded hardware acceleration tech will invoke GPU encoding/decoding built in graphic cards, achieving up 30X faster video conversion speed to encode MKV to MP4 with HEVC/H264 codec.
How to Convert MKV to MP4 for Plex with 3 Simple Steps
To begin with, you need to download and install EaseFab Video Converter Windows or Mac version on your computer. The guide below takes the Windows version for an example. The conversion process on Mac is the same.
Step 1. Click "Add Video" button to load source MKV files. You can load multiple MKV files or other Plex incompatible video files to convert at a time.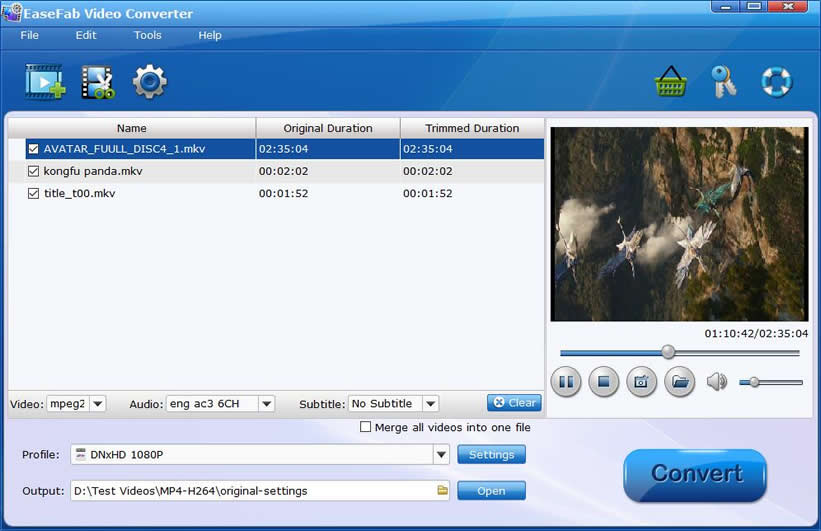 Step 2. Go to "Profile" bar and choose MP4 (h264+aac) from Common Video category. Optionally choose preferred audio track, subtitle, output folder according your needs.
Click the "Settings" icon, you can adjust video audio parameters. But if you don't know parameters very well, just keep the default settings which are the best settings for your Plex.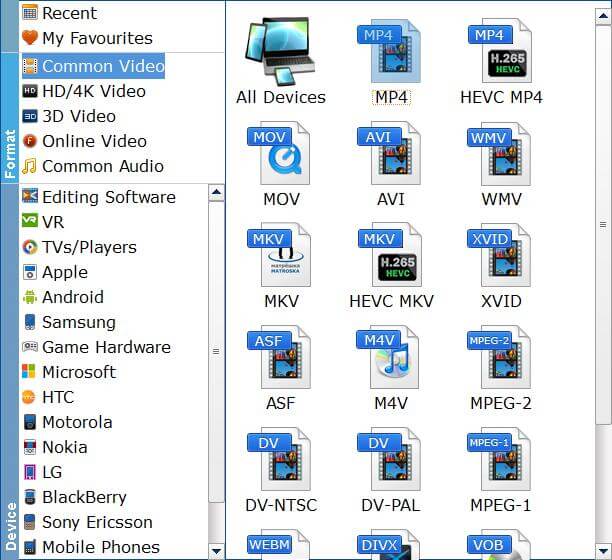 Step 3 (Optional). To burn the subtitle to the result MP4 video, simply click "Subtitle" and click "Add Subtitle" tab to browse and import your *.srt, *.ass, *.ssa subtitle file you want to embed. After that, you can have a preview of the subtitle effect to make sure all goes OK .

Step 4. Hit the big Convert button to start conversion. If your computer configuration is high enough, Intel/NVIDIA/AMD hardware accelerator will be auto enabled to boost decoding and encoding speed. Once done, you can load the transcoded MKV files to Plex library for Direct Play without buffering/freezing.
Final Words:
Plex is an ideal streaming server which will give you free access to videos, movies, DVD, Blu-rays, TV series at the go. To optimize your experience as a Plex user, the best workaround is to transcode your media files to MP4(codec: h.264+aac). To digitize your DVD/Blu-ray collections, convert ISO, Video_TS folder, BDMV folder and Plex unrecognized files like MKV, VOB, TiVo, you can adopt an one-stop media converter EaseFab Video Converter Ultimate for help.