Watching movies on your Mac is not the best way to do it but you can't carry a TV on the Plane, yet. And no matter you download your favorite videos from online, or get a copy from DVD/Blu-ray discs, you're in a great chance to meet MKV videos, which saves multiple audio, subtitle, chapter tracks at high-definition. Unfortunately, you may have come to realize that your Mac's default media player, QuickTime Player, doesn't support .mkv files by default. Not to worry though, there are always solutions out there that can help us to make MKV files playable on Mac easily. In this article, we'll show you the top 3 ways to play MKV files on a Mac.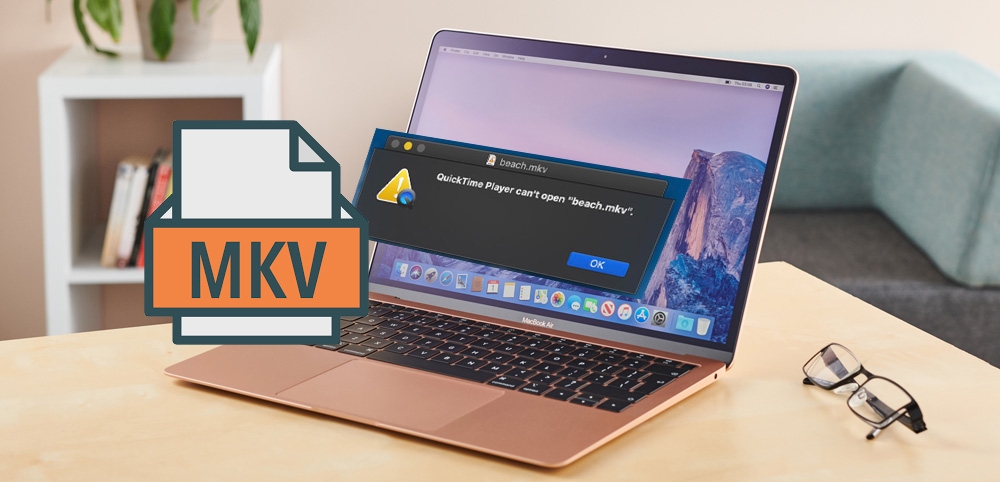 ◉ What is an MKV file?
MKV is a multimedia container format that can hold video, audio, picture and subtitle tracks, all in one file. It can hold an unlimited number of these media in a single file irrespective of the type of encoding needed for each. So that means you could have an MKV file that contains both H.264 video and AAC or MP3 for audio. MKV extension is commonly used for HD movies and TV shows. It is great for playing videos, audios (in movies) and videos with subtitles.
The great thing about MKV format is it was designed to be future-proof and that way its files wouldn't become outdated. A few ways this was achieved include:
● Accelerated seeking
● Online streaming compatibility
● Subtitle support
● Metadata suppor
● Corruption recovery - allowing corrupted files to be recovered and playable
Solution 1: Install a third-party media player to play MKV files on Mac
Instead, the simpler option is to opt for an alternative media player that has MKV playback capabilities built-in and ready to run from the get-go. Here we list the 3 best and free MKV video players that will work on the Mac. The best part is they're all compatible with macOS Big Sur as well.
#1. VLC Media Player
When it comes to an all-around video player for Mac, our top choice is VLC player. VLC is known as the video player for Mac that plays all formats. It supports almost all file formats with ease, and MKV is one of them. One of it's most favourite features are its high security measures used to keep viruses and spyware at bay, granting much comfort to its users.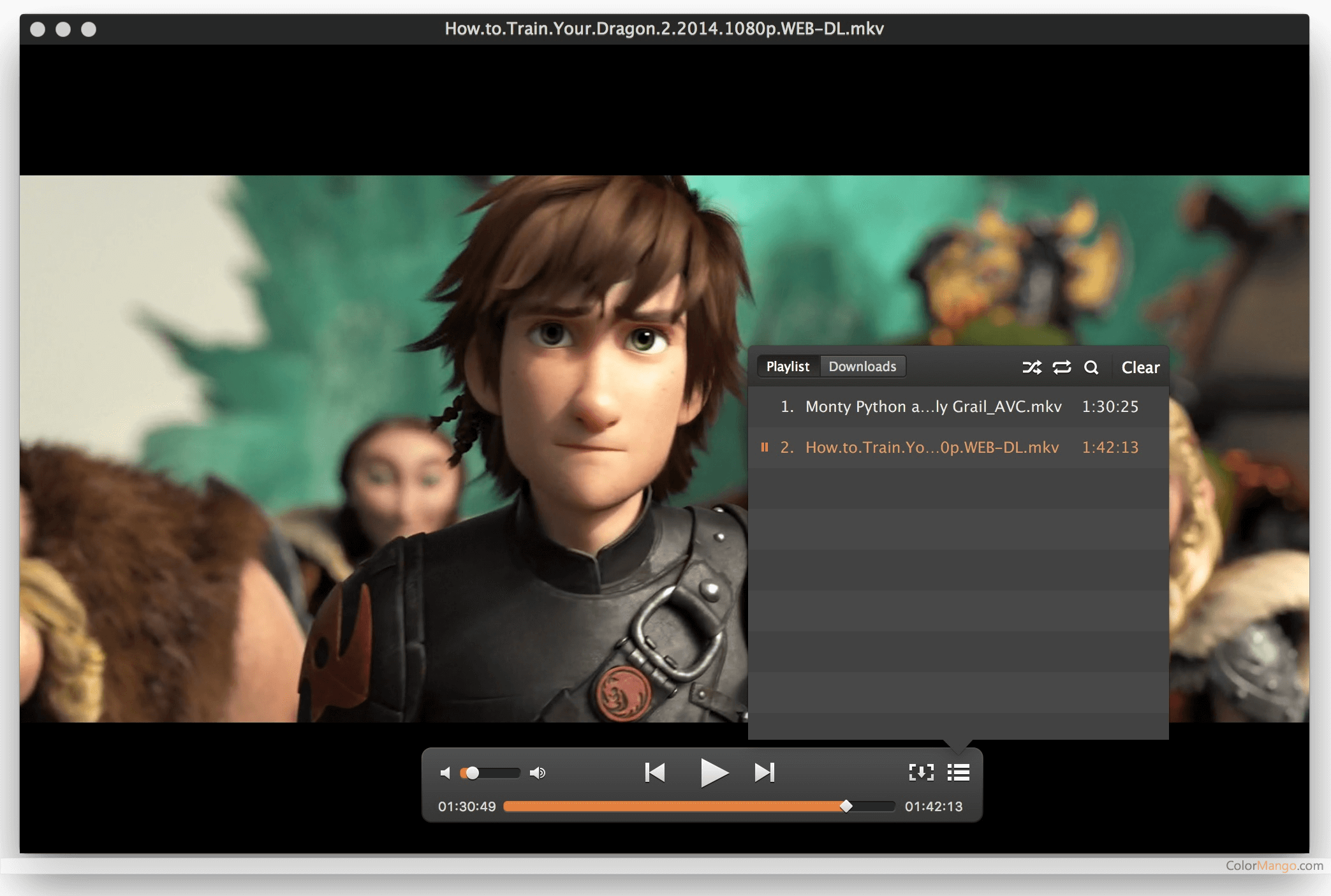 #2. Elmedia Player
Elmedia Player is another solid option to play MKV on Mac. It natively supports all kinds of file formats, from FLV, SWF, AVI, MOV, MP4, MP3, and of course MKV. This popular MKV player for Mac gives you the best HD quality viewing experience without any lagging or unsynchronized audio thanks to its robust hardware accelerated decoding.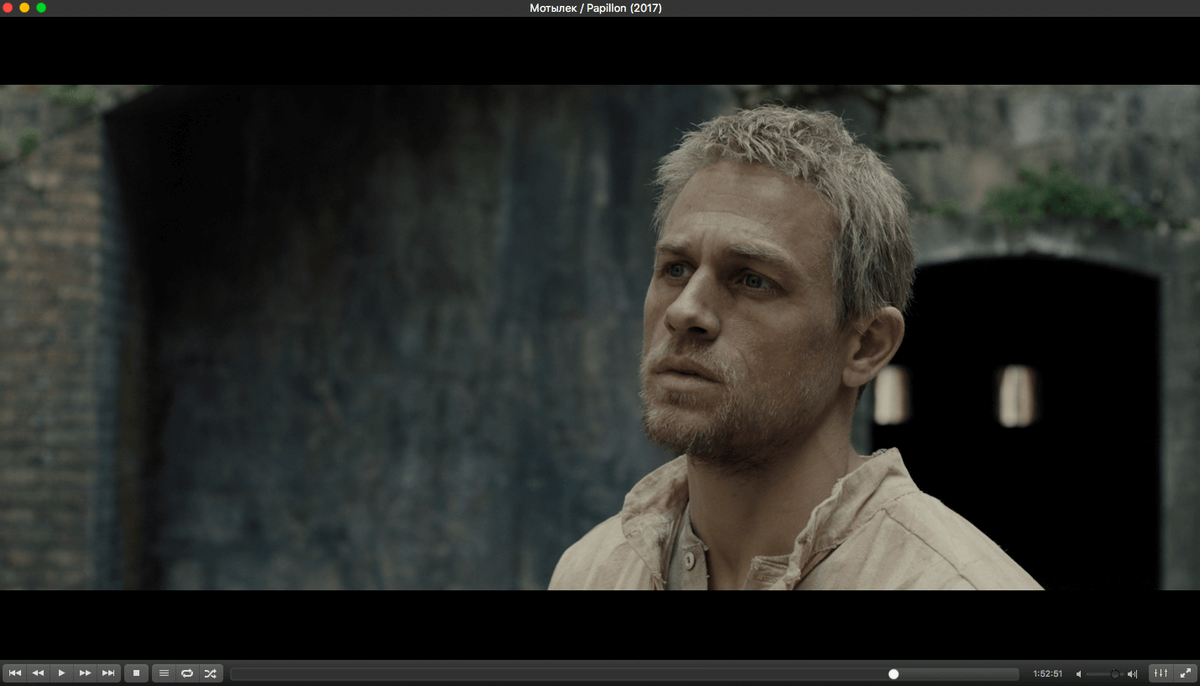 #3. 5KPlayer
5KPlayer is another popular free MKV video player for Mac. It provides a very user-friendly experience, especially when it comes to file format compatibility. You get an endless number of options to customize your viewing experience. Whether that's connecting via AirPlay, downloading HD video straight from the web, or high quality audio extraction, you get it all with 5KPlayer.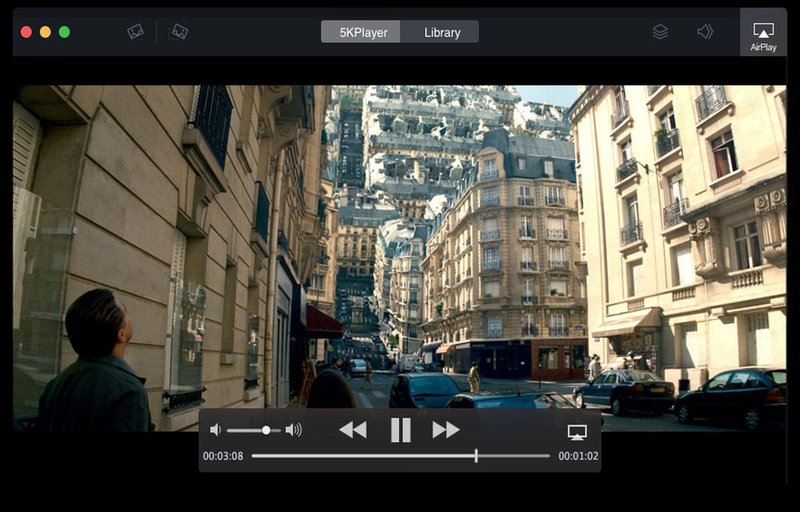 Solution 2: Download Plugins to Extend QuickTime support for MKV files
If you're QuickTime obsessed, you can try Perian anyways, or other plug-ins like Windows Media Component –Flip4Mac or Xiph QuickTime components to enable your QuickTime to play MKV files.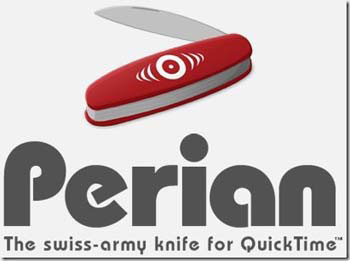 Note: Since Perian was shut down in 2012 and hasn't been updated for more than a year, you can grab your chances and make an attempt there. Flip4Mac is a fee-based software plug-in for QuickTime.
Solution 3: Play MKV files on Mac by converting MKV files to MP4, MOV...
Sometimes, even you've installed a powerful third-party MKV players on your Mac, you may still encounter MKV playback problems. Take VLC for an example, you may encounter VLC MKV playback errors like these below:
● MKV video codec not supported error with a message that "No suitable decoder module".
● You may get stuck in 4K HEVC MKV stuttering, video lags, dropped frames, pixelated image and even crashing/freezing on VLC.
● Unable to see subtitles, or subtitles not loaded correectly when playing MKV in VLC.
● Sometimes, VLC plays MKV in no sound, no video with a black/green screen, or audio video out of sync.
If you're unfortunate to be one of those who have encountered "VLC or other Media player won't play MKV" issues" on Mac, transcoding MKV files should be a very helpful method, especially you're using a old Mac computer or you're trying to play high-bitrate 4K MKV files. Compared with MKV, the videos formats MOV, MP4 are more compatible with Mac, QuickTime Player, iPad, iPhone and other portable devices.
EaseFab Video Converter for Mac is top-notch video conversion software, which concentrates on offering simplest and fastest solution to convert any 4K/HD/SD videos. The program is compatible with all Mac OS X systems including the latest macOS Monterey 12. It is capable of converting 4K/HD MKV to MOV, MP4, iPhone iPad, Android, Xbox, PS4 and 420+ profiles, and compressing large-sized MKV videos by up to 90% with high video & audio quality reserved.
To begin with, you need to download and install EaseFab Video Converter on your Mac. After this, you can move to the following steps to do the MKV to MOV/MP4 conversion on Mac.
Tutorial: How to decode MKV to MP4/MOV on Mac
Step 1: Click "Add Video" to load the source MKV video. "Dragging and droppping" works too.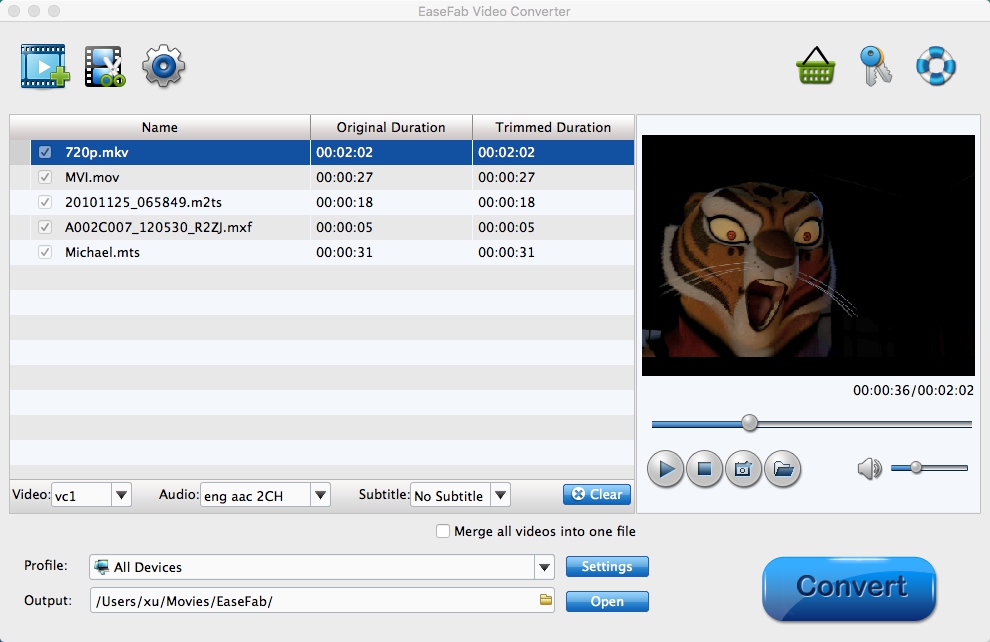 Step 2: Click the "Profile" bar at the bottom, move mouse cursor to "Common Video" category and then select "MOV" or "MP4" as the output format.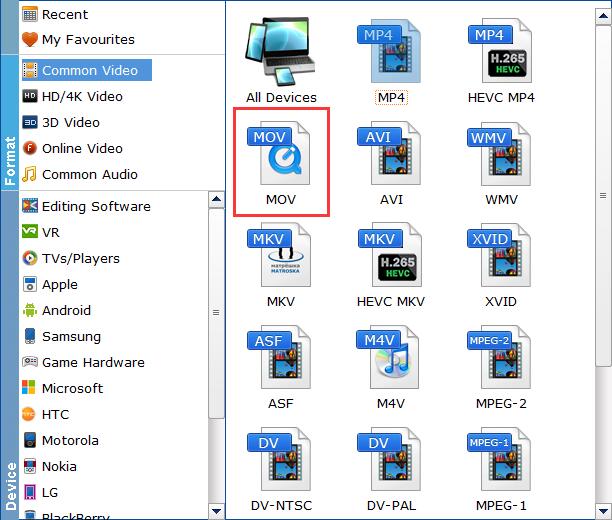 Step 3: Tap "Convert" button to finish MKV to MOV/MP4 conversion in a very short time. Once done, you can then play the result files with QuickTime player on Mac without any trouble.
Final Words:
These were the 3 ways with which you can play MKV files on a Mac. Installing a third-party Media player is our recommended choice because it gives you so much more than just MKV playback, even AirPlay. Installing a plugin is also an easy way to play mkv files if don't want to move to a new media player considering QuickTime is already powerful. EaseFab Video Converter is the best when you need to convert and transfer the MKV and other movie files to the iPhone, iPad and iPod. This gives you more control over the quality and you can optimize the video for specific devices.