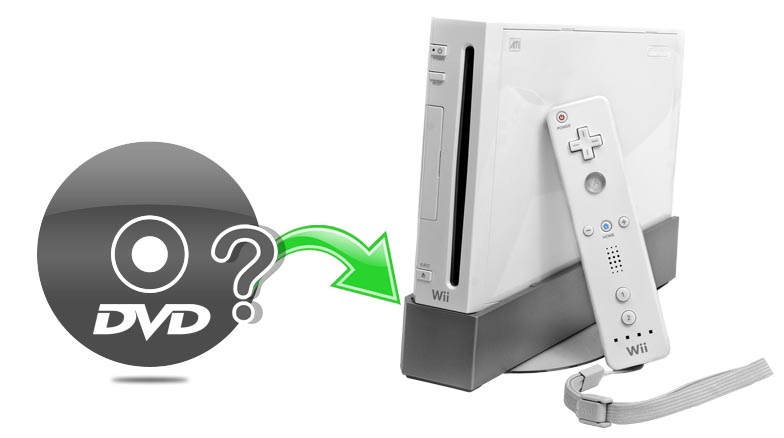 Can the Nintendo Wii or Wii U play DVD movies? The answer is yes, but not directly. As a home video game console released by Nintendo, Wii provides various fun and intuitive games to most family. This wireless blue-tooth connection of remote controllers gives the whole family a great chance to play together, not just sit in couch. Although the the console does not support playing the DVD or Blu-ray disc directly, there are other ways round for the same. Read on to find the two best ways to play DVD on Wii.
Possible Reason for Will/Wii U Does Not Support DVD Playback Directly
Most likely because by the time Wii was released, stand-alone DVD players were already pretty cheap, streaming was just starting to become popular (Wii was one of the first gaming devices to have a Netflix app, before even Xbox 360) and Nintendo would have had to pay a per-device license fee for DVD functionality which would have just added cost to the system for something not everyone would use.
Method 1: Use Homebrew to play DVD on Wii/Wii U (Free but Risky)
Though the official site of the device says "No" to this question, but using The Homebrew channel you can play your disc on this glowing blue drive. I know it's old news for some, but for those of you who always wished that glowing blue drive could play your games as well as your movies, it's now easier than ever. Here's how to it, no warranty voiding mod-chip required.
This method is designed by the team of Wii coders which provides the option to the users for unlocking Wii and playing their DVDs. Using this solution, you need to download the homebrew video player which is also known as Wii unlocker, copy the file to the SD card and then use the Channel to apply the 2-second patch. Once the patch is up ad runs, you need to open the Wii Mplayer app from the Homebrew channel, insert the disc and let Wii play DVD.
The good:
Once installed, you can then pop into the MPlayer app from the Homebrew Channel, put a video DVD in the drive, and your favorite video will be right in front of you in no time.
The bad:
You have to download a homebrew video player, copy them to an SD card, and use the Homebrew Channel to apply a two-second patch. And you have to take note that there's a corresponding risk on the Wii if you do something wrong.
What you need:
Though the method of Homebrew Channel seems to be simple, certain requirements needs to be fulfilled before proceeding with the actual steps.
· A Nintendo Wii console with system version 3.2
· A FAT/FAT32 formatted SD card below 2GB as Wii cannot read SDHC cards
· An SD card reader/writer (alternatively, you can also use a USB device which works as one).
· The Legend of Zelda : Twilight Princess for Wii
· The Twilight Hack. It is a modified Zelda game that runs the Homebrew Channel Installer)
· A Homebrew Channel Installer
· Media Player which is compatible of playing commercial DVDs(MPlayer)
· DVDX app which allows Wii to read the inserted DVDs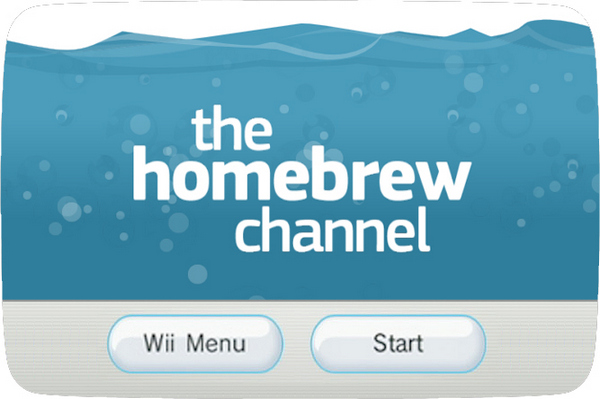 Steps on how to watch DVD on a Wii/Wii U via The Homebrew Channel:
It is important to note that there are two essential steps that need to be carried in order to successfully play DVDs in Wii. These processes include installation of the Homebrew Channel as well as the DVD player.
Step 1: Install the Homebrew Channel.
1. Insert the SD card into the slot of the reader and copy the "private" directory of the Twilight Hack on your card. Here you also need to copy the Homebrew Channel "boot.dol" file.
2. Next, insert the SD card in the Wii and then delete the saved Zelda file on Wii File Manager. If you do not have the game already, you can start a new one.
3. There comes 2 versions of the Zelda- RVL-RZDE-0A-0" or "RVL-RZDE-0A-2. Though both these versions work, but you need to check and apply the correct hack. For example, RVL-RZDE-0A-0 works with TwilightHack0 while RVL-RZDE-0A-2 is compatible with TwilightHack2, both are available in the package.
4. Next, move to the file manager and then switch the SD view. Now copy the correct version of the hack.
5. Finally, insert the game disk of Zelda, start the game, and then save it. After the Homebrew Channel installer starts, you can enjoy playing your DVDs.
After the process is complete, you can access the Homebrew channel like any other Wii program.
Step 2: Install DVD Playback program.
1. Once HBC is successfully installed you now need the installation of a third party DVD player which will allow you to play your discs on Wii consoles.
2. On your SD card, find a space which is safe and where you can install and copy the third party DVD player app.
3. Insert the SD card in your console and start HBC. You will have access to the 2 programs which are present on your SD card. Next, run the DVDX installer app. Select the "Normal installation" as it ensures smooth running of the program without any issues.
Step 3: Play DVD on Wii.
1. Go to HBC and select MPlayer.
2.Select DVD-Video and then choose the Title.
3. Finally, play your desired DVD.
Method 2: Best and Safe Solution to Use Wii/Wii U to Play DVDs Smoothly - Recommended
Is there an available way to get Wiil to play DVDs without any limitation and risk? The answer is "Yes". You can convert DVD to Wii compatible formats for further playback without any risk to brick your Wii. There are many DVD ripping tools out there that can help you get the job done. Among them, EaseFab DVD Ripper is such an excellent program that facilitates converting your DVD videos to Wii compatible formats which can be then copied to the console for playback. Besides the 1000+ popular output video formats, the program also offers a library of preprogrammed optimization profiles for specific devices such as smartphones, tablets, gaming systems, smart TVs, VR and more. What's more, you can customize DVD movies through advanced editing features and get professional-looking works in minutes.
EaseFab DVD Ripper - An Easy-to-use and Fast DVD Ripping and Copying Tool
· Convert DVDs to Wii/Wii U supported formats and play on Wii devices smoothly.
· Support Any Kinds of DVD, DVD Folder & ISO/IFO Image
· Convert DVD to Any Mainstream Video & Audio formats
· Convert 6X Faster and Keep Excellent Ouput Video Quality
· Offer A Library of Optimization Profiles for Specific Devices
· Back up & Copy DVD with 1:1 Original Quality in Minutes
· Easy-to-Use Video Editor - Make Your Video Stand Out
Simple Steps to Convert DVD to Wii/Wii U Supported Video Formats
Step 1. Load DVD movies
Insert the DVD disc into your computer's DVD drive and click Load DVD to add the DVD files to the program. All loaded files will be displayed on the left item bar. As you can see, you can preview them on the right and take snapshots of your favorite movie scenes.
Tips: After the files are loaded, you can select the subtitles and audio track you prefer. On the right windows, you can preview your files and take snapshots of your favorite movie scenes.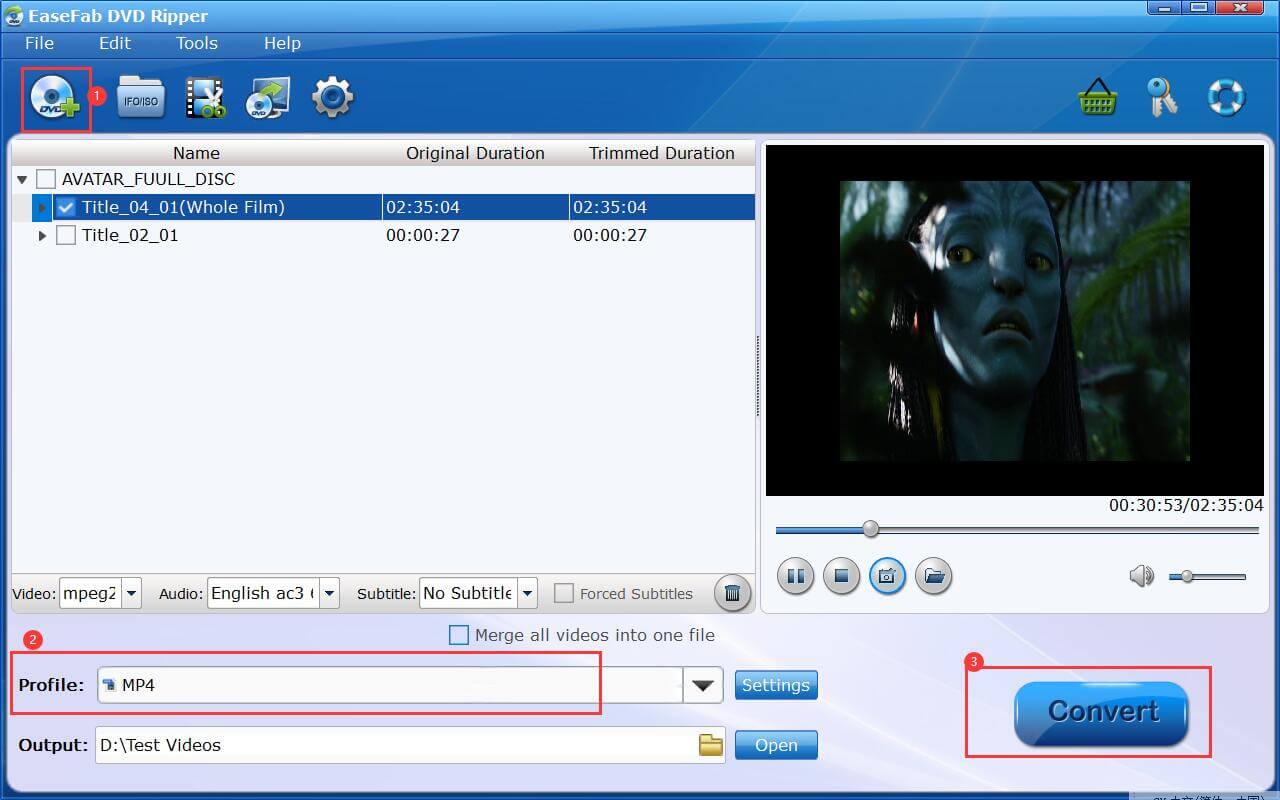 Step 2. Choose Wii preset as the output format
This DVD to Wii ripper provides optimized presets for Wii. So in this step, you can just choose the ready preset for Wii as the output format, which will remove all the incompatibility issue.
Tips: You can click "Settings" button to customize video quality like resolution, frame rate, bit rate, audio quality etc. Keep in mind that bitrate higher results in big file size, and lower visible quality loss, and vice versa.
Step 3. Start the conversion and copy video to Wii
After everything is OK, you can press the Convert button to start ripping DVD to Wii/Wii U. Once the conversion process is complete, copy the file to your SD card, and insert the same into your Wii/Wii U console and enjoy the videos.
So for the queries on can the Wii u play DVDs safely without any risk of damaging the gaming console, the answer is yes, when EaseFab DVD Ripper is there.