Vimeo gives users around the world a good place to upload, store, and share their videos over the worldwide web. Depending on your type of account, there are many file formats that Vimeo supports. However, DVD is not included in the list. If you're a Vimeo fan and love to upload your favorite DVD movies to Vimeo for sharing with your family and friends, you have to convert DVD to Vimeo friendly video formats in the first place. Here you will learn the fastest way to get DVD videos uploaded to Vimeo.
To transfer DVD clips to Vimeo, a DVD ripping software is essential. Here EaseFab DVD Ripper is recommended to you. It can help you convert DVD to supported video formats without losing much quality. To make it easy for you to convert movies in DVD to Vimeo supported format, EaseFab DVD Ripper offers optimized preset for Vimeo, you can rip DVD to Vimeo in a simple click and no need to worry about the format compatibility. Besides, you can also use it to rip DVD for YouTube, FaceBook, Yahoo Video, etc. Now download the program and follow the guide below to upload DVD movies to Vimeo.
How to convert DVD to videos for sharing on Vimeo
Step 1. Import DVD movies
Launch the program and click Load DVD to add DVD folders, ISO files or IFO files. All added files will be displayed on the left item bar and you can preview them in the right Preview window as the picture below shows.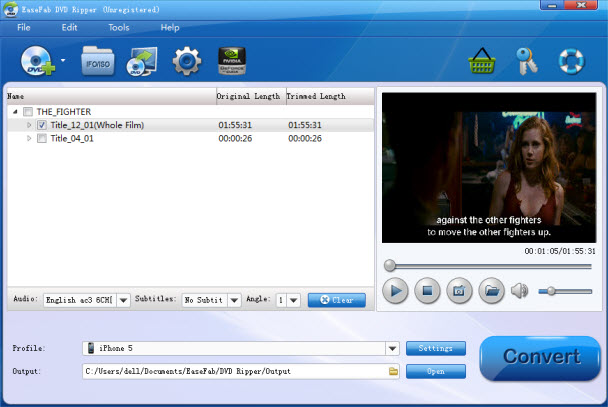 Tips: Basic Vimeo users can upload 500MB videos a week while VIP users can upload 5GB videos a week. So please pay attention to the video size when ripping DVD movies for Vimeo.
Step 2. Choose "Vimeo" as the output video format
Next, specify the output video format. You don't need to be confused about what format to choose. Video preset for Vimeo has been provided. Just click "Profile", go to "Online Video" category and set "Vimeo" as your output video format.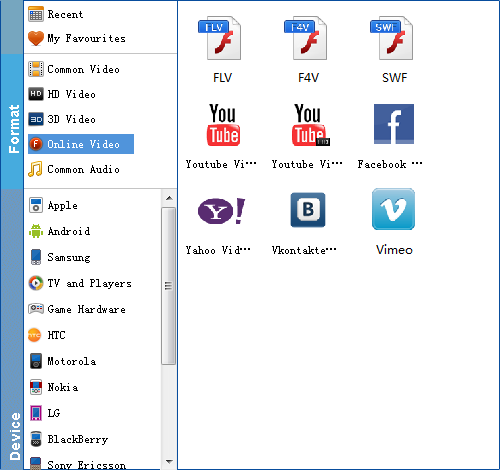 Step 3. Start ripping DVD to Vimeo
After the above two steps, go back to the main interface and click the "Convert" button to begin converting DVD movies to Vimeo highly compatible MP4 video files. When the conversion is done, click "Open" to locate the ripped videos and upload them to Vimeo with ease!
How to Load Video to Vimeo
To upload videos on Vimeo, you must first be a member of the website. There are two membership options to choose from, paid and free. Logging in through Facebook is also possible. Once you've successfully set up your account, you should be ready to upload. Here's how:
Step 1. Make sure that the video file you own falls under the Vimeo file supported formats. If it doesn't, you'll have to convert them first. Depending on your type of account, there are many file formats that Vimeo supports. Vimeo recommends videos that use the H.264 codec. MOV and MP4 files are two of the most common files uploaded over at the site. AVI and MKV are supported as well.
Step 2. While logged into your account, go to the My Videos Tab and upload videos from there. Or look for where it says Upload in order to add videos directly. Click on 'Choose a Video to Upload' button and browse through the video file on your hard drive. Vimeo also supports mobile uploads, uploads using the desktop app, or uploads via Dropbox.
Step 3. Wait for the file to be completely transferred into Vimeo's server. Check the status bar on your screen. Once it is done, you can check on the My Videos tab again to see if the video you just added shows up there. That indicates that the upload was successful.