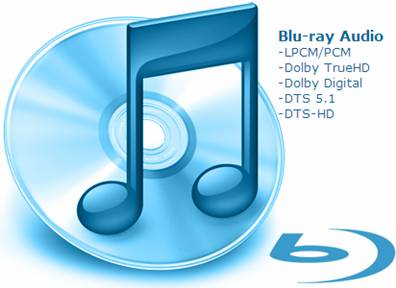 When someone says "Blu-ray", what most people think of is Blu-ray-Video. Blu-ray-Video offers a great picture, random access and interactivity, and it has great audio features, too. Unlike DVD, Blu-ray disc offers lossless audio streams like PCM, Dolby Digital, LPCM, DTS:X etc. which provide elevated surround sound listening experience. In this article, we will mainly introduce some specific information of these Blu-ray audio streams.
Part 1: Specifications of Blu-ray Primary Audio Streams
First of all, take a look at the the chart below of specifications for the Primary Audio Streams on a Blu-ray disc. Hi Res Audio is defined as 24 bit at either 96K or 192K sample rate, nothing lower. Everything lower is known as "lossy", meaning the dynamic range is compressed dramatically.
 

DTS Digital Surround

SMax. Bitrate

27.648 Mbit/s

640 kbit/s

4.736 Mbit/s

18.64 Mbit/s

1.524 Mbit/s

24.5 Mbit/s

Max. Channel

8 (48 kHz, 96 kHz), 6 (192 kHz)

5.1

7.1

8 (48 kHz, 96 kHz), 6 (192 kHz)

5.1

8 (48 kHz, 96 kHz), 6 (192 kHz)

Bits/sample

16, 20, 24

16, 24

16, 24

16, 24

16, 20, 24

16, 24

Sample frequency

48 kHz, 96 kHz, 192 kHz

48 kHz

48 kHz

48 kHz, 96 kHz, 192 kHz

48 kHz

48 kHz, 96 kHz, 192 kHz
Notably it's important to understand that PCM is the default standard for Blu-ray audio but it does not have the highest bitrate, it's the equivalent of Dolby Digital Plus, several orders of magnitude below whats considered Hi Res Audio today, but still as good as CD. If you play a Blu-ray disc without first setting the audio output of the player up for Bitstream output via HDMI and choose one of the lossless versions of the soundtrack from the disc's audio set-up menu, you will not be hearing the highest resolution content.
Detailed Introduction of Blu-ray Primary Audio Streams
Linear PCM(LPCM)
LPCM, referred to as PCM Plus, is uncompressed audio encoding that applies a combination of values like sample sizes, sample rate, number of channels. It is a standard for Blu-ray. LPCM is a lossless audio coding that delivers CD quality sound, therefore it occupies huge disc space. Such audio codec is used to transmit uncompressed digital audio information via HDMI. LPCM supports up to eight channels of audio, which can provide encoding for 7.1 soundtracks.
Dolby Digital (DD)
Dolby Digital, also known as Dolby AC-3 or DD 5.1, can automatically provide a stereo version of the audio tracks so you can make your favorite movies or videos sound great on any devices. It is a lossy format that it compresses the audio to save space on the disc. Dolby Digital supports up to six channels of audio, which can provide surround sound limited to 5.1 and below. Such audio codec can be sent through HDMI or digital optical connections.
Dolby Digital Plus (DD+)
Dolby Digital Plus, known as DD+ or E-AC-3, is a audio encoding format. DD+ is an advanced surround sound audio technology that enables the Dolby Audio experience across home theaters, smartphones, operating systems and browsers. It supports 7.1 surround sound on Blu-ray discs, which allows for better audio quality. Please note that Dolby Digital Plus cannot be sent over coaxial or optical digital audio connections.
Dolby TrueHD
Dolby TrueHD is a lossless multi-channel audio codec which is used in home-entertainment equipment such as Blu-ray disc player. Dolby TrueHD supports up to 7.1 channels of high-definition audio, provide the most authentic surround sound experience available for your home theater.
DTS
DTS, known as DTS 5.1 or DTS Surround, is a popular home theater audio format that was developed in 1993 as a competitor to Dolby Labs. DTS is limited to a maximum of six audio channels for it compresses the audio to make the footprint smaller. It can provide surround sound codecs for 5.1, 6.1 and 7.1 setups.
DTS-HD High Resolution Audio
DTS-HD High Resolution Audio is an extension of DTS 5.1 and increases surround sound support to 7.1 channels. It is a lossy format which compresses the original audio to disc and loses some of the resolution in the process.
DTS-HD Master Audio
DTS-HD Master Audio is a combined lossless audio codec created by DTS, and commonly used for surround-sound movie soundtracks on Blu-ray disc. With upwards of 7.1 channels of discrete surround sound and connected via copy-protected HDMI cables, DTS-HD Master Audio is at the pinnacle of surround sound technology for home theater.
Many audiophiles think they can use their notebook computers to store and watch Blu-ray Hi Res Audio and Hi Def video with no less performance than on an actual Blu-ray player. In fact, that's simply impossible. To access the highest resolution content, you must use a Blu-ray player with the disc in the drawer, connected to a downstream device with HDMI v1.3 or blu-ray logo 2higher, authenticated by HDCP's two-way handshake for a secure, copy-proof connection. There is no other way to access this high resolution content; it cant be downloaded, copied, stored, or recorded, that would be illegal. DRM (Digital Rights Management) is implemented on the disc, constraining the output unless the authentication process is complete. If not, the disc outputs a down-rezzed version of the audio content to one of the earlier lossy codecs, video back to 576p. HDMI is not fully implemented for the highest resolution from a computer, the studios and record labels have been fighting to prevent that from happening for 40 years and as the copyright holders they have the ability to constrain any connection to lower the resolution so its not possible to digitally record a one to one copy of the original master recording in hi res audio on a computer. Without a licensed Blu-ray player, disc in the drawer, and point to point connection via HDMI authenticated by HDCP, the highest resolution audio and video will not be accessible.
Part 2: Best Tool to Backup Blu-ray with Multiple Audio Tracks
As we all know, even if you have your purchased Blu-ray movies, and a BD burner and blank discs, you are unable to make Blu-ray backup at will. But isn't there a way to make digital copies of your BD movies at all? Absolutely not. We believe that the movie manufacturers have the right to keep their intellectual property, but we also believe that consumers have the right to enjoy or backup BD movies they purchase, especially when they just wanna keep Blu-ray discs from scratching, or manage their movies in a more convenient way.
If you're looking for a smart tool to backup your Blu-ray discs with multiple audio tracks so that you can conveniently switch between your favorite audio channels on various HD media player apps, EaseFab LosslessCopy (available for Windows and Mac users) is highly recommended. It can convert video clips from proprietary encrypted Blu-ray/DVD discs to into MKV files with multiple video/audio tracks with all meta-information and preserve chapters. Additionally LosslessCopy can rip BD/DVD to MP4 and MOV with multiple audio streams. What's more, it can convert BD/DVD from hard discs to virtually any popular video and audio format so that you can freely watch movies on with your favorite player or your favorite devices.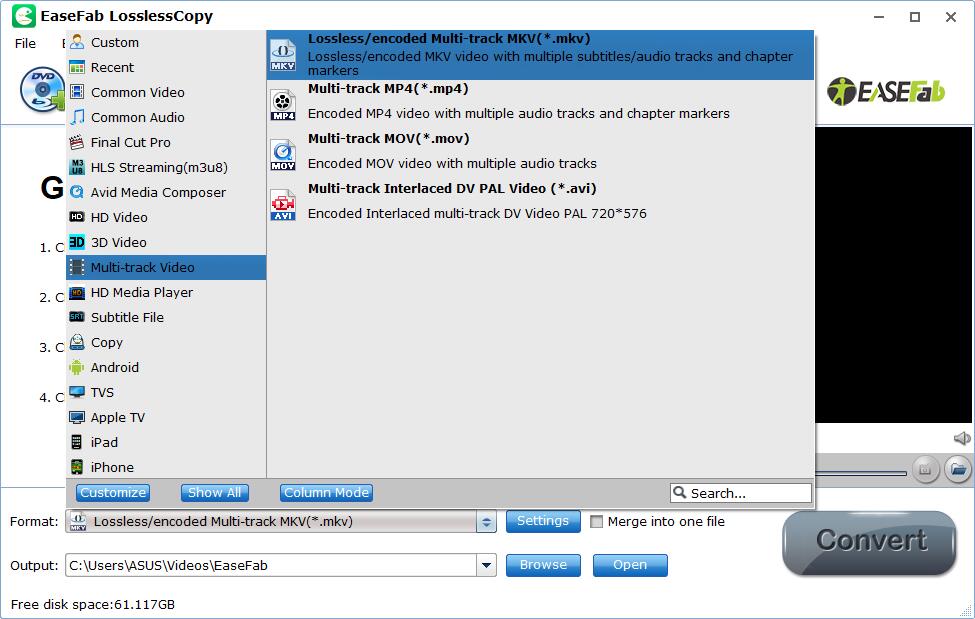 Key Features of EaseFab LosslessCopy:
· Backup BD/DVD to MKV without any quality loss.
· Transcode Blu-ray/DVD to lossless MKV, MP4, MOV files with all multiple audio and subtitle tracks and chapter markers from original BD/DVD.
· Remove unwanted subs streams and audio tracks at will.
· Preserve soundtracks and subs in multiple languages, e.g. English, Spanish, French, Deutsch...
· Support convert/rip/copy latest Blu-ray/DVD movies for Android/iOS/Windows devices.
· Support exporting forced subtitles and .srt/.ass/.ssa external subtitles.