To keep Blu-ray discs from scratching, or manage their movies in a more convenient way, many people are fond of copying Blu-rays or ripping them into digital video formats. But what's Blu-ray ripping? And what's Blu-ray copying? If you want to know the difference between Blu-ray ripping and copying, just read on for details.
Generally, Blu-ray ripping and copying are similar, yet very different. You see, both processes are used to get around content restrictions on DVDs so that the owners can manipulate the data however they like. However, each method is designed for a different function and uses different functions to complete the process of duplicating the data on the disc.
You see, Blu-ray disc media has igital security features such as AACS encryption, BD+ and MKB that keep people from making copies. These security features are intended to keep homemade copies of the movies on these discs from being sold or shared, which takes profits from the people who sell legal copies of Blu-rays.
Let's look at each type of data-duplicating method more closely.
Copying Blu-ray
Copying a Blu-ray is exactly what it sounds like. You use Blu-ray copy software to remove the copying restrictions from the data and make an exact copy of the Blu-ray on a new disc or copy the whole content of Blu-ray to your computer hard drive.
Blu-ray Ripping
Blu-ray ripping, on the other hand, doesn't mean copying a Blu-ray to a disc or hard drive. It is the process of saving a file in another format, which allows you to use the data with different media players on smartphones, video iPads and other devices. Blu-ray ripping changes the data and makes it more accessible to you by allowing you to download and play it on multiple devices.
Which is Legal?
The biggest question on your mind may be the legality of Blu-ray ripping or copying. Technically, neither process is legal. Therefore, even if you have your purchased Blu-ray movies, and a BD burner and blank discs, you are unable to make Blu-ray backup at will. Actually, the exact legality for making backups is murky at best. But my own personal opinion is that the movie manufacturers have the right to keep their intellectual property, but we also believe that consumers have the right to enjoy or backup Blu-ray movies they purchase, especially when they just wanna keep Blu-ray discs from scratching, or manage their movies in a more convenient way. If you own it, you can do what you want with it. Watch it, burn it, eat it, use it as a frisbee in the park, whatever.
What Do You Need to Rip or Copy Blu-rays?
Most Blu-ray copy software can do the work of Blu-ray ripping and copying. Though there are products called Blu-ray rippers, most people will have more versatility when using copying software since it can save the data in various formats and make copies of the Blu-ray in the original format. This software also has other features such as scratch and data repair, enhanced compression tools and the ability to merge data.
You can obtain free Blu-ray copy software and free Blu-ray rippers by looking for downloads on the internet, but free software is often inferior to name-brand copying and Blu-ray ripping software.
There are also many professional programs out there that allow you to make copies of your DVDs and Blu-rays and let you watch them the way you want to view them. If you are seeking for the best video output quality, fastest video conversion speed, and the most formats supported, EaseFab LosslessCopy will be a great choice for you. Also it has other features that will impress you!
* Losslessly backup BD/DVD to MKV with multiple audio/subtitle tracks
* Convert BD/DVD to Multi-track MP4, MOV, AVI, etc. video files
* Reads Blu-ray discs protected with latest versions of AACS and BD+
* Preserve a 100% BD M2TS/DVD VOB movie without extras
* Fast conversion - converts as fast as your drive can read data
* No additional software is required for conversion or decryption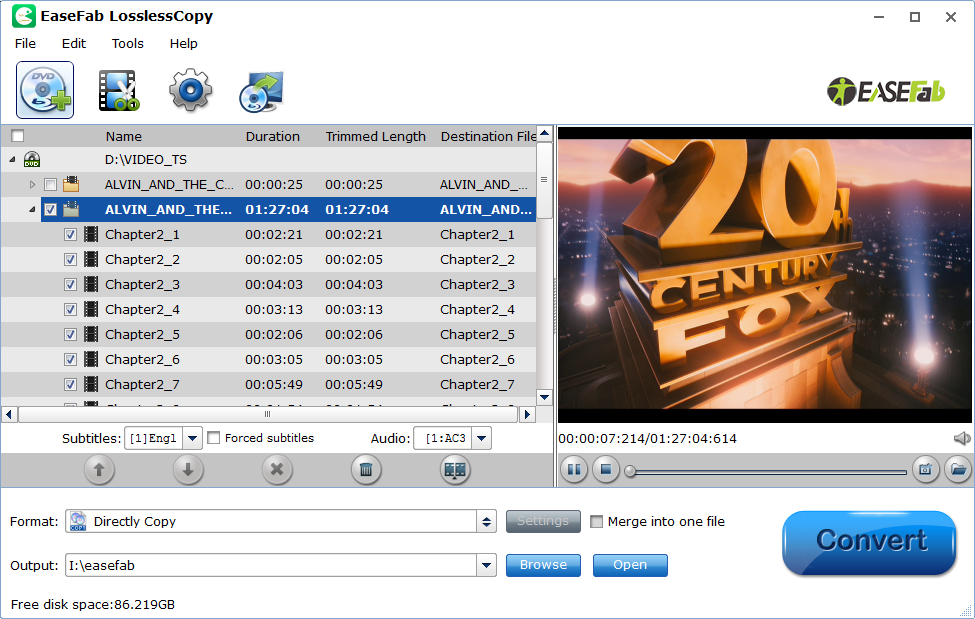 Related Articles on Blu-ray Ripping and Copying
Top 3 Ways for Backing up Blu-ray Discs
How to Digitize Blu-ray Quickly and Easily
How to Rip Blu-ray with the Right Subtitle
How to Rip Blu-ray without Quality Loss
How to convert Blu-ray to MKV with Multiple Audio and Subtitle Tracks