Watching Blu-ray movies with family and friends at home in systems like a Blu-ray player or computer is fun. It is very difficult to carry a Blu-ray player if you are planning a vacation. Luckily, transferring Blu-ray to USB flash drive is a good way to watch the Blu-ray movie on a laptop when you are on a trip, on a plane or where you have no wifi/cellular data connection with. A USB flash drive is very easy to carry around, without worry of scratching and occupying computer hard drive space. The processing of copying Blu-ray to USB flash drive is very straightforward. A piece of professional Blu-ray ripping software can help you easily decrypt and digitize Blu-ray discs and then save them to USB flash drive on Windows 10/8/7 or Mac. Continue reading to know how.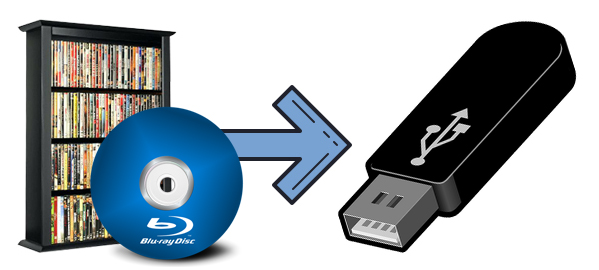 What You Need to Transfer a Blu-ray to USB Flash Drive:
● Your Blu-ray discs.
● A Blu-ray disc drive. If your computer came with any disc drive at all, it was probably a DVD drive. However, you'll need a Blu-Ray reader in order to rip your Blu-Ray discs (obviously). An external good Blu-ray drive can be purchased for as little as $25.
Note: If you want to rip 4K UHD Blu-rays, you'll need to get a 4K Blu-ray drive.
● A program to rip the files.. We'll be using EaseFab Blu-ray Ripper in this guide, which is available for both Windows and Mac.
Why choose EaseFab Blu-ray Ripper for ripping Blu-ray discs
EaseFab Blu-ray Ripper earns its award as the top-ranking Blu-ray to USB converter mainly due to rich features, super fast-processing, clean, safe and stable functions. It can help you copy and transfer any home-made or copy-protected Blu-ray (DVD) to USB flash drive in 3 simple steps. With it, you can rip Blu-rays yet DVDs to various digital formats e.g. MP4, h.264, HEVC, MKV, AVI, WMV, MPEG, MOV, FLV, etc., or copy BDMV folder/DVD folder in 1:1 ratio or a single M2TS/VOB file. It can easily handle Blu-ray discs with AACS encryption, BD+ and the latest MKB technology and decrypt DVDs with CSS, RCE, Sony ArccOS, UOPs, Disney X-project DRM, etc. on both Windows and Mac.
This is all you need. Once you have all three of these things ready, grab your favorite Blu-Ray movies and get started to digitize them for saving to your USB flash drive.
3 Simple Steps to Rip and Copy Blu-ray Movies for USB Flash Drive
To begin with, we need to download and install EaseFab Blu-ray Ripper Windows or Mac version above according to your computer operating system. After this, we can move to the following steps to rip your old and new Blu-rays.
Step 1. Load source Blu-ray disc.
Insert the Blu-ray disc into the external BD drive. Launch EaseFab Blu-ray Ripper and then click Load Blu-ray button to upload to Blu-ray movie. EaseFab Blu-ray Ripper can auto detect the right Blu-ray movie title for you. At the bottom, you can select your desired subtitle and audio track.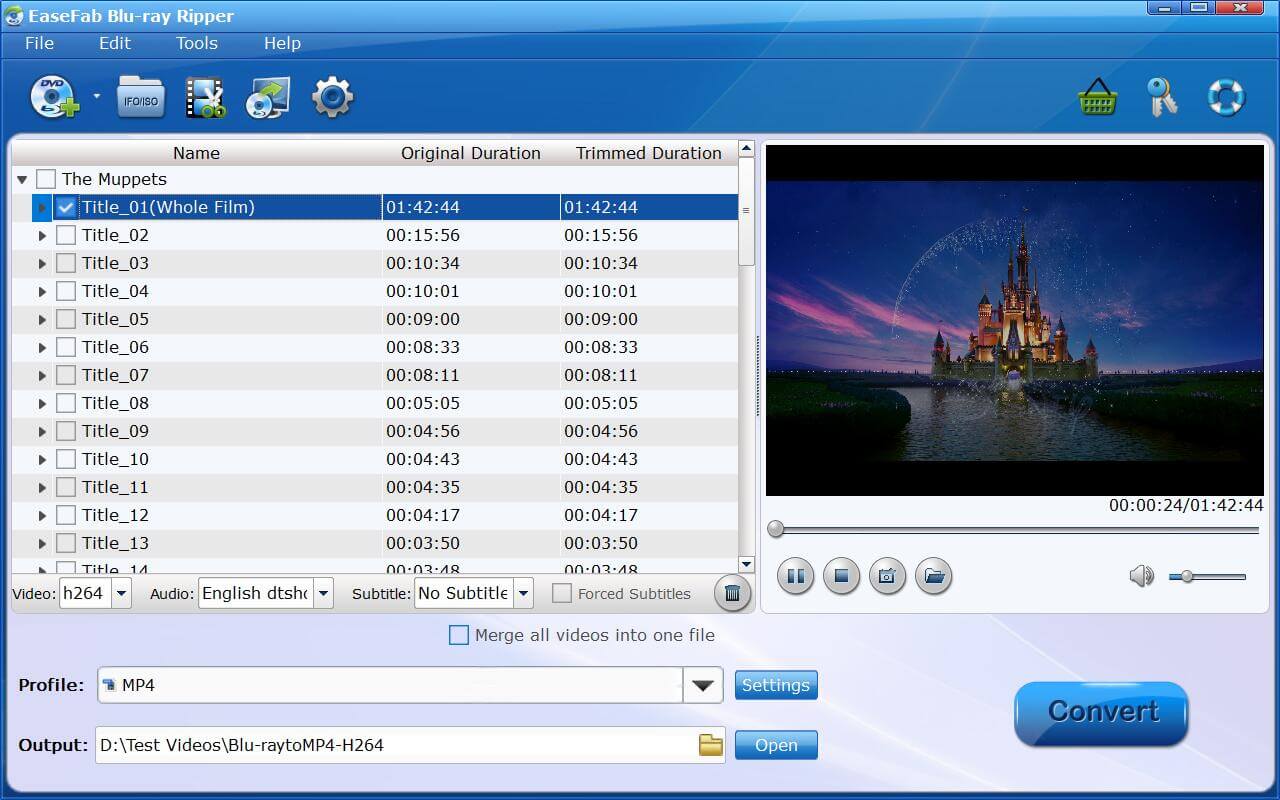 Step 2. Select an output format.
On the Profile panel, there are over 400 profiles including popular formats and device-specific presets. You can save the Blu-ray files in any format that is compatible with your USB flash drive. Here are some recommended settings:
1. If you want to copy Blu-rays to USB flash drive to play on TV, LG/Samsung TV, PS5/4, Switch, Xbox One, PC, Mac, and other devices with a USB port, you can convert Blu-ray to USB drive in MP4 for its wide compatibility, good quality, and small file size. Just go to "Common Video" category and select "MP4" as the output format.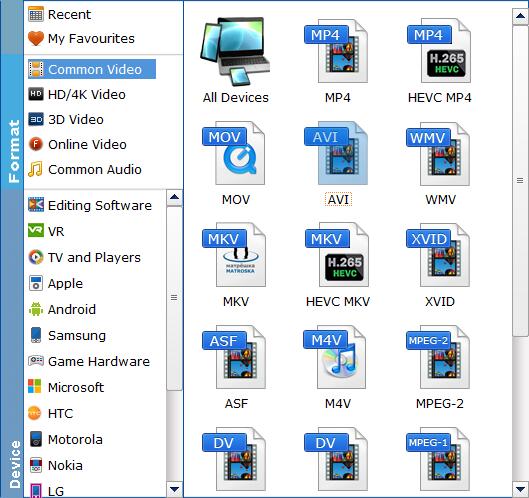 Tech details:
1. To get the best possible output quality and smallest file size, convert Blu-ray to HEVC MP4. It has 50% smaller size at the same quality.
2. The default setting works well. Of course, if you want to customize video and audio encoding settings, just click the Settings button to customize these settings.
Recommended settings:
1. You're not suggested to adjust the frame rate and aspect ratio, if not necessary.
2. Use the codec H.264 or H.265 and lower the bitrate to a lower level. For example, adjusting the original Normal quality to bitrates of around 1800-2000 is acceptable without noticeable pixellation.
3. Lower the resolution. Typical Blu-ray videos are 1920×1080 (Full HD). Adjust the resolution to lower 1280×720 or higher won't make any quality difference.
Please note: Adjusting these variables have some effect on the re-encoded video quality. Remember the file size and video quality is based more on bitrate than resolution which means bitrate higher results in big file size, and lower visible quality loss.
2. If you want to back up Blu-rays in 1:1 to a USB drive without quality loss, you can use its Backup" mode to copy Blu-ray full title/main title to BDMV folder or a single "M2TS" file. These modes allows you to copy Blu-rays with 100% quality, all the menus, tracks, extras, etc. But you should know that the BDMV folder or the single M2TS file will take quite a large size. Make sure your USB drive has sufficient storage capacity.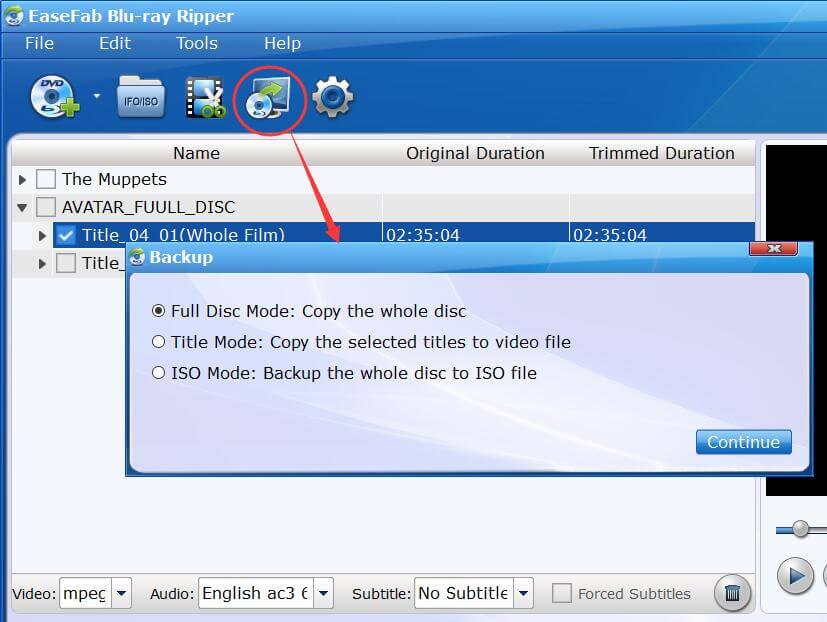 Step 3: Plug in your USB flash drive to computer. Move mouse cursor to Ouput bar and then hit Folder icon to set the USB flash drive as the destination folder to store the ripped Blu-ray movie video. Then hit the Convert button to start copying and transferring Blu-ray to USB flash drive.
Final Words:
As you see, it's very easy to get your movies off of your Blu-ray discs and then save them onto your USB flash drive. If you want digitize your movie collection with the most compatibility, Blu-ray to MP4 is the best idea. The ripped MP4 files can be played on almost any media player, computer, laptop, tablet, mobile device, gaming system, or HD TV thru the USB port. If you want to copy your DVDs to USB flash drive, this process will work as well since EaseFab Blu-ray Ripper can cope with both Blu-ray and DVD files.