What is a Blu-ray structure
A Blu-ray disc consists of a certain structure, that means as long as a folder is a Blu-ray folder, same kind of files or folders can be find in the folder. But what does a Blu-ray folder look like? What is in a Blu-ray folder? Here I'll introduce briefly for you: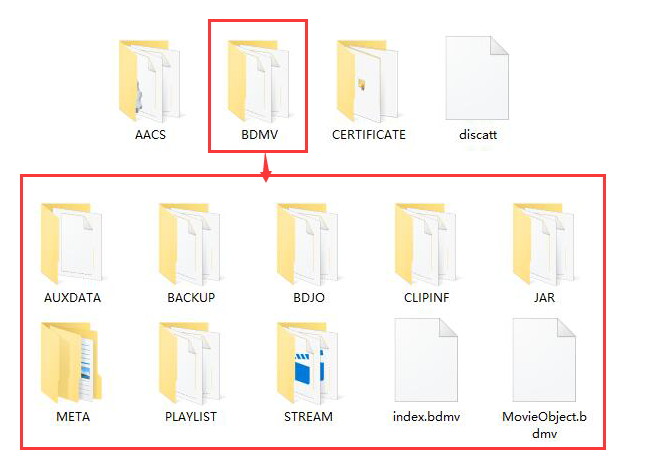 AACS: A directory file. It contains disc level content certificates and media key block data.
BDMV: A directory file. It contains basically all the meaningful content of the disc.
AUXDATA: A directory containing assorted disc-specific metadata.
BACKUP: A directory containing subdirs with backup copies of certain small content. Like .BUP files on DVDs.
BDJO: A directory containing BD-J objects, on discs that use BD-J.
CLIPINF: A directory containing metadata files for the M2TS streams in the STREAM subdir.
JAR: A directory containing JAR (Java archive) files other than the BD-J content. (JAR is basically ZIP with some extra metadata.)
META: A directory containing subdirectories with a metadata XML file, and sometimes thumbnail images, depending on who did the authoring.
PLAYLIST: A directory containing binary playlist files, which describe the playback program chains. Some studios use playlists to implement seamless branching (Disney loves to do this, especially with their animated movies, subbing in language-specific segments for opening titles, credits, etc.).
STREAM: A directory containing the actual audio/video streams, in MPEG-2 transport stream format.
index.bdmv: A metadata file containing an index of the titles.
MovieObject.bdmv: Some sort of object metadata file describing the movie(s) on the disc.
BDSVM: A directory, contains BD+ virtual machine metadata. (BD+ is an additional content security mechanism, favored largely by Fox, which runs an abstract virtual machine to transform stream data at runtime to make the video watchable.)
CERTIFICATE: A directory, contains security certificates that the application(s) on the disc use, including occasionally revocation lists and such.
In fact, most Blu-ray can be stored as BDMV and CERTIFICATE folders. BDMV is a similar file format which is a container format for multiplexing audio and video. However video and audio are handled differently on commercial BDMV (Blu-ray Disc Movie) discs than on the recordable Blu-Ray discs sold for home computer use, most media player can't directly play the BDMV Folder due to the copy protection. Fortunately, along with a third-party program, you can quickly copy the entire Blu-ray disc into a intact BDMV folder without any protection so that you can easily access it for playback or burning a new disc for storage.
Best Tool to 100% Intact Backup Blu-ray to a BDMV Folder without Protection
To copy a Blu-ray to BDMV folder without any protection quickly and easily, you can adopt EaseFab LosslessCopy for help. The program can help you remove any protection and region code of a Blu-ray disc and effortlessly backup Blu-ray to BDMV folder with super fast speed and original Full HD quality. Besides, it works smoothly on both Windows and Mac latest system and supports ripping and converting DVD/Blu-ray to over 1000 video/audio formats. You can not only convert, copy DVD/Blu-ray disc but also edit, compress, transfer them easily.
Key Features of EaseFab LosslessCopy:
· Backup BD/DVD to MKV without any quality loss.
· Transcode Blu-ray/DVD to lossless MKV, MP4, MOV files with all multiple audio and subtitle tracks and chapter markers from original BD/DVD.
· Remove unwanted subs streams and audio tracks at will.
· Preserve soundtracks and subs in multiple languages, e.g. English, Spanish, French, Deutsch...
· Support convert/rip/copy latest Blu-ray/DVD movies for Android/iOS/Windows devices.
· Edit, enhance & personalize your videos by trimming, cropping, adding subtitles, and more.
· Support exporting forced subtitles and .srt/.ass/.ssa external subtitles.
3 Simple Steps to Backup the Entire Blu-ray to a Intact BDMV Folder
Step 1: Insert the Blu-ray disc to the BD drive and then click the Load Disc button to have Blu-ray movies uploaded to EaseFab LosslessCopy. You can also import DVD files, BD/DVD ISO files, IFO files or Blu-ray/DVD folder for conversion.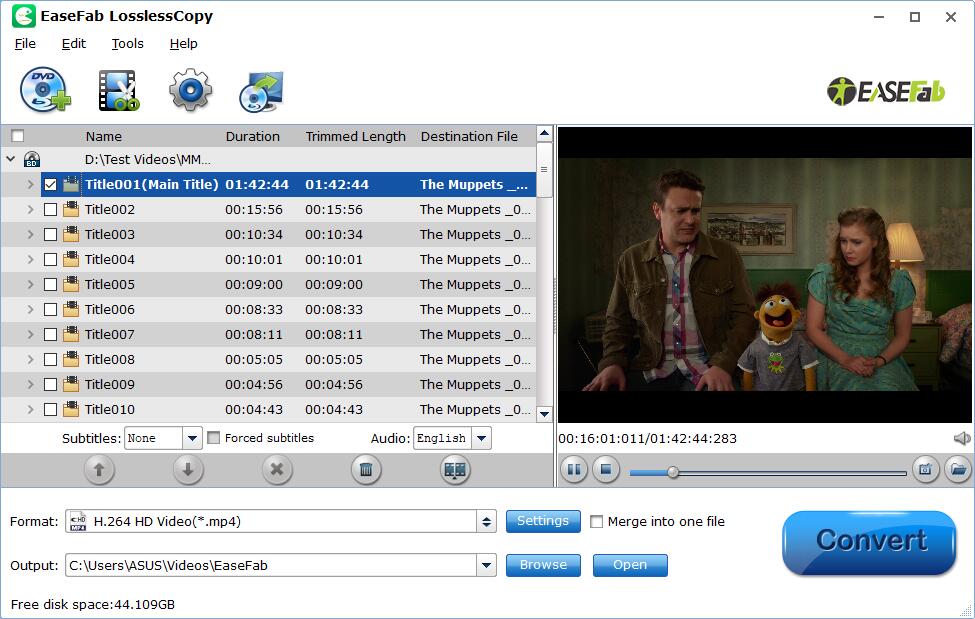 Step 2: Click the "Format" bar to open the format list, select "Directly Copy" or "Directly Copy for 3D Bluray" from the "Copy" catelog. Then you click "Browse" to choose the output file save location.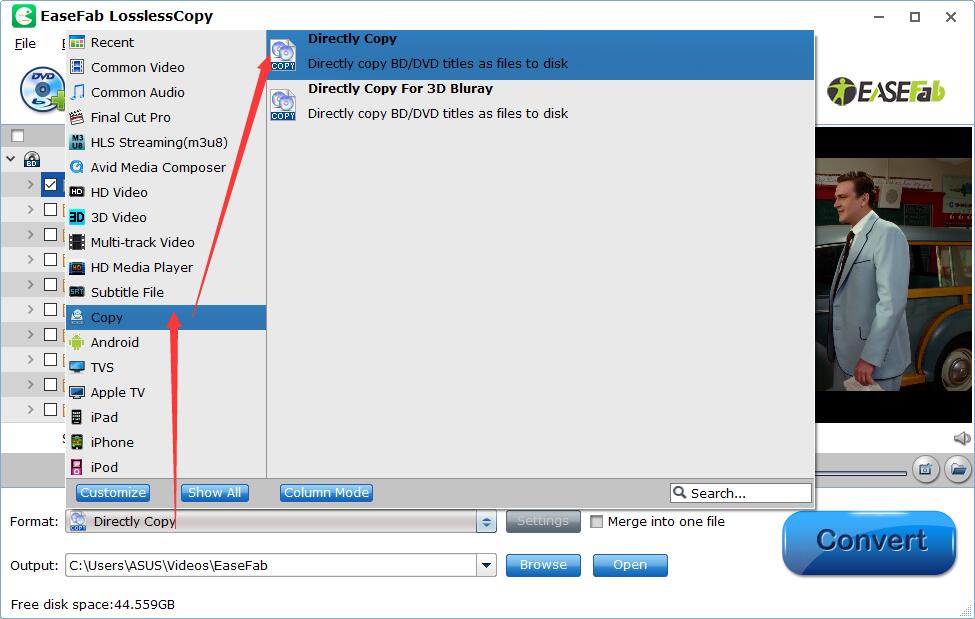 Step 3: Click "Convert" button to start cooying main movie from your BD/DVD discs. This software will finish all the complicated tasks for you within minutes.
How to play the unprotected BDMV folder?
After you backup the Blu-ray to BDMV, you can choose 2 ways to play the BDMV folder.
Solution 1: You can buy a professional Blu-ray player, you can open disc box pops up, select the Blu-ray first-level directory instead of BDMV or CERTIFICATE. Then you will see the navigation panel. You can click play movie option to play the movie directly, or select a chapter or title to play.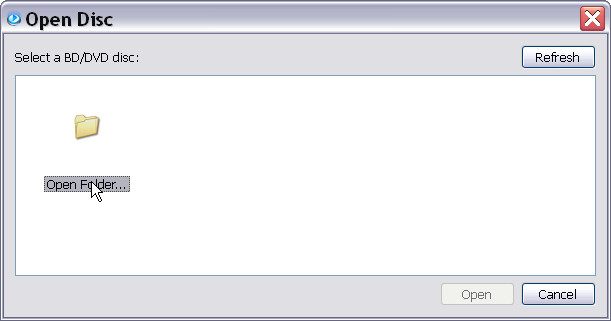 Solution 2: Open BDMV/STREAM in VLC, you can see lots of m2ts files. you can click the M2TS file for playing. There are too many m2ts files in a Blu-ray folder. It will not be easy to select a proper file.You may spend some time.