Most Blu-ray can be stored as BDMV and CERTIFICATE folders and. BDMV is a similar file format which is a container format for multiplexing audio and video, such as: the name of the Blu-ray movie, the audio data, the movie object, etc. BDMV files can bring you the in high definition image in video, however, BDMV huge capacity is a big problem, which affect you to share interesting video with friends on main popular apps or website. Moreover, if you wish to enjoy your movies and videos with BDMV folder on portable devices like iPhone, iPad, Android tablets and others, then you will have to turn BDMV file to MP4, one of the most common and widely accepted formats that can be played on media player, computer, laptop, tablet, mobile device, gaming system, or HD TV without any trouble. How to convert a BDMV folder to MP4 with the best results? Check here.
Why choose MP4 for converting a BDMV file to?
MP4 (MPEG-4 Part 14) is a digital multimedia container format most commonly used to store video, audio as well as data like subtitles and still images. It works with a variety of coompression schemes like H.264, HEVC, MPEG-4, MPEG-2, AAC and MP3.
• MP4 well balances size and quality.
MP4 features a high compression rate and great output quality. Therefore, it delivers a smaller file size than other formats when setting as the same quality. Sometimes an MKV file at least doubles the size of an MP4.
• MP4 is widely supported.
MP4 is compatible with almost all devices, including computers and HD/4K TVs, phones, tablets, and game consoles from Apple, Samsung, Google, HTC, Microsoft, Sony, etc. It's accepted by programs, editors (e.g. iTunes, iDVD, iMovie) and web services (e.g. YouTube, Facebook, Vimeo). After converting BMDV file to MP4, you can watch MP4 copies on the train, airplane, bus, etc without taking along physical discs.
Is there an actual BDMV file/folder to MP4 converter?
There are some converters available that are advertised as "BDMV converters" that work by converting the video/audio contents (like the MTS/M2TS files) of the Blu-ray disc to other formats, but never the actual .BDMV files. There are also free file converters like Freemake Video Converter and EncodeHD that can convert the media files from the Blu-ray disc, but they probably can't import the BDMV files or folders directly; you'd instead just choose the whole disc.
But everything comes true and easy if you've EaseFab Video Converter Ultimate installed on your PC or Mac. The program works well with BDMV folder and single BDMV files from Blu-ray movies or AVCHD camera recorder. With it, you can easily convert BDMV to MP4 and other popular file formats like BDMV to MKV, MOV, AVI, M4V, etc. What's more, it provides optimized preset formats for almost all popular mobile devices to which you can directly convert, and then transfer with USB cable.
EaseFab Video Converter Ultimate can handle various BDMV folder or single BDMV files like:
● AVCHD folders (BDMV and CERTIFICATE) with .mts/.m2ts file extension from HD camcorders.
● Blu-ray movie with BDMV & CERTIFICATE folder. In this folder, there is a stream subfolder, which contains an MTS file inside.
● Blu-ray movie with a BDMV folder structure, and in this folder there are files with .m2ts extension.
How to Convert BDMV to MP4 with Fast Speed, High Quality, and Small Size
Now just download the right version of the BDMV to MP4 Converter according to your computer OS and follow the step--by-step guide to get the job done.
Note: The guide below is for Windows (Windows 11/10 included) users. The way to convert BDMV folder to MP4 on Mac OS X (macOS Monterey included) is almost the same.
Step 1. Load BDMV Folder
For BDMV Folder: Click the arrow-down button besides Load Disc button to load BDMV folder to the program. For Single BDMV File: Simply click the Load Video button to import.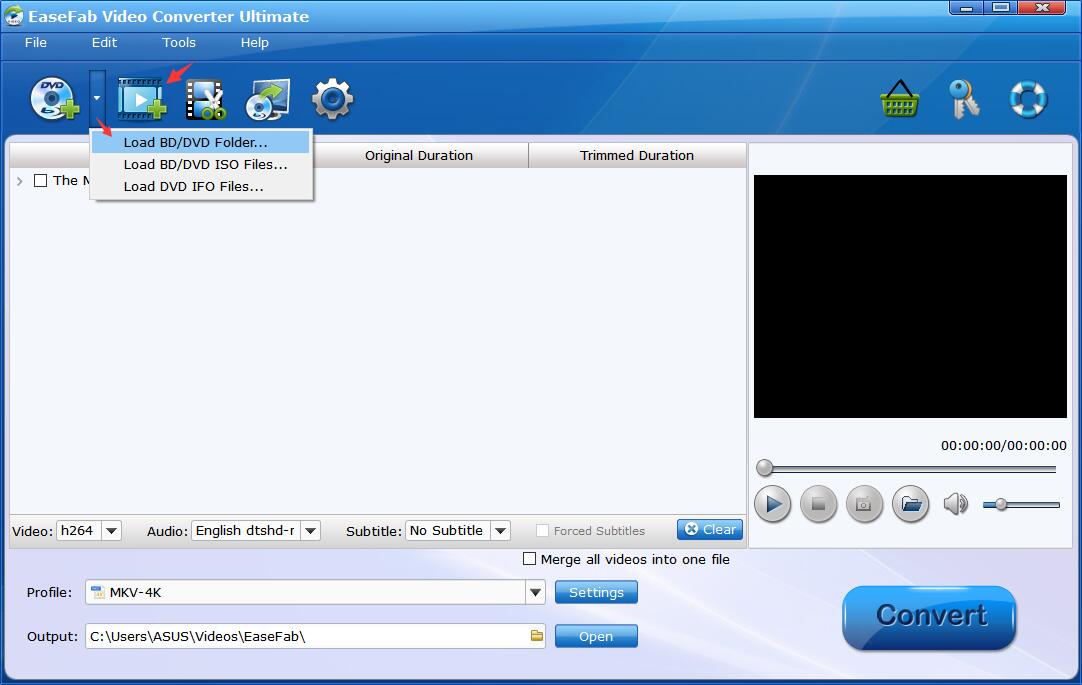 Note: A BDMV Folder from Blu-ray disc may contain many titles more than the main movie, such as the trailers or commercials. By default, EaseFab Video Converter Ultimate choose the longest title which is usually contains the main movie. And this helps ripping without converting unnecessary titles.
Step 2. Convert BDMV to MP4 in the Best Quality
Then click "Profile" and select HEVC MP4 or MP4 (H.264 codec) as the output format. If you want to convert BDMV to MP4 for iPhone, iPad, Samsung Galaxy, Google Nexus, etc., you can browse to find any video preset as the output format.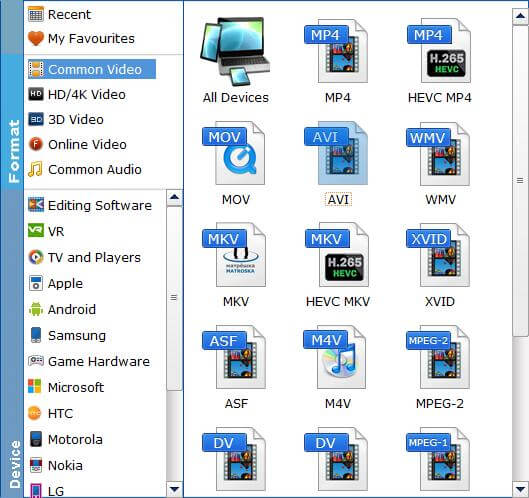 Tech details:
1. To get the best possible output quality and smallest file size, convert BDMV to HEVC MP4. It has 50% smaller size at the same quality.
2. The default setting works well. Of course, if you want to customize video and audio encoding settings, just click the Settings button to customize these settings. Remember the file size and video quality is based more on bitrate than resolution which means bitrate higher results in big file size, and lower visible quality loss.
Recommended Quality-Size Settings for BDMV to MP4 Conversion:
1. You're not suggested to adjust the frame rate and aspect ratio, if not necessary.
2. Use the codec H.264 or H.265 and lower the bitrate to a lower level. For example, adjusting the original Normal quality to bitrates of around 1800-2000 is acceptable without noticeable pixellation.
Please note: Adjusting these variables have some effect on the re-encoded video quality. You can go smaller, only at the cost of quality loss.
Step 3. Start the BDMV to MP4 conversion
Click the button "Convert" to start converting BDMV to the MP4 format you want. When the conversion is done, you can click "Open Folder" to open the folder where the output files are saved.
What is a BDMV File?
BDMV is a kind of information file, i.e. Blu-ray Disc Movie Information File, which is a modified format of MPEG-2 stream. The surely-supported BDMV files are as follows:
AVCHD folders (BDMV and CERTIFICATE) with M2TS extension files from HD Camcorders. For Sony HDR-SR11 camcorder, the AVCHD files will have the MTS extension.
Blu-ray disk with BDMV folder and other files with BDMV extension.
Blu-ray movie with BDMV & CERTIFICATE folder, there is one subfolder from the BDMV folder which is the Stream folder and there is a MTS extension file in this subfolder.
Ripped Blu-ray DVD movies, its folder structure is all contained in a BDMV folder structure with M2TS extension files.
How to Open a BDMV File
Most popular disc authoring programs that support Blu-ray disc burning will open BDMV files, like the free MPC-HC and VLC. CyberLink PowerDVD, JRiver Media Center, Nero, and Macgo Mac Blu-ray Player support BDMV files as well but none of them are free to use (but they may have trial versions available).
Final Words:
In fact, most media players open the BDMV files and always gets error message. It can't enable to play BDMV files owing to incompatibility and needs the appropriate codec or plug-in installed for the first. Therefore, converting BDMV to MP4 is a good idea for playing or editing them freely.