Summary: We've picked the 5 best free video converters for Windows 11, Windows 10 or older and reveal what they have to offer. Read on for details to find out a suitable tool to enjoy hassle-free video conversions.
Videos have been a part of our daily life whatever they're for entertainment, interest, or education. But it's really annoying to find out the format isn't supported when you tried to upload a video on a site or your desired video is unplayable on your device. Or even worse the recorded video footage can't be edited smoothly. As a result, you may need to find a way to convert your videos. Luckily, there are lots of paid or free video converter tools that can help overcome compatibility issues by transforming video files to another video format.
In this article, we've reviewed the top 5 video converter softwares for Windows 11/Windows 10 of 2023. They can help you convert files to the correct format for any purpose you're aiming for and even do more.
The 5 Best Windows 11/10 Video Converters at a Glance
In this article, we've picked up the top-rated Video Converter with their features, easiness, speed, video quality and price all considered, giving its pros and cons so that you can tackle all your video files on Windows 10 with end result you definitely satisfy. Below are some criteria we used to choose the best video converters:
● Intuitive and Easy for Beginners to Handle
● Converts video files quickly
● Provides high-quality video output
● Offers a library of input and output formats
● Available for a range of operating systems
● Free of adware and other malware
#1 EaseFab Video Converter
EaseFab Video Converter is a lightweight tool and it tops our list of the best video converters for Windows 11/10. You can download a free trial version of this software, but you'll have to pay an annual subscription fee to use it for any video longer than three minutes. Having to pay for conversion software isn't all bad though. It means you don't have to contend with in-app ads and upsells, and you get advanced features you wouldn't find in free converters. Plus, EaseFab's price tag is fairly low, and we definitely think it's worth it.
EaseFab Video Converter is very easy to use but has lots of additional options outside of straight-up video conversions, such as some advanced editing tools include trim, crop, subtitles, snapshot, add watermarks and apply effects. As such, it's ideal both for beginners and more advanced users.
Although EaseFab Video Converter is ightweight, it doesn't hold back on performance. GPU hardware acceleration means you get fast conversion speeds, plus video quality is excellent. It can handle over 70 input formats including MOV, MP4, MP3, and AVI, and offers a huge choice of pre-configured profiles for different devices, including but not limited to iPhone, iPad, Android, game consoles, HD TV, media server, USB, etc. Need 4K conversions? No problem. In fact, EaseFab Video Converter can even handle 8K resolution. This software also comes in a Mac version.
Moreover, EaseFab Video Converter has powerful compressing features with easy customizable settings. It allows you to set the file size, bitrate, resolution and format before compression. You can easily compress 4K/1080p HD and even 8K video files with the good balance in quality and size for playing on mobile devices, sharing on social networks, sending emails, and other purpose.
Price: You can try out EaseFab Video Converter for free, but you can only convert 3 minutes worth of video at a time. To use the full version on one Windows PC for one year, you'll pay $17.95. You can also save 54% by using the specific coupon on the Lifetime license while getting a bonus licensed DVD ripper as gift.
Pros:

Cons:

✚ Great conversion speeds
✚ High-quality output
✚ Easy-to-use application
✚ Support up to 8K resolution
✚ No ads or additional installs
✚ Built-in video editor

― No fully free version
#2 Handbrake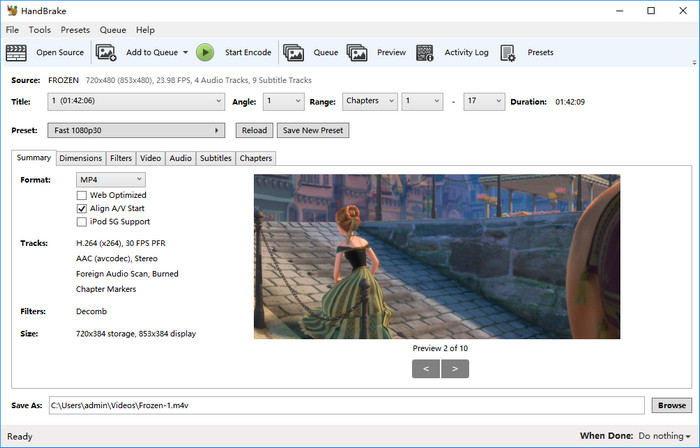 HandBrake is a free, open-source video converter program available on Windows 11, Windows 10 and older version. And it also provide downloads for MacOS and Linux. It is rich in device presets that help tailor the output to fit almost any specific device like TVs, Apple devices, Android smartphones, Chromecast, among others. The Windows version is relatively new, but Mac users have been enjoying HandBrake for years.
When downloading the software, unlike with some other free tools, you won't have to deal with ads or requests to install additional software.
As with most completely free tools, you won't get a shiny, modern interface, and there is a bit of a learning curve when getting started. However, for many uses, HandBrake can be up to the job.
Editing options are plentiful and output quality of videos is surprisingly good for a free tool. Conversion times are typically slow, so you'll need to be patient.
More than a dozen output formats are supported, including MP4, M4V, MOV, MP3, MKV, and MPEG, and there are many preset profiles for specific devices, although not as much choice as you get with most paid tools. The highest resolution available is 2160p.
Price: HandBrake is completely free and open source so there are no ads or upsells.
Pros:

Cons:

✚ Free and open source
✚ Good quality output
✚ Lots of options for editing
✚ Ad-free experience

― Not very user-friendly
― Slow conversions
#3 Freemake Video Converter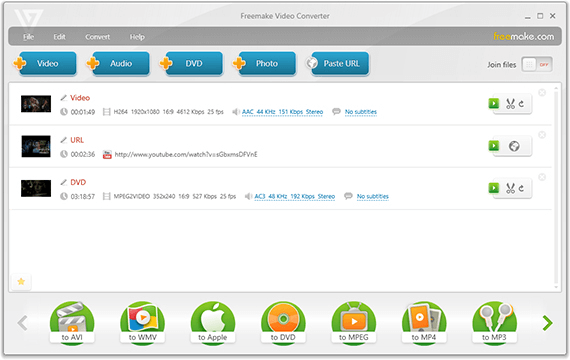 FreeMake Video Converter is also a freemium video conversion software for Windows 11/10. The differences between the free and paid versions are vast. Let's look at the free version first. Upon installation, you'll be taken to a browser page that asks you to register. However, you can ignore this and go straight to the app. Just expect lots of upsell attempts when trying to use the free version.
Unfortunately, for all free conversions, the Freemake logo is added at the beginning and end of all videos. Plus, there's text that remains in the middle of the screen throughout the video, essentially rendering the cost-free software useless. There's no way this company wants you to use the free tool.
Once you've upgraded, you shouldn't have to worry about ads and you can enjoy a solid piece of video converting software. The app design is bright and fun, a welcome change from many of the dull interfaces we're used to seeing with these tools. More importantly, it's very intuitive so beginners can navigate it with no issues.
Freemake supports 17 video formats including MKV, AVI, MP4, MP3, and MOV. You get plenty of options when it comes to editing and preset profiles. Output quality is great, you can opt for 4K if needed, and conversion is very fast in the paid version. It's quick in the free version too, but adding the logo and saving seems to be intentionally slow, so the whole process takes a long time. You can burn to DVD with either version, but you'll have the Freemake branding on it with the free version.
It's a shame that Freemake isn't more upfront about pricing and what you get because this will no doubt put off many users. The paid version is actually really good, but the road to get there is a struggle. Freemake is only available for Windows.
Price: The basic version with branding is free. To remove branding, it's $5 per week, $10 per month, or $299 for unlimited access. These prices sound very steep, but you get 80% off your first payment, which is a clear driver to go with the unlimited option ($59.95 with the discount).
Pros:

Cons:

✚ 4K possible
✚ Good output quality
✚ Fast conversions with paid version
✚ Lots of preset profiles
✚ Burn to DVD

― Free version is unusable
― Pricing is confusing (and it's expensive)
#4 DivX Converter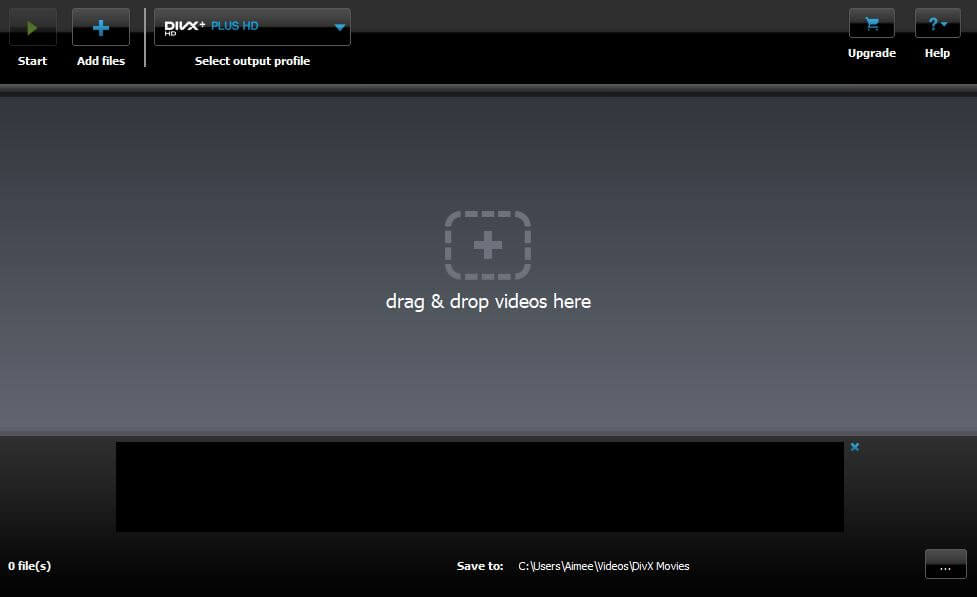 DivX does offer a free version, but there's a big upsell to the paid offering, DivX Converter Pro. When you first install the software, it asks you to agree to install multiple other pieces of software: Divx Player, Media Server, and DivX Web Player, as well as Avast Antivirus. However, if you're paying attention, you can simply uncheck the box next to each and continue with the installation process. At one point, you're also asked for your email address. It looks like you need to enter this, but you don't. Instead, you can simply click Finish.
The free version of the software offers decent conversion speeds, high-quality output, and the option of 4K. There are more than a dozen format options, including MP4, MOV, AVI, MP3, MKV, and more. Unlike many other freemium options out there, the free version of DivX is very usable. It's easy to get started with, although you don't get as many format options as with other tools unless you pay to upgrade. Other features of the Pro version include faster speeds, more profiles, and more options for custom settings.
You can upgrade from the free version by buying individual features, such as Cloud Connect (to sync videos from Google Drive and Dropbox), a Video Pack (enables you to convert MPEG-2 and VC-1 files), a DFX Audio Enhancer, or a DTS-HD Plug-In. You can even pay specifically to get rid of ads. The alternative is to upgrade to the Pro version, which gives you all additional features.
DivX Converter is available for both Windows and Mac.
Price: The free version is free forever and is very usable. While optional features can be purchased separately for various prices, the full Pro version costs $19.99. This is one of the cheapest paid options available.
Pros:

Cons:

✚ Free version is decent
✚ Pro version has lots of options
✚ Solid conversion speeds
✚ High quality video output
✚ Paid version is inexpensive
✚ 4K video available

― Ads and upsells in the free version
― Tries to get you to install additional software
#5 Any Video Converter Free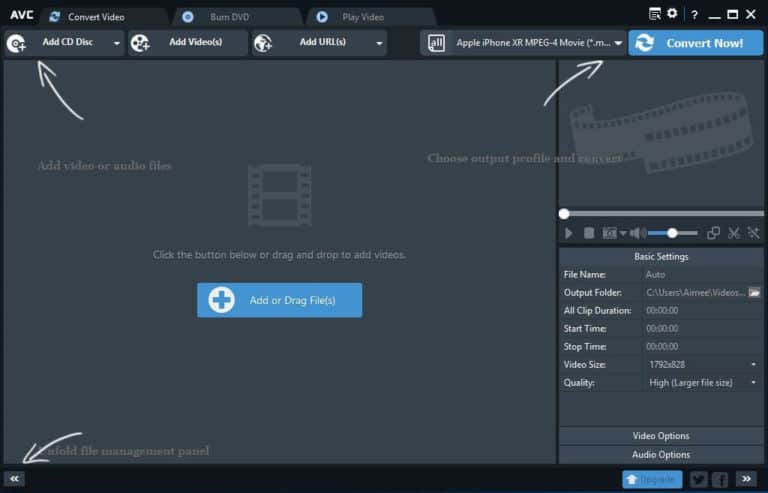 Any Video Converter (AVC) offers two completely separate pieces of software: one free and the other paid. This is a bit different to most freemium software where you upgrade to the paid version (AVC Ultimate) within the free software. There is a bit of a learning curver to using AVC compared with some others on the list, as some options and settings can be difficult to find at first.
The free AVC application provides decent quality output and okay speeds. More than 150 preset profiles are available, along with some simple editing, disc burning, and video downloading features. 17 output formats include AVI, MOV, MP3, and MP4, and 4K resolution is an option (including in the free version).
AVC advertises its software as ad-free but we did see some ads during installation of the free application. Plus, we received prompts to allow the installation of additional pieces of software. These are easy to reject and it's recommended you do so as there have been reports of a browser hijacker being bundled in with the additional installs. While this relatively harmless malware just alters your browser's homepage, it's probably not something you want to install if you don't have to.
So what are the perks when you pay for AVC Ultimate? The main features are better performance, a screen recorder, DVD menu templates, and the option to convert BD and DVD discs.
AVC is also available for Mac.
Price: While the free version is okay for beginners, you may want to upgrade to Any Video Converter Ultimate, which costs $49.95.
Pros:

Cons:

✚ A usable free offering
✚ Good quality video
✚ Can burn to disk with paid version
✚ 4K resolution

― Free version installs additional software
― Could be faster
Conclusion
I hope the above software will make things a little easier while dealing with videos and their various requirements on different platforms. As you can see, our recommended Windows 11/10 video converters represent a broad range of software, with EaseFab Video Converter and Handbrake topping the list. Ultimately, the tool you choose should depend on exactly what you're looking for in a video converter. Price is often top of the list of criteria, but here are some other important aspects to consider:
● Functionality: A video converter's feature list is a good place to start in your decision-making process. For example, if you just need simple conversions, you can get away with a barebones software, but if you're looking for editing options and features like subtitles or captions, you may need to look for a more robust tool.
● Formats: Most of the converters on our list support a broad range of formats, but be sure to check these include the ones you plan to use most often.
● User-friendliness: Some video conversion tools, especially those with lots of features, can seem a bit overwhelming, especially for beginners. Thankfully, many tools offer free trials so you can test out their usability before parting with your cash.
● Customer support: There are plenty of reasons you might need to contact customer support when setting up or using a video converter. Having live-chat support available is ideal, but at the least, you'll want your provider to have an intuitive knowledge-base and an easy-to-use webform for submitting queries.
No matter if you're Windows or a macOS user, the above options should be sufficient to pick one of the best Video Converter for Windows 11/10 and start converting right away.