At its most basic level, "the cloud" is just fancy talk for a network of connected servers. When you save files to the cloud, they can be accessed from any computer connected to that cloud's network. Nowadays, there are various types of cloud storage available such as Personal Cloud Storage, Public Cloud Storage, Private Cloud Storage and Hybrid Cloud Storage. And given the multitude of cloud storage providers out there, one has to wisely choose a provider who will offer the maximum amount of low-cost storage and bandwidth, while still keeping your data safe.
If you're not familiar with the Cloud Storage and find a suitable one, then you've come to the right place. This list represents our top 10 picks for the cloud storgage: most offer a free tier allowing you to see if they're right for you before handing over any hard-earned cash.
The 10 Best Cloud Storage Services (Pros, Cons and more):
Cloud Name

Pros

Cons

Data Limit

for Free Version

Cheapest Premium Option

· Easy setup.
· Unlimited devices per account.
· Disk image backup.
· File Explorer integration.
· Folder syncing.
· Bulk uploads and restores via mail.
· Fast upload speeds in testing.
· No true continuous backup option.
· Fractured web interface.
· Storage isn't unlimited.

5GB

$52.12/year for 2TB

· Effortless file synchronization.
· Apps for just about every operating system.
· Tight OS integration.
· Supports collaboration.
· Shows history of actions.
· Good features for Pro users.
· Skimpy free version.
· Expensive.

2 GB

$1.99/month for 100GB

· Generous free storage space.
· Excellent productivity-suite collaboration.
· Includes desktop-to-desktop file-syncing.
· Many third-party integrations.
· Cross-platform apps.
· Consumer desktop utility stores everything locally.
· Privacy concerns.
· Productivity software less capable than Microsoft Office.
· No password-protection for shared files.

15 GB

$1.99/month for 100GB

· Excellent interface.
· Clients for Android, iOS, Mac, and Windows.
· Well integrated with Windows 10 and Office 365.
· Strong online photo presentation and management.
· Powerful file-sharing and document coediting.
· Less free storage than Google Drive.

5 GB

$1.99/month for 100GB

· Easy to use.
· On-demand file syncing.
· Well designed for collaboration.
· Generous free storage allotment.
· Expensive.
· Lacks some collaboration features offered by the best of the competition.
· Desktop app options too numerous and unclear.

10 GB

$10/month for 100GB

· Slick app and web interfaces.
· Compatible with Windows as well as macOS and iOS devices.
· Account includes 5GB storage when you buy an iOS or macOS device.
· Less straightforward than competing services.
· No search in web interface.
· No Android app.
· Collaborative editing lacks expected capabilities.
· Nags to upgrade storage.

5GB

$0.99/month for 50GB

· Renders bulk data breach of cloud-stored files impossible.
· Authenticates user to server and vice versa.
· Secure file sharing.
· Retains past file versions.
· Secure chat.

· Relatively expensive.
· If you forget password or security answers, you lose all access.
· Office integration currently unavailable.


5GB

$12/month for 100GB

· Dedicated desktop interface.
· Solid mobile apps.
· File Explorer integration.
· Protected folders.
· Expensive.
· Lacks advanced collaboration features.
· Difficult to cancel.

A 90-day trial with 5GB of storage

$7.49/month for 100GB

· Strong privacy features.
· Unlimited computers per account.
· File syncing included.
· Well-designed, full-featured desktop application.
· Buggy mobile apps.
· No search in web interface or mobile app.
· No two-factor authentication.
· Slow performance in testing.

Free to try for 21 days

$69/year for 150GB

· Simple to use,
· Easy to use
· Seems to be secure. Able to collaborate easily.
· Sometimes slow to start, appears paused.
· Have had issues with logging in and not receiving great support.
· Android App is not up to mark.
· PCloud Android App is really bad and it always crashes.

1. iDrive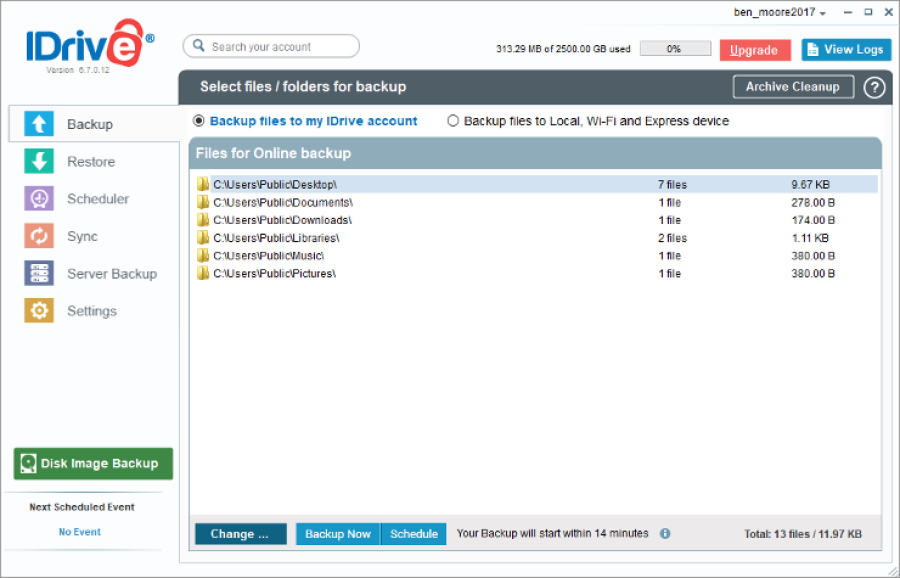 If you're in the market for an online backup service, there are many variables to consider, including pricing, advanced backup features, performance, and ease of use. IDrive hits high marks across all these categories, and it offers a good price-to-storage ratio, too. IDrive offers continuous syncing of your files, even those on network drives. The web interface supports sharing files by email, Facebook and Twitter. Cautious or click-happy users will be pleased to hear that files deleted from your computer are not automatically deleted from the server, so there's less danger of removing something important by accident. Up to 30 previous versions of all files backed to your account are retained.
Another thing to note is that IT admins have access to IDrive Thin Client application, which allows them to backup/restore, manage settings, and more for all their connected computers via a centralized dashboard.
For photos, you have a neat facial recognition feature that helps you to automatically organize them as well as syncing them across all your linked devices. IDrive also offers IDrive Express which sends you a physical hard disk drive if you lose all your data, allowing for the swift restoration of all your backed up files. That applies to the newly introduced disk image backup feature.
A business version exists and offers priority support, single sign-on as well as unlimited users and server backup. Furthermore, IDrive Cloud, an enterprise-class cloud object storage is also available.
You won't find a better overall online backup service than the full-featured IDrive, especially for the price.
2. Dropbox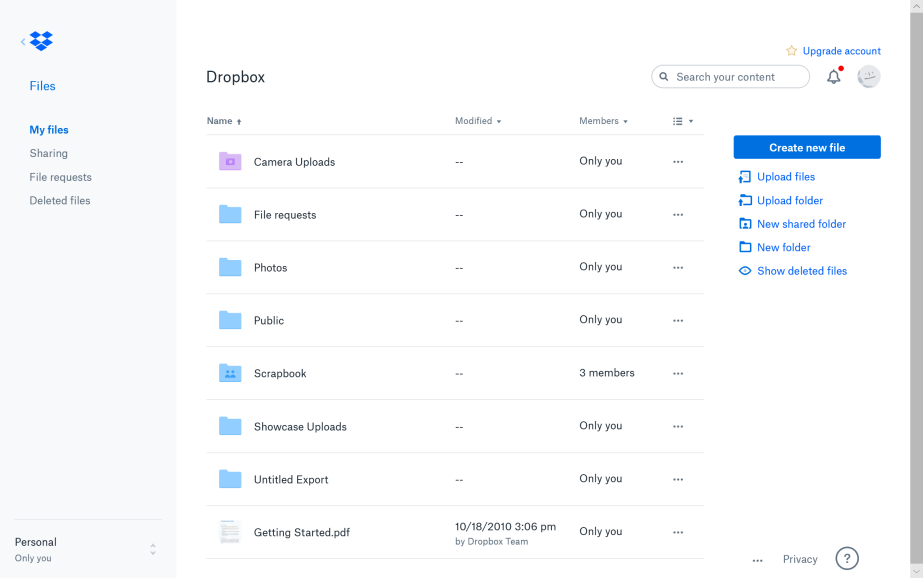 Found in 2007, Dropbox is one of the oldest cloud storage providers. It can be installed on most computers or devices and syncs easily between apps. The app can store almost any kind of file while never having any issues with compatibility. You can drag and drop files into the desktop app with ease.
You can also share files with other users easily through links. These can be shared with users who don't have a Dropbox account. Also, teams can make use out of Dropbox spaces, which transforms folders into collaborative workspaces. Furthermore, with Dropbox Transfer you can send up to 100 GB of files in just a few clicks.
As Dropbox has been around for a long time it integrates with most other apps such as MS Office and Slack.
All files and folders can be shared with other users even if they are not part of your account. These users will be limited to their own plan's storage limits.
Dropbox Business can be connected to your personal account so you can access all your files in once place. Personal account feature "automatic camera upload" is now also available to Business accounts, as of November 2018.
3. Google Drive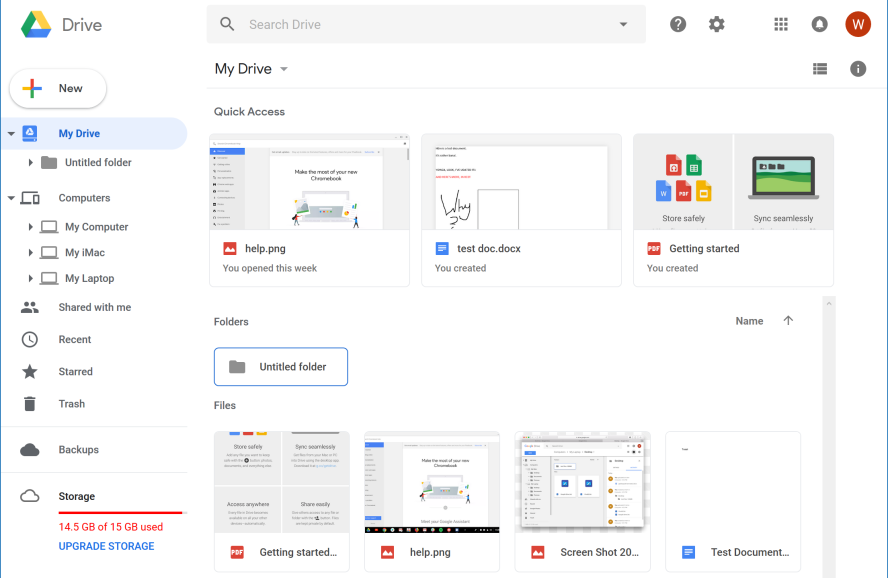 Google Drive is a natural choice for owners of Android devices as it's already integrated, but users of other platforms may appreciate the generous free storage too. You can also store high definition photos on your mobile phone with companion app Google Photos, and make use of Google's own office suite (now known as G Suite). Also, upgrading to paid Google Drive plans is now called Google One (although it might not yet be available, depending on the region).
Downsides include the fact that the web interface isn't very easy-to-use, although Windows and Mac users can download a desktop app to drag-and-drop files easily.
Price: 15GB free. 100GB for $1.99 a month (£1.59, around AU$2.50). 200GB for $2.99 a month (£2.35, around AU$4.10). 2TB for $9.99 a month (£8, around AU$13). 10TB for $99.99 a month (£74, around AU$130). 20TB for $199.99 a month (£148, around AU$260). 30TB for $299.99 a month (£236, around AU$426).
4. Microsoft OneDrive
>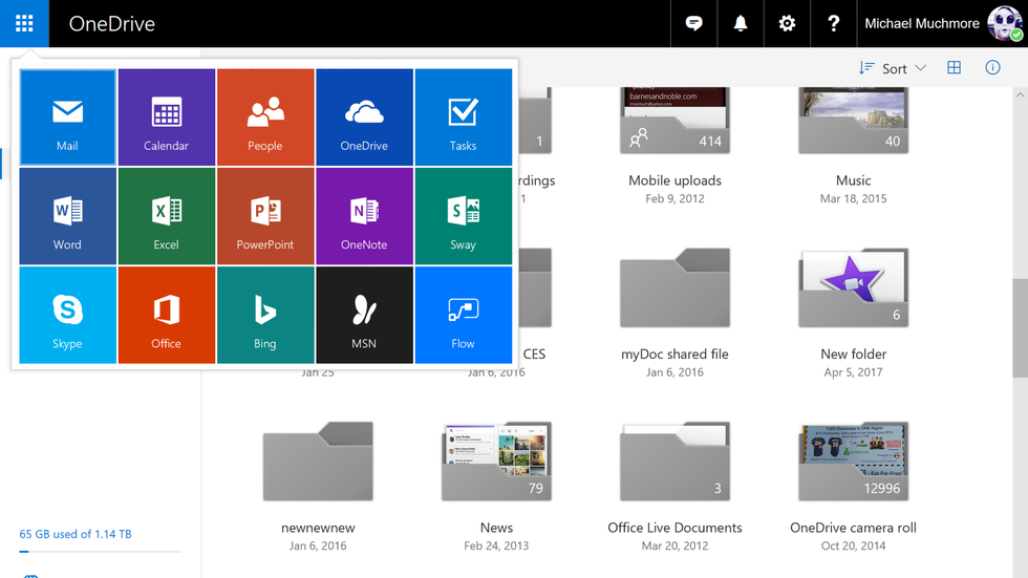 OneDrive is Microsoft's answer to Apple's iCloud and Google Drive. Well, that's not entirely accurate, since OneDrive actually preceded those cloud file storage and syncing services by at least five years. OneDrive's functionality and design have reached a point of slick usability and reliability with a rich feature set, online office apps, and wide platform support. OneDrive sports attractive and capable web and mobile interfaces, music streaming, photo AI, real-time coediting, and powerful search. The service's deep integration with Windows 10 and Office 365 and its completeness, maturity, and polish earn it not only an Editors' Choice award, but also a rare 5-star rating.
Microsoft's online backup and syncing service offers syncing and access apps not only for PCs, but also for Macs, Androids, iOS, and Xbox. It integrates seamlessly with Microsoft Office (both the installed and online versions) and includes rich photo management features, too. Apple's competing iCloud is only available for Apple devices. And while iCloud Drive and Google Drive now make stuff stored in their cloud services available on the web, OneDrive tops that by even making PC files that you didn't specifically upload available.
Like iCloud and Google Drive, OneDrive serves a lot of functions. If you just want access to documents or media files, it offers simple online storage accessible from the web. If you want the same set of files replicated on multiple PCs, it provides folder syncing. For Windows 10 users, it backs up device settings, including things like lock-screen and desktop-background images and browser favorites. It also syncs Office documents and enables co-authoring.
5. Box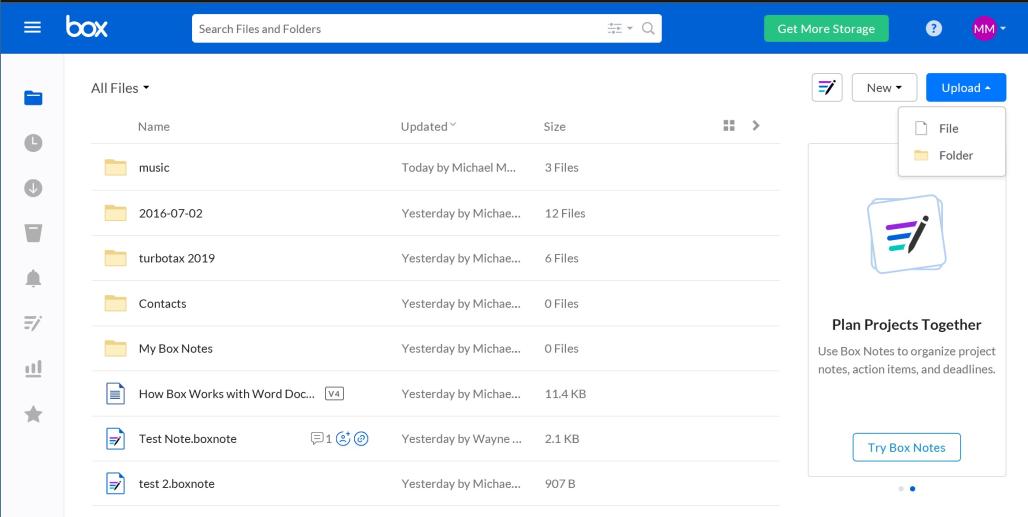 Box's website currently seems to be pushing its Business plans as clicking 'sign up' takes you to the pricing page where for $15 per user (£11, around AU$19) you can benefit from advanced collaboration options and unlimited storage. But there is a 10GB free option, too.
As Box has been around for a while, it is supported by a number of mainstream apps such as Google Docs and Office 365. It's also integrated with G-Suite, which means Docs, Sheets and Slides are automatically saved and managed in Box. Additionally, like OneDrive, it's also been integrated with AutoCAD. The Box Sync client is available from the Downloads page for Mac and Windows, plus there's also an official Android client.
6. Apple iCloud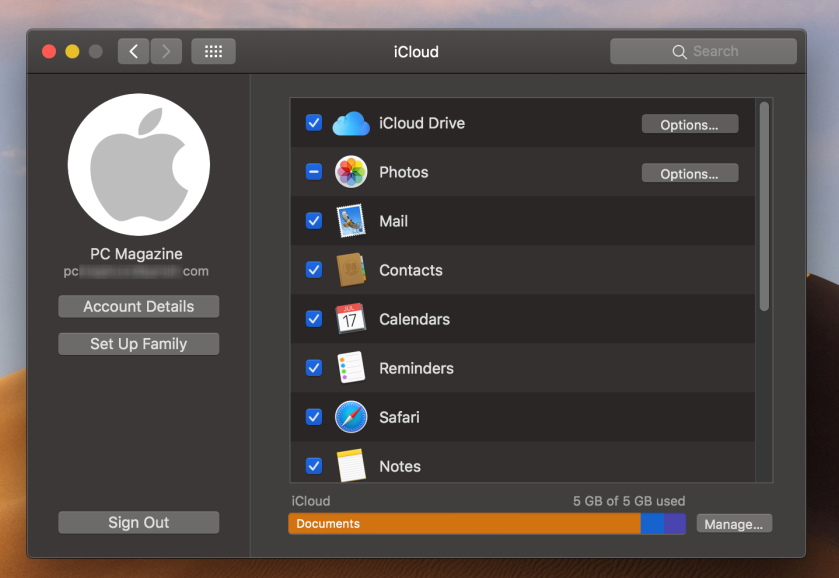 If you want to back up your iPhone to iCloud, you'll need more than the free 5GB allowance Apple gives you, but compared to rivals iCloud prices are very reasonable.
The Mac Finder app integrates iCloud Drive, where you can store any files you wish. Documents created in the iWork office suite are also saved to iCloud and can sync across your devices. Windows users can also sync their files with iCloud Drive using the official client, and access the iWork apps on the iCloud website.
7. CertainSafe Digital Safety Deposit Box
These days, all roads lead to storing your files in the cloud. Your Mac eases the path to iCloud storage. Microsoft Office programs offer OneDrive as the default for storage. You can get at your cloud-stored files from wherever you may be, which is quite convenient. But if you don't protect those files with powerful encryption, you could have big trouble. If those unprotected files are business-related, not personal, the consequences could be catastrophic. CertainSafe Digital Safety Deposit Box stores your data in the cloud, but it's totally focused on securing that data, whether its your personal files, business records, or enterprise-level trade secrets. It's a top pick for secure cloud storage and syncing, as well as for encryption apps.
You can take the service for a spin with a 30-day free trial that includes 5GB of storage with no credit card required. If you decide it's worth it, you can continue for $12 per user per month. That gets you 100GB of shared encrypted online storage per user, and the ability to share data with as many as 100 guests. For a big, business-level installation, you'll want to ask for a custom quote. On the business level, there's even an API that lets in-house coders incorporate CertainSafe's technology directly into their proprietary apps.
8. SugarSync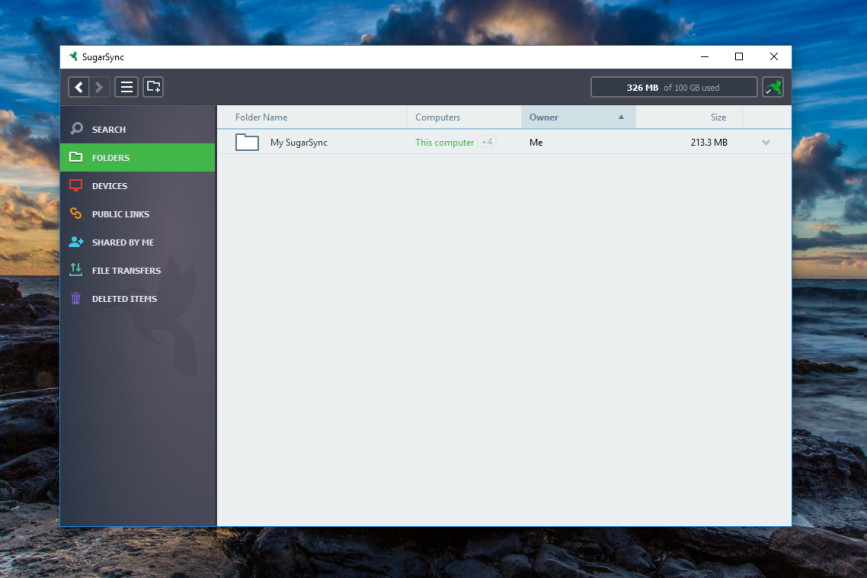 With a file-syncing service, you can access all of your files on any device you choose and keep backups in the cloud. A high-quality service should be reliable and simple to configure; pricing, storage space, and extra features matter, too. Though setting up and using SugarSync is intuitive, the service is expensive and lacks capabilities such as collaborative editing and two-factor authentication that are standard among the competition. Furthermore, it's unnecessarily difficult to cancel your account once you start paying. In the crowded file-syncing space, competing services like Google Drive and Microsoft OneDrive offer more features for less.
SugarSync does not offer a permanent free account, unlike OpenDrive and Google Drive. Two trial versions are available, one of which is a free 30-day trial, which requires a credit card. Alternatively, there's a hidden option for a 90-day trial with 5GB of storage that does not require a credit card.
9. SpiderOak ONE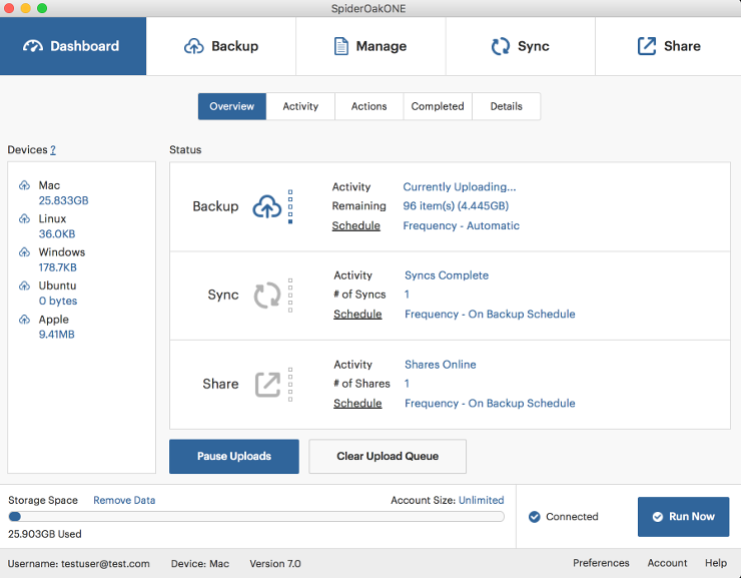 It's important to back up your data, but you might hesitate to use an online backup service out of concern that the company housing your data would have access to your personal files. If you're this kind of security-conscious user, consider the privacy-focused SpiderOak ONE. Touting its No Knowledge philosophy, SpiderOak keeps your files encrypted at all times, including during the backup and restore process. We like SpiderOak's desktop application, but the mobile app needs work and the service charges more for storage space than others in the category.
SpiderOak ONE is free to try for 21 days, and we like that the trial doesn't require a credit card. Paid Personal plans start at $69 per year for 150GB of space. For $149 annually, you can get 2TB of space. The largest Personal plan offers 5TB for a whopping $320 per year. You can use any of these plans with an unlimited number of devices. Additionally, all SpiderOak ONE plans let you back up external hard drives, removable devices, and network volumes. Other services, such as Carbonite, charge extra for these capabilities.
10. pCloud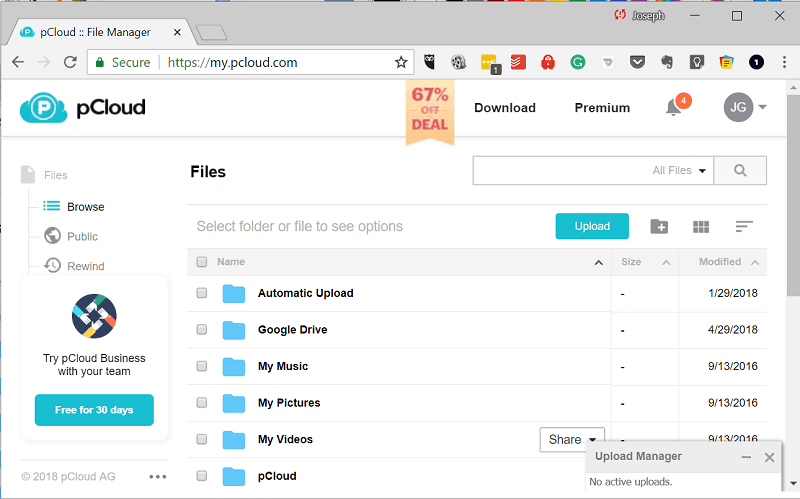 While some bandwidth limits apply, there seems to be no limit to the size of files you can upload, so feel free to sync large media files with pCloud. The service is available for all desktop and mobile platforms – users can also log in via the website. The company itself is registered in Switzerland which has strong privacy laws and you can also pay a premium of $4.99 a month for pCloud Crypto to lock (and unlock) individual files with passwords.
Note that it is one of the very few cloud services that offer lifetime subscriptions. The latter come with 30 days trash history and unlimited remote upload traffic (you only need the URL of the file); you are - as expected - limited on the download link traffic: 500GB for the Premium package and 2TB for the Premium Plus package.