"So I have been creating mkv files using OBS Studio and wanted to do some editing. DaVinci seemed like a good choice, so I installed it (Version 15) and attempted to load a file into the media pool. I select import media, find my file on the hard drive and select open. And... Nothing happens."
DaVinci Resolve (currently at verison 16) is one of the best professional tools that take video editing to the next level. Developed by Blackmagic Design, it lets people do 8k editing, color correction, non-linear video editing and more. DaVinci Resolve supports a wide variety of video and audio file formats and codecs, however, till now, MKV has not been added to the official supported format list. And this is the main reason that 'DaVinci Resolve not able to import MKV files' still happens every now and then. To use MKV files in DaVinci Resolve, the most effective yet easiest solution is transcoding MKV to a format well accepted by DaVinci Resolve.

The truth is that MKV is not supported by many NLEs including but not limited to DaVinci Resolve, Final Cut Pro, Sony Vegas and more. Why? You should know that codec format decides whether you can load a video or audio file successfully or not, while MKV is just a container format that can contain different types of video, audio codecs and even subtitle tracks. So even though you are importing an .mkv video, the encoded file wrapped in the MKV box might not be supported, which leads to file import failure. In most cases, transcoding is a very help method.
MKV File Import Failure in DaVinci Resolve Is Mainly Caused by Incompatible Codec
100% Working Solution: Convert MKV to DaVinci Resolve supported MOV H.264, MP4, DNxHD...
Analysis: MKV Import Failure in DaVinci Resolve is mainly due to incompatible file format or codec missing, which can be easily solved by transcoding MKV to other DaVinci Resolve friendly formats with a third-party software like EaseFab Video Converter. This program is an all-in-one video processing tool, with video converter and editor embedded in. You can do some simple cutting, trimming and merging before converting MKV files. And MP4 is the most recommended output format for its wide compatibility. As for the video quality, don't worry too much. With the constantly updated conversion algorithm and the advanced high quality technology, it guarantees you the output MP4 video with up to 98% quality reserved, wrinkles or freckles in image still clear enough to count.
EaseFab Video Converter - Convert MKV to Formats Supported by DaVinci Resolve
• Accept all MKV files with different encoded video/audio streams
• Output MKV in file formats natively supported by DaVinci Resolve
• Convert videos in 3 Steps without causing any quality loss
• Easy editing experience: cut, crop, merge, effects...
Step-by-step Guide: How to Convert MKV to DaVinci Resolve Friendly Format
PS: The step-by-step guide is almost the same on Windows and Mac. Here we will take EaseFab Video Converter for Mac as the example.
Step 1. Download and launch EaseFab Video Converter on Mac or Windows PC. Click Add Video to import your MKV video. Dragging and droppping works too. (Note: batch conversion is supported, so you can several mov videos to the program to convert at a time.)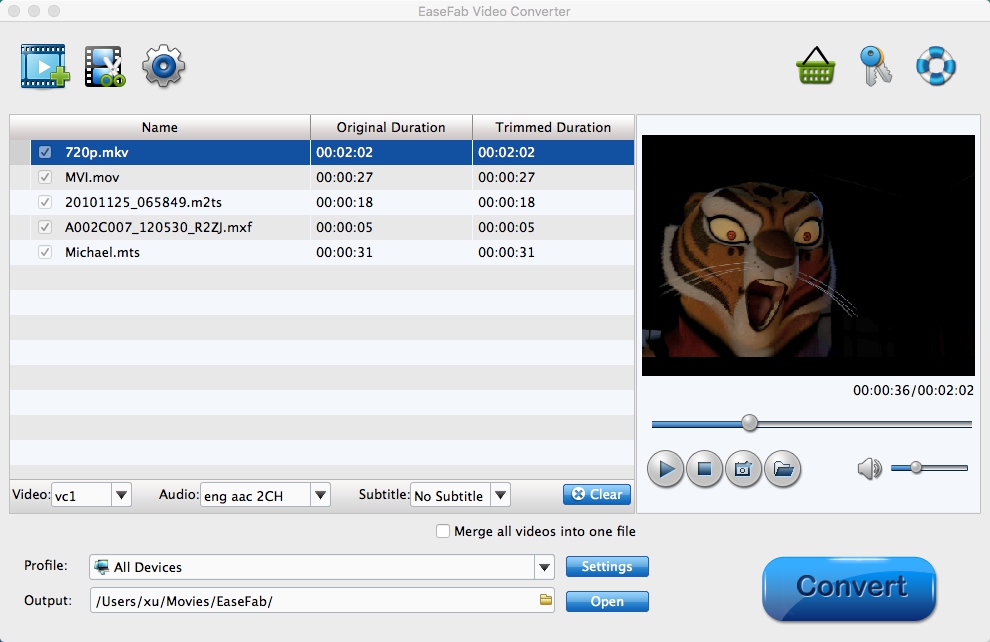 Step 2. Click the Profile drop-down list and move mouse cursor to Editing Software category. Here you're recommended to select ProRes for transcoding MKV to DaVinci Resolve on Mac. For Windows users, you're recommended to use DNxHD as the output format.
Besides the high-quality codecs, you can also select MP4 (codec: H.264) or MOV (H.264) from Common Video category for further using in DaVinci Resolve.
Important Note: Though high-quality ProRes and DNxHD codecs typically need ten times as much storage than the H.264 codec video needs, they are specially designed for heavy editing task and they trade storage space and bitrate for quality and ease of processing.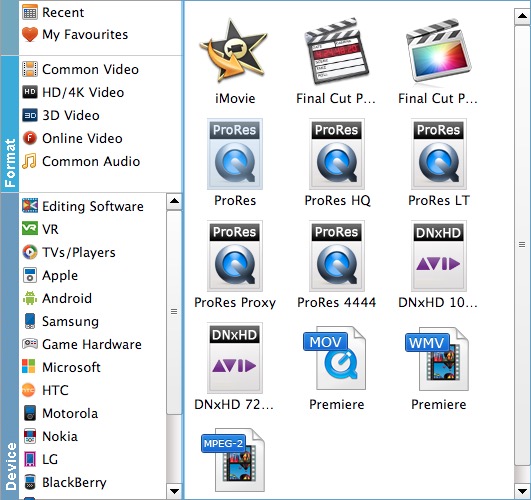 What's so good about ProRes and DNxHD for editing?
What's good is that they don't compress the video as much. They trade storage space and bitrate for quality and ease of processing. They typically need ten times as much storage. That's a lot, but hard drives are tending towards being free, so it hardly matters these days.
Both ProRes and DNxHD are effectively "visually lossless" at their higher bitrates. That means exactly what it says: you can't tell the difference between your original video and the same material encoded to ProRes or DNxHD.
Once you've converted, your edits will fly. These codecs are so efficient that you can play multiple streams with a fraction of the effort you need for a single stream of H.264 - based video. As an example, on my Macbook Air, playing any HD Long-Gop clip will cause the fan to come on at full power within seconds, but with ProRes, I can play a clip - in much higher quality - with no sign of the fan.
Step 3. (optional) You can cut, crop, merge, rotate, etc. to make some easy video edits in a linear manner with EaseFab Video Converter. You can also click Settings button to adjust the codec, resolution, frame rate, bitrate, etc.
Step 4. Hit Convert and it will begin fast video decoding, conversion and processing your MKV video at one go.
After the conversion is complete, get the resulted files via clicking the Open button and then you can import the result files to DaVinci Resolve 16 or lower version without any trouble.