Magix (formerly Sony) VEGAS Pro is a professional program for creating and editing videos and it support plenty of video and audio formats for import. However, it's never an easy task to work with MKV files in VEGAS Pro, even not the latest VEGAS 19. Though VEGAS PRO 17 and above added an experimental – MKV reader feature that can be used to natively import MKV files directly into the timeline… But most of the time this method might not work well.
So, I wanted to work with a file in MKV, but it needs some editing, I saw a tutorial that teached me how to enable experimental MKV support via "Preferences" - "File I/O" - "Enable MKV Reader". Did this and still can't work with MKV files. I saw some people had the same problem but no solution. - A VEGAS Pro 18 user from reddit.com
Does VEGAS Pro support MKV? How to import MKV files to VEGAS Pro? We'll answer these questions below.
Table of Contents
Part 1. Does VEGAS Pro Support MKV Format?
According to sepcifications of VEGAS official site, we find that MKV isn't in the list of VEGAS Pro supported file formats.
VEGAS Pro 17 added an experimental - MKV reader feature that allows you import .mkv files into Vegas, as long as the video codec used is supported!
The new feature is disabled by default, but can be activated from the main menu by going to Options > Preferences > File I/O, just like shown in the screenshot below: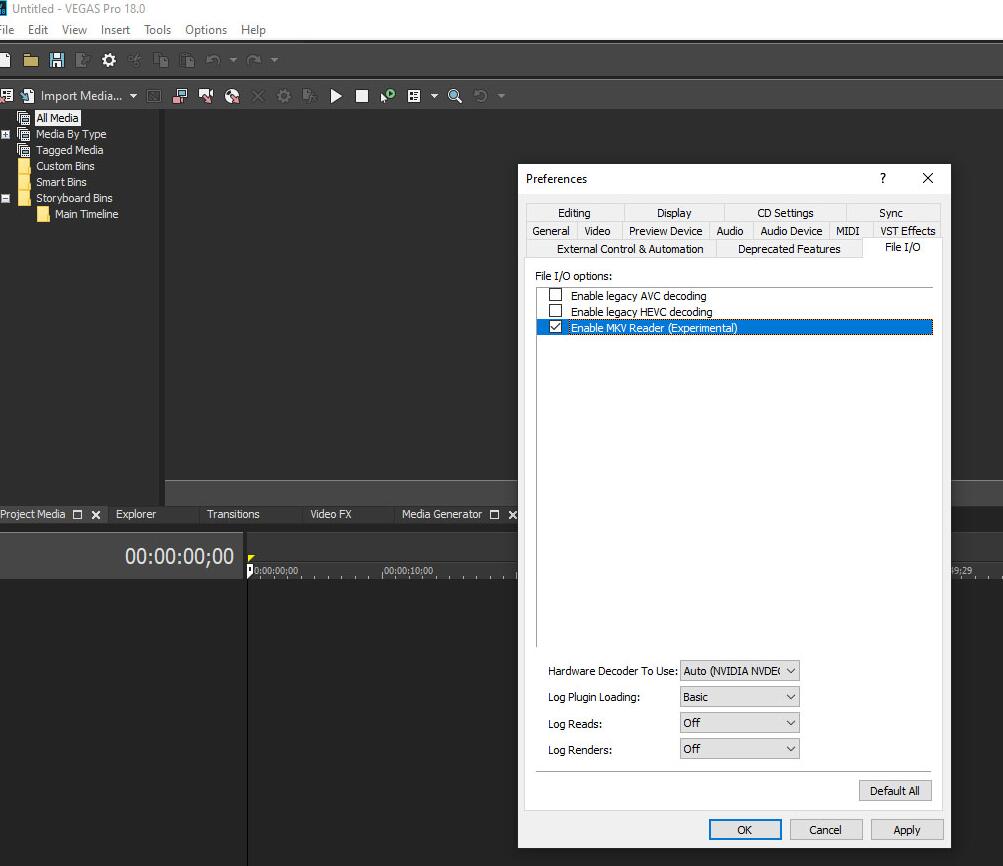 However, just as we mentioned above, most of the time this method doesn't work. MKV is very much an end user format. No camera outputs MKV files, no editing software uses it as an intermediate or editing format, so there's no good reason for any editing software to ever be able to open an MKV file. I was surprised when Vegas started to introduce MKV support in version 17, but there it is. It's buggy and incomplete and I wouldn't recommend ever relying on it. One of the greatest things about MKV as a format is the sheer amount of stuff it can contain - you can have multiple subtitles in there, multiple audio tracks and even multiple video tracks. But that's just a bloody nightmare to try to handle in editing software.
So what can you do to import MKV files to VEGAS Pro if the Experimental Enable MKV Reader doesn't work? Below are 3 possible fixes for VEGAS Pro not import MKV files.
Part 2. How Can You Import MKV File into VEGAS Pro?
If your MKV file can play fine but can't be imported to VEGAS Pro, then file import failure should be due to incompatible file format or codec missing instead of file corruption.
Some people may suggest you to try installing the K-Lite Codec Pack to fix MKV import failure. However, we don't recommend this because this has been known to cause issues with the VEGAS Pro, such as crashes, slowdowns and other issues.
Here we'll introduce 2 simple and workable ways for you.
Method 1. Rename File Extension
Sometimes, we simply need to change the file extension from mkv to one that VEGAS Pro supports and then we can get rid of file import failure.
Right click on your .mkv file, and choose Rename. Then, change the file extension from mkv to mp4, avi, or something that VEGAS can recognize. Then click Yes when a warning pops up. Once done, put the file into VEGAS Pro and see if it can be imported without error now.
Method 2. Convert MKV to VEGAS Pro Supported Format
If rename doesn't work, it pobably means that VEGAS Pro doesn't support the video and audio codecs in your MKV video. Then, you need to convert MKV to a more industry standard format that VEGAS Pro supports. This can be easily done with this easy-to-use yet powerful video converter and deocder -EaseFab Video Converter.
● Support any HD/4K MKV file, no matter what video and audio codes are used.
● Convert MKV files to MP4, MOV, MPEG-2, WMV, H.264 and more VEGAS supported formats. Batch conversion is supported.
● Finish conversion at ultra-fast speed using hardware acceleration.
● Also support compressing, editing and merging videos.
Click the download button above, install it, and follow our guide to convert MKV to VEGAS Pro compatible format.
Step 1: Add MKV files
Install and launch EaseFab Video Converter, and then click Add Video button to import your MKV files to the software. You can drag and your MKV videos and drop them to it. The app supports batch conversion, so you can add more than one file at one time.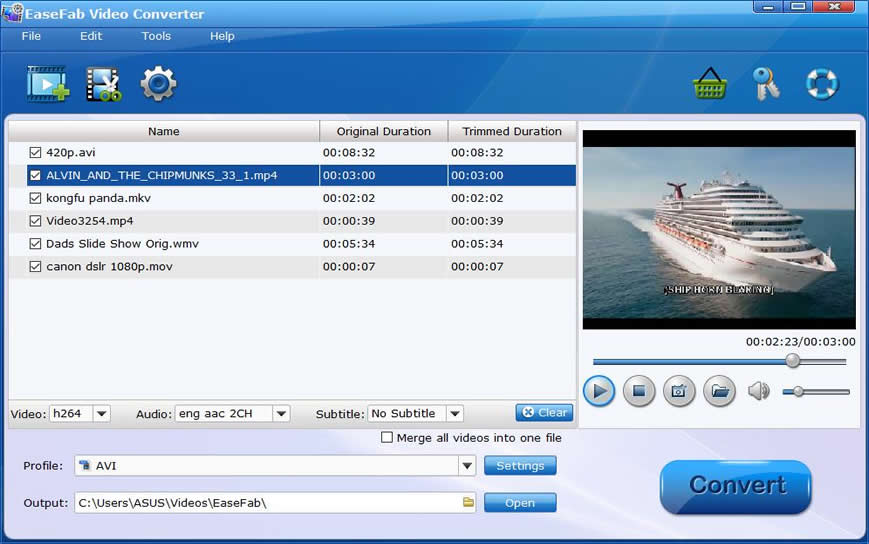 Step 2: Select output format
Click Profile icon and move mouse cursor to Editing Software and select Vegas/Premiere (MPEG-2) as the output format. The result MPEG2 videos seamlessly fits VEGAS Pro 19/18/17/16/15/14, etc. and the original quality of MKV video will be kept. You can also select WMV, MOV, or MP4 as the output format.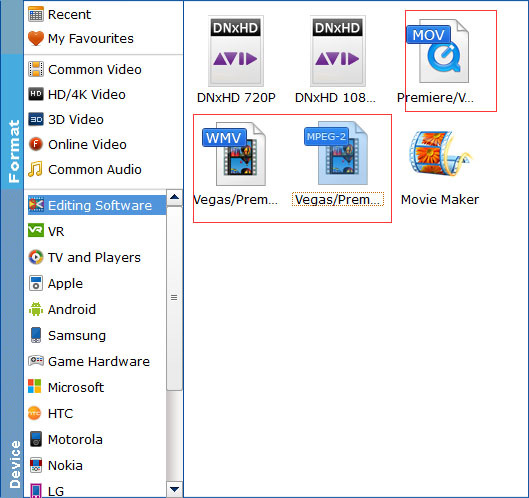 Step 3: Start the conversion
When all settings are ready, click the Convert button to start converting your MKV to MPEG-2 for Vegas Pro. The progress bar will show how much time is needed.
Once done, you can import the resulting file to VEGAS Pro for editing without any trouble.
So above are the fixes for MKV not supported in VEGAS Pro. Hope they can get you out of trouble.