Many of the videos we download from websites, get from friends, or ripped from Blu-ray/DVD are MKV files. As a container format, it can store multiple video, audio, subtitle tracks in a variey of codecs, such as HEVC, H.264, DTS, Dolby Digital audio, or SRT etc. However, due to its bigger file size and less compatibility, many mobile devices, media servers and programs refuse to open or recognize MKV video files. And there are some occassions you may have to convert MKV to WebM, which is commonly used for displaying media on web pages and is supported by all recent web browsers, including Opera, Mozilla Firefox, and Google Chrome.
In this article, we rounded up the 5 best MKV to WebM converters (including free online converters) and step-by-step tutorials on converting MKV to WebM on on Windows (Windows 11/10) and Mac. Check them now.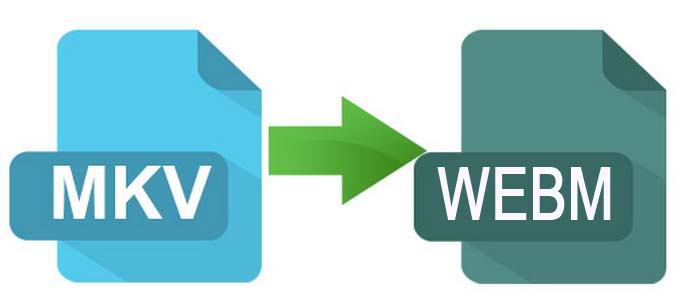 Way 1. Convert MKV to WebM in High Quality with EaseFab Video Converter
EaseFab Video Converter is an all-in-one video and audio processing software which utilizes hardware acceleration technologies to convert media files at a lightening fast rate. With 3 simple steps., you can convert MKV to WebM at ultra-fast encoding speed without losing quality visually.
● Accept all 1080p/4K/5K/4K MKV files regardless of video/audio codecs, frame rate, bitrate and file size and length.
● Support batch mkv to webm conversion. You can use it to process many MKV files to WebM format with no limit.
● Not just MKV and WebM, almost all types of known video formats, MP4, MOV, WMV, AVI, etc. are supported by EaseFab Video Converter
● Built-in video editor provide tools like cut, crop, rotate, subtitles etc.
● Fully supports hardware acceleration technologies like Intel Quick Sync, Nvidia CUDA, Apple Metal, and AMD Acceleration. If your computer supports any of these technologies then video conversion will be even faster.
● Compatible with both Windows and Mac OS.
With so many outstanding features, EaseFab Video Converter would be highly recommended for you as the best MKV to WebM converter. So why not download and give it a try on your Mac or Windows 7/8/10/11 computer and follow the steps below?
[Tutorial] How to convert MKV to WebM in 3 easy steps
Step 1. Launch EaseFab Video Converter on your PC or Mac and then click "Add Video" button to locate and import the source MKV files you want to convert to WebM. "Drag & Drop" function also works. You can load multiple videos to convert.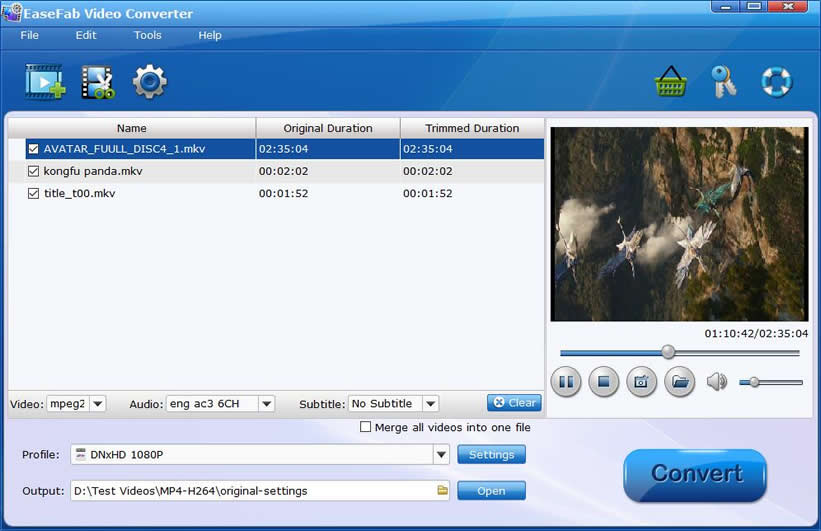 Step 2. Click "Profile" icon and move mouse cursor to "Common Video" category, then click and select "WEBM" as your target format.
Tips: If you want, you can click "Settings" button to customize such settings as resolution, quality, aspect ratio and others. Moreover, you can click "Edit" button to cut, crop, apply effects to your MKV videos.
Step 3. Finally, hit the big "Convert" button to start converting MKV to WebM quickly.
Way 2. Free Convert MKV to WebM Online with Convertio
Convertio is one of the most comprehensive online converter programs boasting a ton of supported formats. To be specific, you are open to converter a variety of formats like videos, audio, archives, images, documents, presentations, ebooks, vectors, fonts, and CAD files. It also provides a specific "Online and free MKV to WEBM converter" page to help you convert your MKV to WEBM.
Convertio is extremely simple to use even for first-time users. And it will not collect any of the information contained in your submitted files. No information from your files will be extracted or copied by Convertio. Below are the simple steps to do the MKV to WebM conversion.
[Tutorial] How to convert MKV to WebM using Convertio
Step 1. Copy https://convertio.co/mkv-webm/ and paste it to your brower to open the page.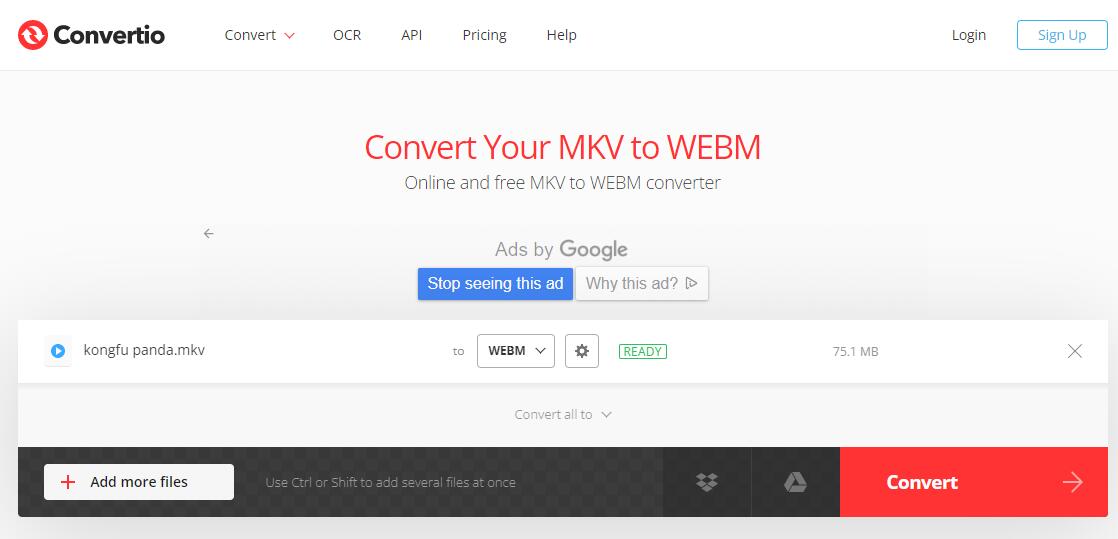 Step 2. Select or drag&drop MKV video to convert it to the WEBM format from your computer, iPhone or Android. Moreover, it is possible to choose it from your Google Drive or Dropbox account.
Step 3. After uploading MKV vidoes, you can hit the Convert button to process the MKV to WebM conversion.
Note: While you can still convert files for free, there are limitations that you are bound to encounter like being limited on file size (100 MB per file) that you can process at a go. Luckily, these limitations can be overcome by purchasing or subscribing to any of the Convertio paid plans.
Way 3. Convert MKV to WebM Online with AnyConv
AnyConv is also free online converter which can convert audio, image, font, ebook, document and more. It can also help you to convert MKV to WEBM in a few minutes. It will destroy uploaded files right away, and converted files will be deleted after 1 hour. Your files are secure, and no one has access to them. All file conversions are completely secure, including MKV to WEBM.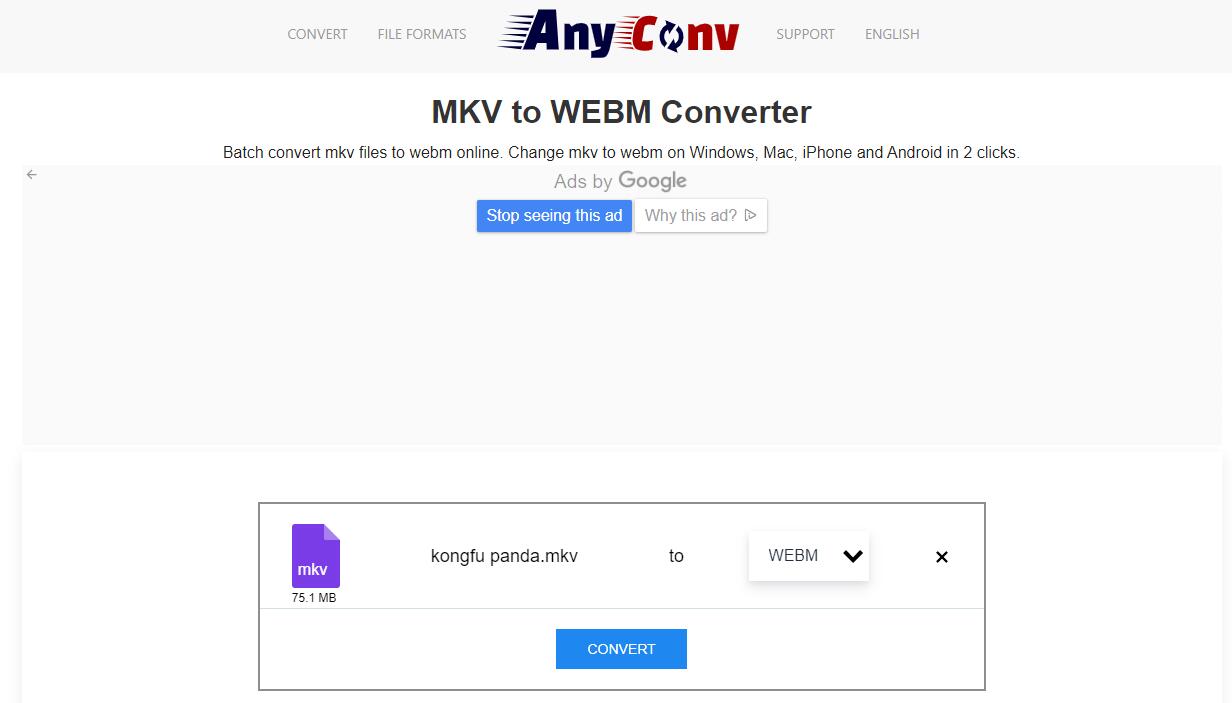 To convert MKV to WebM with AnyConv, you can:
Open the link https://anyconv.com/mkv-to-webm-converter/, click the "CHOOSE FILE" button. MKV files can be up to 100 MB in size. To begin the conversion, click the "Convert" button.
Way 4. Convert MKV to WebM with FreeConvert
As a free MKV to WEBM converter online, FreeConvert works on any web broswer. It claims to guarantee the safety and privacy of your uploaded files and you files will be erased after two hours. You can drag and drop up to 1GB files here without signing up or downloading software. In most circumstances, "Advanced Settings" can be used to fine-tune conversion parameters.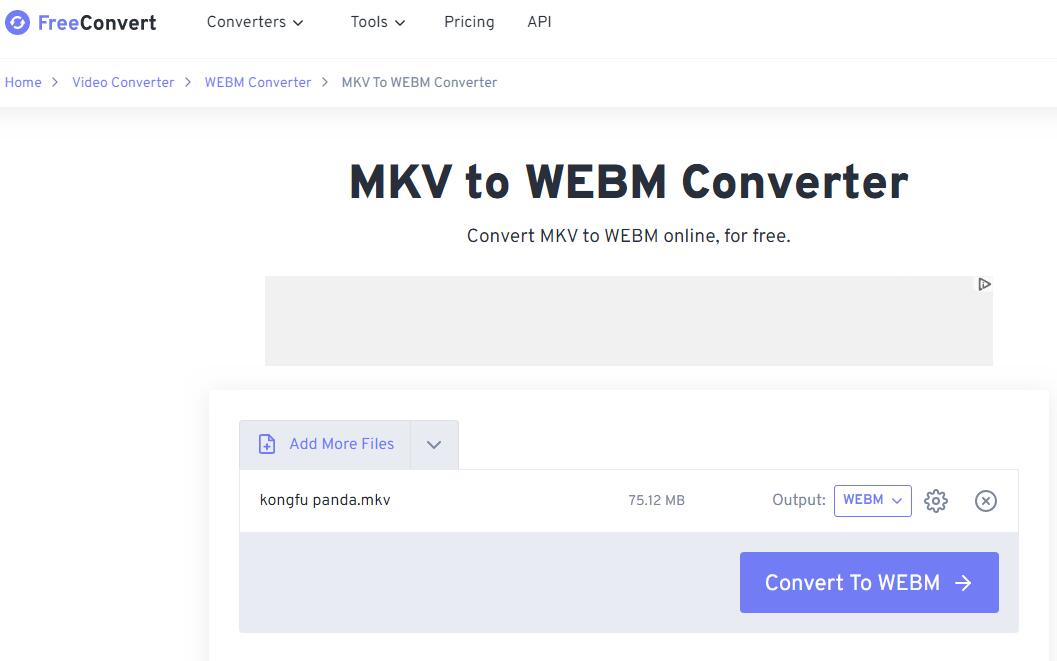 It's also simple to process the MKV to WebM conversion with FreeConvert.
1. Copy and paste https://www.freeconvert.com/mkv-to-webm to your broswer and open the page.
2. Drag and drop your MKV files into the converter or click "Choose Files" to browse and add MKV videos.
3. Hit the "Convert to WEBM" button to start the conversion.
Way 5. Free Convert MKV to WebM Online with CloudConvert
CloudConvert is a free and fast online file converter. Established nearly 8 years, the website has helped converting more than a million files. Not only converting videos like MKV to WEBM, Cloudcovnert also converts audios, images, documents, ebooks, ppts, archives, fonts, vectors, and more. Just go to the homepage, choose the input and output formats, and you can convert files within clicks. It also allows you to choose resolutions, aspect ratios, codecs, fps, constant qualities, speed presets, profiles, Fit (for video sizing and scaling), and more.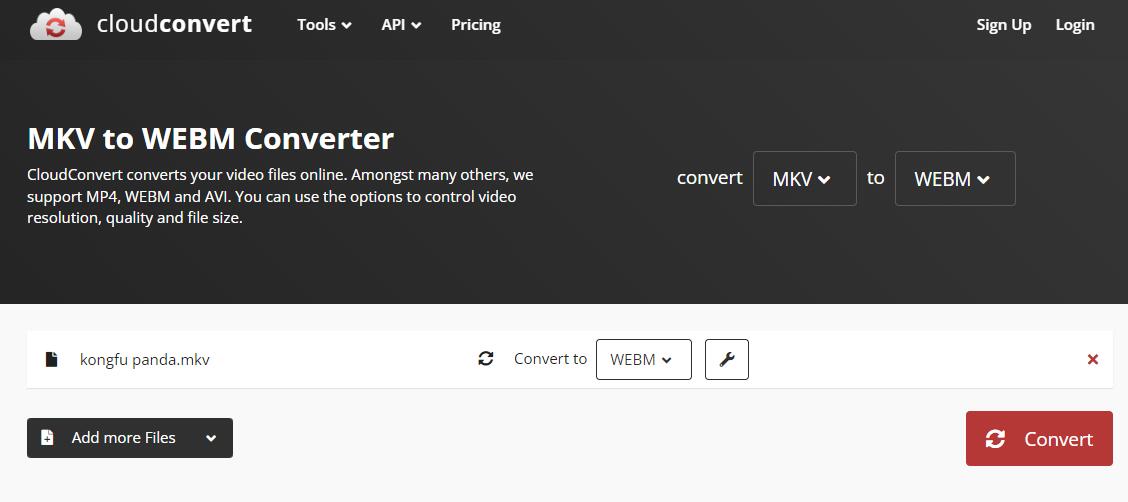 To convert MKV to WEBM with CloudConvert, do as follows:
1. Enter https://cloudconvert.com/mkv-to-webm
2. Click "Select File" to add the source MKV videos.
3. Hit the "Convert" butto to begin the MKV to WEBM conversion process.
Final Words:
Above are the 5 simple ways to convert MKV to WEBM for better compatibility. Among them, the online converter is a good option if you want to convert a small video for example a short video that's less than 100MB. For a longer or larger video conversion, EaseFab Video Converter will be your best choice.