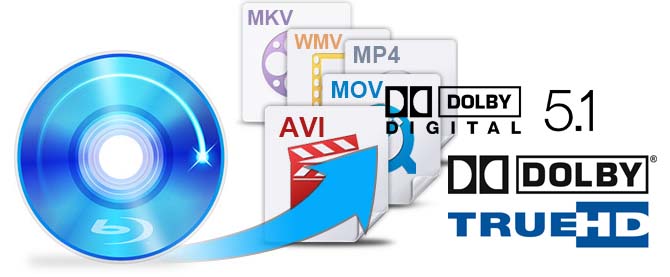 Blu-ray Disc provides excellent audio. Besides Dolby Digital and DTS audio codec, more and more Blu-ray discs provide higher audio quality in 7.1 channels with Dobly TrueHD and DTS-MA audio tracks. When do Blu-ray ripping and backup, to get the best audio quality from Blu-ray disc, we can choose to preserve the 5.1 and 7.1 surround sound in original Blu-ray disc. Have no idea about that? Don't worry! This article will show you the right and easy way on how to rip Blu-ray with Dolby Digital 5.1 and Dolby TrueHD 7.1 surround sound preserved.
Brief Introduction of Dolby Digital 5.1/TrueHD 7.1 Surround Sound
A 5.1 surround sound system uses 6 channels (feeding into 6 speakers) to create surround sound. 7.1 surround sound systems use 8 channels. The two extra channels of sound (and two extra speakers) provide a slightly better audio quality.
5.1 surround sound is achieved with Dolby Digital or DTS. DTS uses less compression but is also less common than Dolby Digital. 7.1 surround sound can be achieved using Dolby TrueHD or DTS-HD Master audio. These are considered "lossless audio," identical to the movie studio's original.
5.1 is the industry standard and is used by most DVD and Blu-ray disks, as well as by HDTV and video games. It is also the most common sound system in commercial theaters. Most Blu-ray players support 7.1 sound, as does the PS3, PS4. Most DVDs, Blu-ray disks and games are still produced using 5.1 audio, but an increasing number of Blu-ray disks are being released with 7.1 sound as well.
Best Tool for Rip Blu-ray with Dolby Digital 5.1/Dolby TrueHD 7.1 Audio Track Kept
In the Blu-ray specification, Dolby TrueHD, DTS-MA, LPCM, Dolby Digital, DTS and PCM are optional codecs for Blu-ray audio encoding. When backup Blu-ray movie, most Blu-ray ripper software will choose to convert Blu-ray LPCM audio to AC3 or AAC 5.1 audio, which are more acceptable for universal a/v receivers. Surely you will lose some quality when encoding Blu-ray LPCM 7.1 audio to AC3/AAC, but this is a compromise. What if you have a surround amp that accepts 7.1 PCM audio channels? I'm pretty sure you would like to keep the Blu-ray LPCM 7.1 audio, just like me.
To get the job done, EaseFab LosslessCopy (available for Windows and Mac users) is highly recommended here. With it, you can easily keep keep Dolby Digital 5.1/Dolby TrueHD 7.1 audio when ripping Blu-ray Discs. Simply speaking, LosslessCopy can video clips from proprietary encrypted Blu-ray/DVD discs to into MKV files with multiple video/audio tracks with all meta-information and preserve chapters. Additionally LosslessCopy can rip BD/DVD to MP4 and MOV with multiple audio streams. What's more, it can convert BD/DVD from hard discs to virtually any popular video and audio format so that you can freely watch movies on with your favorite player or your favorite devices. All in all, EaseFab LosslessCopy is the best choice to backup, rip and convert BD/DVD discs that you own into free and patents-unencumbered format that can be played everywhere.
The following guide will show you how to keep PCM 5.1/LPCM 7.1 audio when ripping Blu-ray movie to seamless MKV file with EaseFab LosslessCopy.
Step 1: Load Blu-ray movies
Insert the Blu-ray disc to the BD drive and then click the Load Disc button to have Blu-ray movies uploaded to EaseFab LosslessCopy. You can also import DVD files, BD/DVD ISO files, IFO files or Blu-ray/DVD folder for conversion.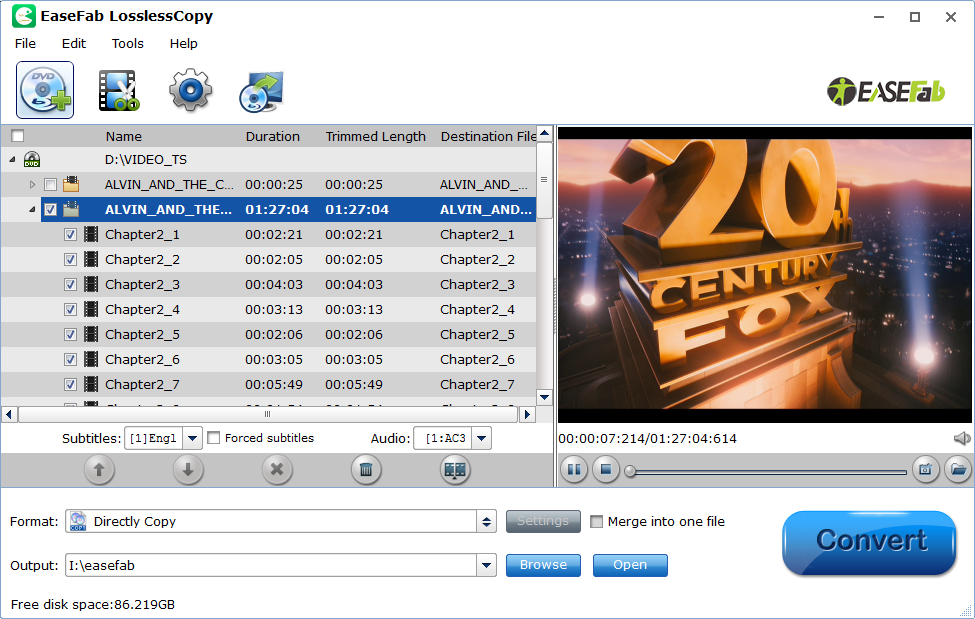 Note: When importing a Blu-ray disc, please make sure that your PC has been equipped with an external or internal Blu-ray drive to recognize your Blu-ray disc.
Step 2. Specify output file format
Keep Dolby TrueHD 7.1 audio: To pass-through Dolby TrueHD 7.1 audio in original Blu-ray disc, just select "Multi-track Video" > "Lossless/encoded Multi-track MKV(*.mkv)" for output. In this way you will get lossless audio streams without transcoding from original BD disc to MKV format. But you should make sure that the original Blu-ray disc contains Dolby TrueHD 7.1 audio, other wise you still can not get Dolby TrueHD 7.1 audio saved.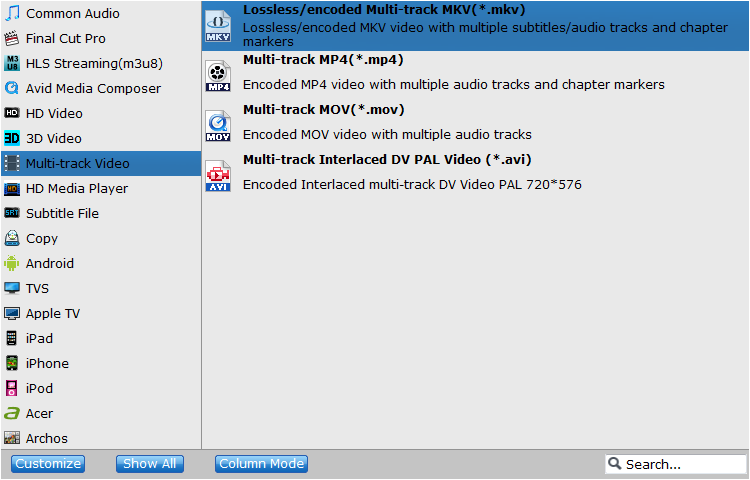 Keep Dolby Digital 5.1 audio: To rip Blu-ray with Dolby 5.1 tracks, select "Multi-track Video" > "Lossless/encoded Multi-track MKV(*.mkv)", then click "Settings" to open "Multi-task Settings" window, click "Audio" tab, check "Encode" to get encoded MKV files with Dolby Digital 5.1 audio saved.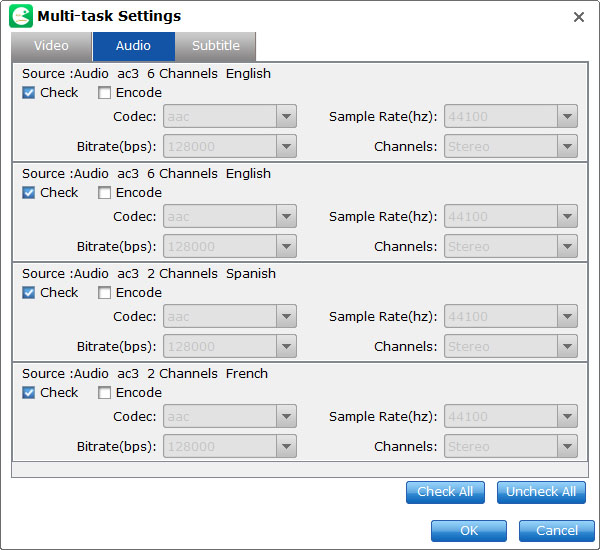 Step 4: Start ripping process.
After all the settings is completed, go back to the main interface, hit right-bottom "Convert" button to start ripping Blu-ray movies to MKV files with Dolby Digital 5.1 or Dolby TrueHD 7.1 audio.