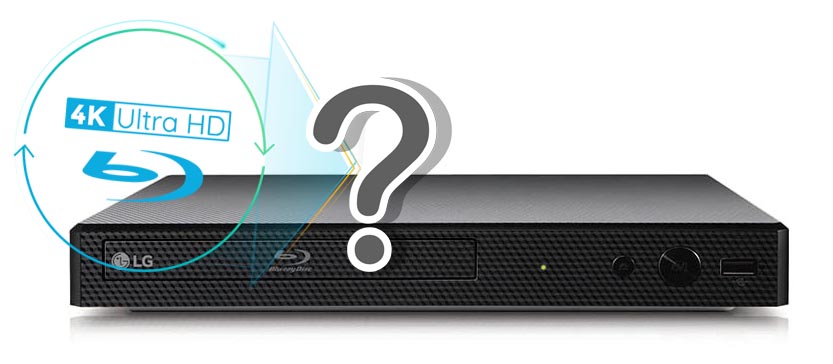 As a technical advancement over the standard Blu-ray disc, UHD Blu-ray supports a resolution of 3840 x 2160, higher frame rates of up to 60fps (frames per second), and high dynamic range (HDR). In physical media, HDR is currently delivered in three main formats: HDR10, HDR10+ and Dolby Vision HDR. 4K Ultra HD Blu-ray is now a firm fixture of virtually all major film releases. Is it possible to play a 4K Ultra HD Blu-ray on a common Blu-ray player? This question bothers many 4K UHD entertainment enthusiasts. But the answer to this question is a big 'No.' Feel frustrated? Read on to find more details.
Why We Cannot Play a 4K Ultra HD Blu-ray on a Common Blu-ray Player
The reason is that normal Blu-ray players support on BD25 or BD50. Here 25 and 50 signify the size of the Blu-ray disc in GBs. Common BD players are pretty much limited to 1080p resolution only which is not the highest resolution and is only one-fourth the quality of a 4K UHD resolution. 4K UHD entertainment requires BD100 discs which can store up to 70GB or more data. Also the 4K UHD Blu-ray player uses a separate video codec which is not even supported by common Blu-ray players.
Solutions to Get 4K Ultra HD Blu-ray to Play Nicely on Common Blu-ray Player
There are some solutions out there to play UHD Blu-ray discs. The first solution is to upgrade your common BD player to a 4K UHD player. 4K UHD players are quite expensive too and most people can't even afford them. If you do like to watch ultra high definition movies and don't have a 4K UHD player then don't worry. You can try the second solution - rip and convert Ultra HD Blu-ray to 1080p digital video formats and then copy the converted UHD Blu-ray files to your USB drive, plug the USB drive into your Blu-ray Player's USB port for playback.
Editor's Note: Conventionally, if you want to play UHD 4K Blu-ray, there are three necessary devices: Ultra HD Blu-ray discs, Ultra HD TV and physical 4K Ultra HD Blu-ray player. The UHD TV must support HDMI 2.0 standard and beyond. Otherwise, it will only display 1080P videos instead. The latter two items are not easy to get. And sometimes, you may find it very inconvenient to watch 4K Blu-ray movies only on TVs. For better Blu-ray enjoyment, it is highly recommended that you should get a 4K Blu-ray ripper and converter to convert 4K UHD Blu-ray into any video format of high quality and played on any portable devices anytime.
Best Ultra HD Blu-ray Ripper to Rip UHD Blu-ray for Playback on Common Blu-ray Player
Ripping UHD 4K Blu-ray is not an easy job partly in that it is imposed higher and stricter encryption so as to protect the commercial 4K Blu-ray from being illegally copied. Even so, EaseFab LosslessCopy stands out as the best UHD Blu-ray ripper with professional commercial Blu-ray ripping. Another bright spot of this Blu-ray/DVD ripper is that it can convert video clips from proprietary encrypted Blu-ray/DVD discs to into MKV files with multiple video/audio tracks with all meta-information and preserve chapters. Additionally LosslessCopy can rip BD/DVD to MP4 and MOV with multiple audio streams. Moreover, the program can easily convert UHD 4K Blu-ray into 4K MKV, 4K MP4, 4K WMV and other formats in UHD resolution without compromising video quality, so much as that it presents an ultra-pleasant visual feast.
Simple Steps to Convert UHD 4K Blu-ray to 1080p Digital Videos
NOTE: To rip 4K UHD Blu-ray disc you'll need at least an internal UHD Blu-ray optical ROM drive.
Step 1: Insert the Ultra HD Blu-ray disc to the BD drive and then click the Load Disc button to have 4K Blu-ray movies uploaded to EaseFab LosslessCopy. You can also import BD/DVD ISO files, IFO files or Blu-ray/DVD folder for conversion.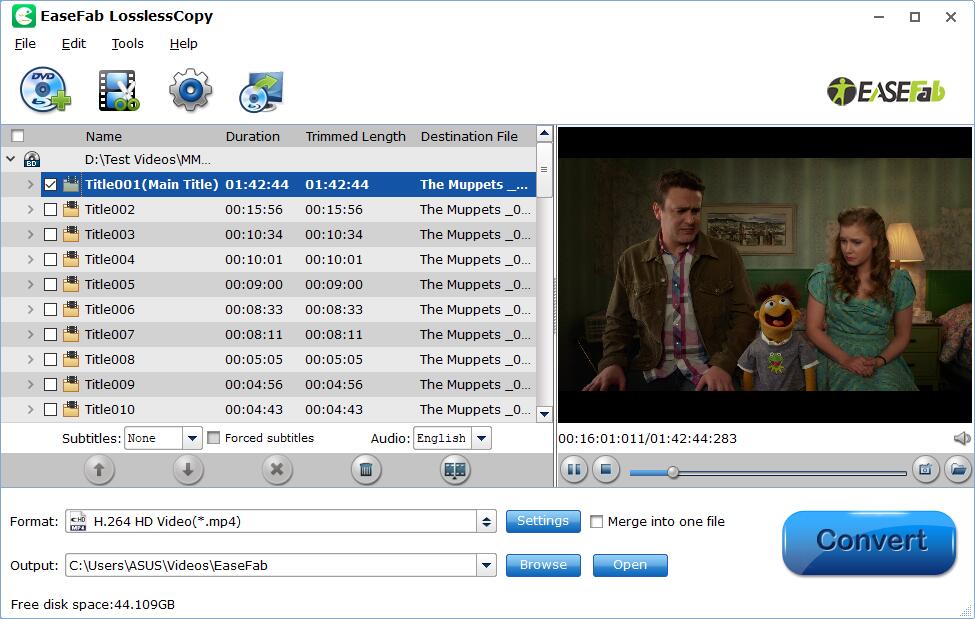 Step 2: Click on Format bar, select "HD Video" from the format list and in submenu you can select H.264 HD Video, DivX HD as the output format. The hit on the small folder icon to specify an output folder.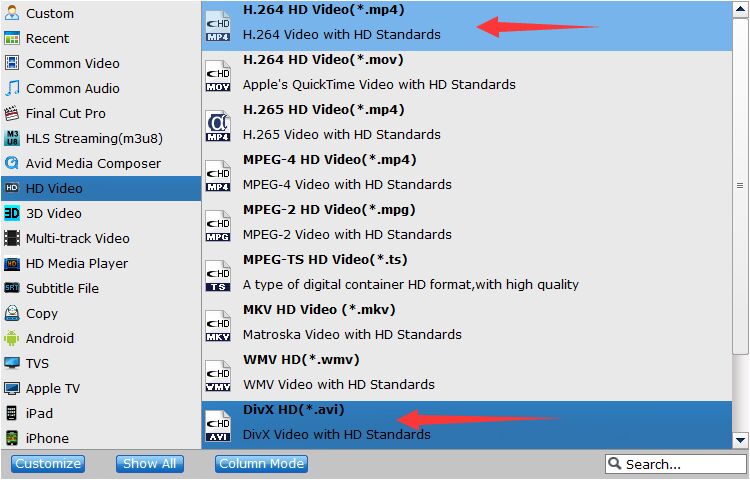 Tips: If you want to do some advanced settings, you can click "Settings" icon to adjust the video, audio parameters bitare, frame rate, sample rate, audio channel, etc. Plus, you can click "Edit" button to do some editing work cropping, trimming, settings effect, adding subtitles.
Step 3: Click "Convert" button and the program will rip the Ultra HD Blu-ray movies to 1080p MP4 or DivX AVI videos immediately. You can easily find the output files in the output folders once the conversion is done.
Finally you can transfer the generated 1080p files to your USB drive, plug the USB drive into your Blu-ray Player's USB port.
You're done! Now you can play a 4K Ultra HD Blu-ray on a common Blu-ray Player without any problem.
Tips: If there are no USB ports on your Blu-ray player, you can opt to burn MP4 files to Blu-ray disc for directly playing on Blu-ray players with the following 3 free Blu-ray creator.
StarBurn: A nice full-featured CD/DVD/Blu-ray burning app. It has a nice GUI interface that splits your burning options into audio, video, and data. You can burn images and build ISO images also. Unique features include the ability to erase a disc and to compress audio.
Tiny Burner: An excellent freeware app that works with CDs, DVDs and Blu-ray discs. The installer also comes with a 32-bit and 64-bit version and will install the appropriate version automatically. Just load your disc into the drive, drag and drop the files you want and click the Burn icon to burn the disc.
True Burner: It can burn standard, multi-session and bootable CDs, DVDs and Blu-ray discs. It's got a very simple user interface and not a whole lot of settings. It doesn't have a lot of advanced features like ImgBurn, but it gets the job done and it works well.