"I didn't want to butt into someone else's thread so I thought I'd create this one. I'm curious about the quality of ripped blu rays (and DVD's, but mainly blu). As in will any compress the file size but give a completely lossless film for both video and audio? Or is the best way to do blu ray keep the entire thing so no quality is lost (obviously that could mean up to 50gb per movie). Also if the above is possible will it retain any audio tracks within it, e.g. DTS HD, True HD and standard dd5.1 and DTS?"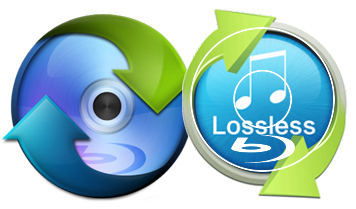 If you want to get movies off of Blu-ray discs and onto your phone, tablet or somewhere else, you'll need to first turn the Blu-ray discs into a digital file format on computer - play it wherever you want. The point here is, to rip a Blu-ray, is it possible to do this without any further or additional quality loss? If the answer is yes, then which the best method for lossless Bluray rip? In this post, we'll show you how to rip a Blu-ray with 1:1 same quality, or convert Blu-ray to digital formats with at least 98% of the original quality.
Why does Blu-ray Transcoding Produce Quality Loss?
To address the large file size of videos which contain a lot of data, we use codecs to compress them. The most common codec is H.264, along with many others like MPEG-2, H.265, AV1, XVid, etc. When you transcode a Blu-ray, it refers to a process of taking the M2TS video out of the Blu-ray and re-encoding it with a different codec or different settings.
There are three types of transcoding: lossy-to-lossy, lossless-to-lossless, and lossless-to-lossy. Once the quality loss happens, you can get back the original quality again. So there is no loss-to-lossless transcoding. As Blu-rays are encoded in the inefficient M2TS codec (lossy codec), you're left with no choice but lossy-to-lossy transcoding, which will decrease the quality to degrade even further. This is why you can't rip Blu-ray losslessly with Handbrake. What you need is to rip Blu-ray without transcoding with a proper tool.
How to Rip Blu-ray without Losing Quality?
The lossless Blu-ray ripper you can rely on is EaseFab LosslessCopy. It offers three modes to rip Blu-rays in 100% original quality:
1. Directly Copy Blu-ray Main Movie without extras
Save 100% intact M2TS main movie from your Blu-ray without any quality loss. This way helps you remove the unwanted trailers, extra menus, comments, etc. and just keep the the main film.
2. 1:1 Full Disc Copy
Copy the entire disc in original file structure with all subtitle tracks and audio streams preserved. In this way, everything is kept including trailers, extra menus, comments, etc.
3. Rip Blu-ray to Lossless MKV
Envelop Blu-ray main movie to single MKV with all subtitles and audio streams included, so that you can alter them when you're watching your the ripped MKV movies.
Extra benefits: In addition to lossless Blu-ray rip, the software will also rip Blu-rays and DVDs in the best quality to MP4, HEVC, H.264, MOV, AVI, WMV, more formats and devices. Any protected, new, and old Blu-rays and DVDs are supported.
[Steps] How to Rip Blu-ray without Quality Loss using EaseFab LosslessCopy
Download, install, and run the Blu-ray ripper on your computer:
Step 1: Load Source Blu-ray movies
After you open EaseFab LosslessCopy, click Load Disc button to add the Blu-ray files from your BD drive you want to rip. On the software main interface, there is a viewing window provided for you to preview the Blu-ray files to ensure the files are what you want to rip. You can also take snapshots of the Blu-ray movies when previewing them.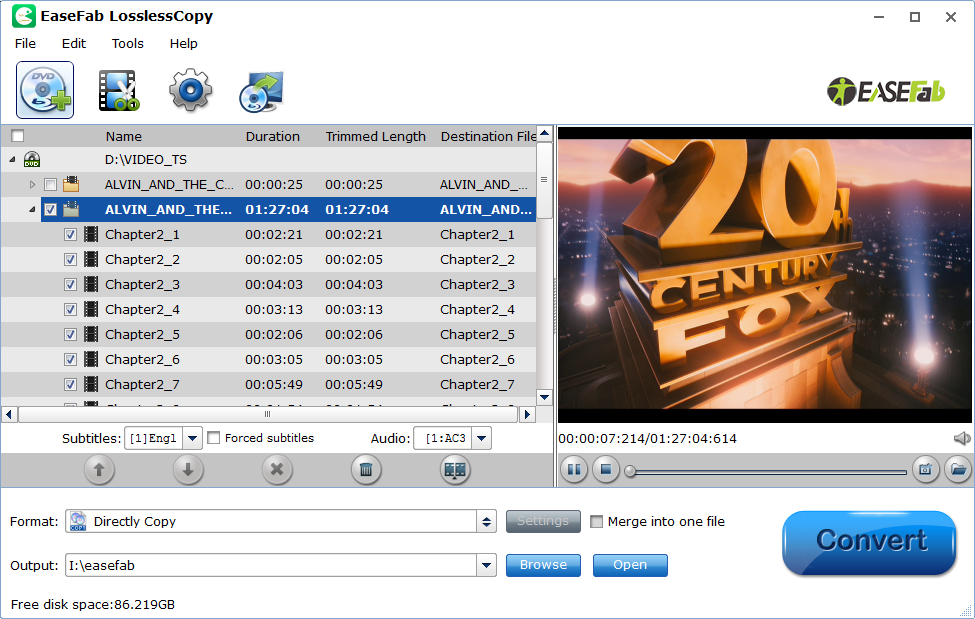 Step 2: Select your preferred method to do lossless Blu-ray rip
Method 1 - Directly Copy Blu-ray Main Movie without extras
Click on the Format bar and choose Copy > Directly Copy format from drop-down list. This will allow you to copy main movie from Blu-ray/DVD discs and leave out extras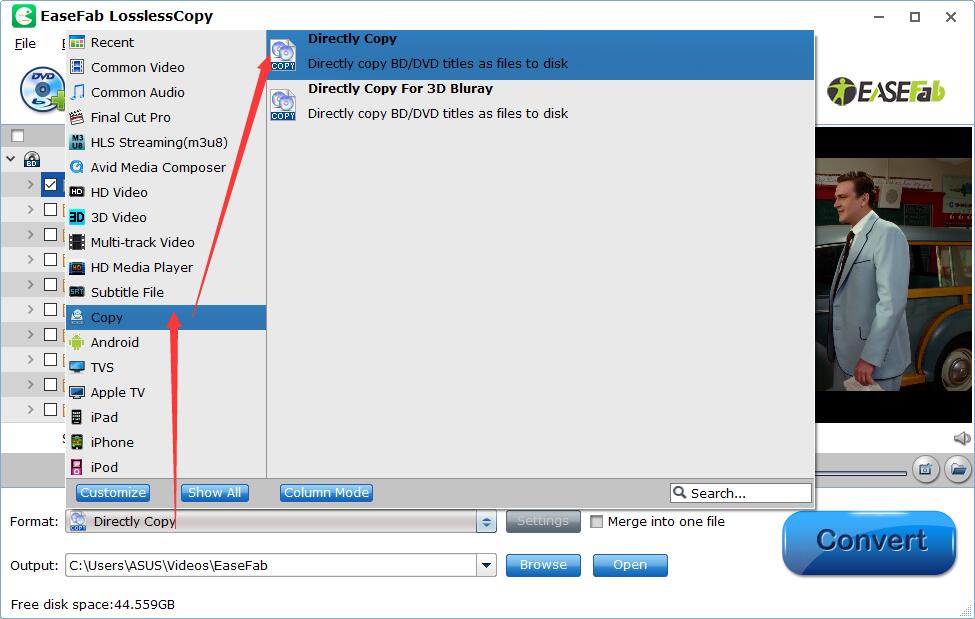 Method 2 - Copy the Entire Disc
Simply click the Copy the entire disc button and LosslessCopy will directly start to backup the whole content of a Blu-ray without losing anything.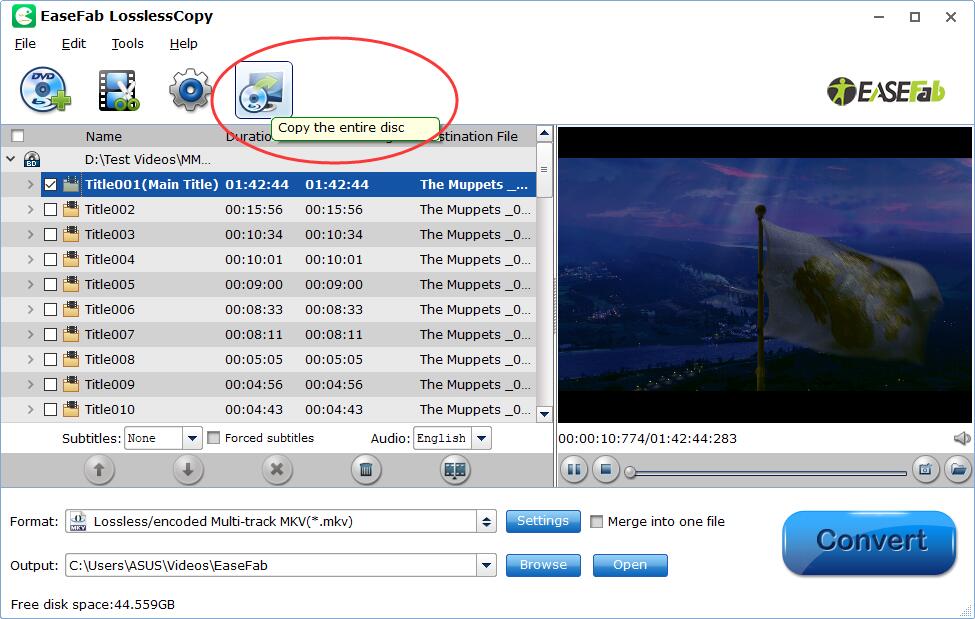 Method 3 - Rip Blu-ray to Lossless MKV
Click the Format bar to follow "Multi-track Video" > "Lossless/encoded Multi-track MKV (*.mkv)", which enables you to get the output video with multiple audio tracks and subtitles while keeping lossless video quality.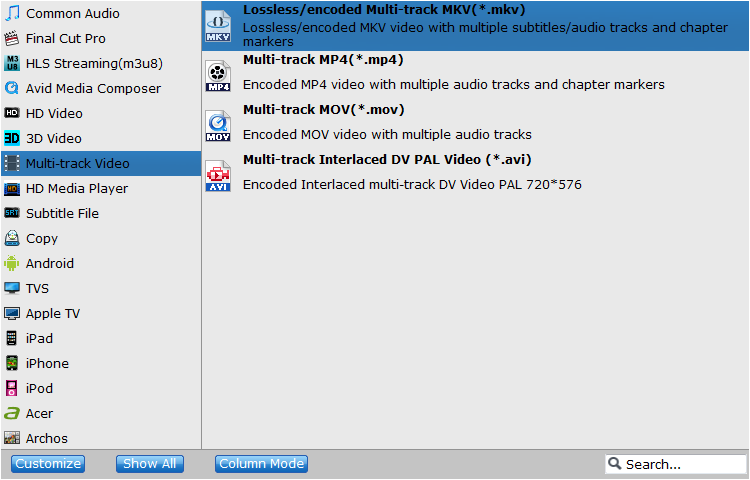 Multi-task settings (Optional)
Click "Settings" to switch to the "Multi-task Settings" interface where you can change video/audio/subtitle settings. For Blu-ray to MKV lossless rip, you can keep the default settings without any change.
You can also click the "Audio" tab to check the audio channels you want and uncheck the unwanted. Click the "Subtitle" tab to check the subtitle language you want to keep and uncheck the unwanted ones. As you see in the following screenshot, you can tick off "Encode" option if you want to compress the audio tracks.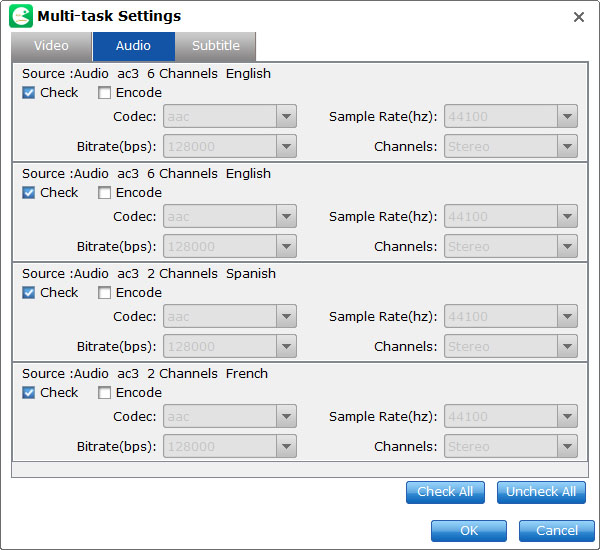 Rip Blu-ray with Best Quality & Smallest Size
A related demand to the lossless Blu-ray rip is how to rip Blu-ray with high quality and small file size. Convert Blu-ray to MP4 for better compatibility and to H.265 for smallest size. You will lose some quality in the picture, but you can hardly spot the quality loss.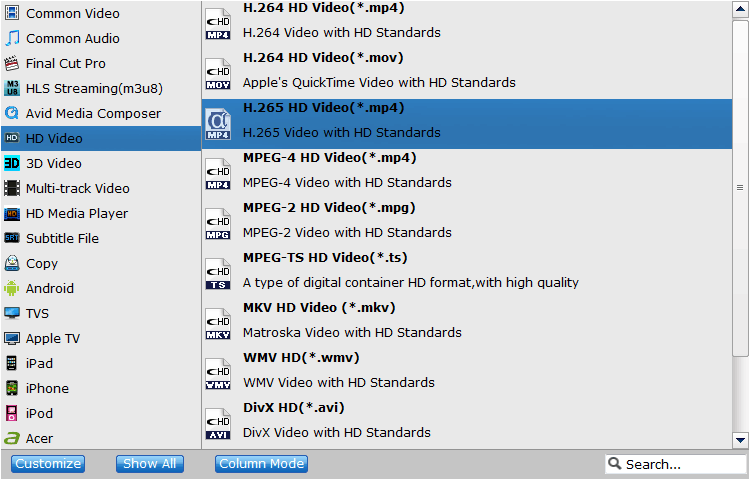 Step 3: Click Browse to set where you want to save the output video.
Step 5: Clik Convert to start the conversion. The time of Blu-ray rip depends on the output format you select. Normally, all the three ways of lossless Blu-ray ripping can be done in 5 minutes.