As a cloud file storage and synchronization service, Google Drive allows users to upload various kinds of file types, such as documents, photos and videos, for storing on its server, synchronizing across devices and sharing files with others. As a fact of matter, Blu-ray quality beats streaming by a long shot, but discs are more convenient than ever. Therefore if you have a collection of movies, TV series on Blu-rays, you can choose to digitize your Blu-ray collection and store those high-quality Blu-ray movies to Google Drive. This way you can store Blu-ray digital copies without occupying the memory of computer or other devices and can access Blu-ray movies on smartphone, tablet, or others via Google Drive. Wherever you go, your Blu-ray movies follow.
In this article, you will learn the best way to rip your Blu-rays for uploading to Google Drive, and how to keep a good quality-size balance to store your entire collection. If you want to rip your DVDs, this process will work as well, but we'll focus on Blu-rays - our recommended process for DVDs to Google Drive is a little different.
Get An Easy-to-use Tool to Rip and Upload Blu-rays to Google Drive
Nevertheless, you're not allowed to extract the video of Blu-ray to computer directly for further uploading on Google Drive or elsewhere because of the inbuilt copy protection schemes. You need to use a third-party Blu-ray ripping tool to do that job. Among all Blu-ray rippers in the market, EaseFab Blu-ray Ripper is the highly recommended one for the following features.
◈ It can easily rip Blu-rays encoded with region code, AACS encryption, BD+, MKB technology and other copyright restrictions. DVD discs, ISO image file, BDMV folder, Video_TS folder are supported as well.
◈ It is available to digitize Blu-rays to MP4, MOV, WMV, and other Google Drive supported video formats with proper file size for fast uploading.
◈ It can easily adjust the resolutions, bit rates, codecs, etc. of the output video to reduce final file size. Specifically, the ripped MP4 file is 1.2GB ~ 1.8 GB instead of the huge 50GBs for a full movie, a 96% space saving.
◈ It offers a library of preprogrammed optimization profiles for specific devices such as smartphones, tablets, gaming systems, smart TVs and more.
◈ It can copy main movie from BD/DVD discs and leave out extras; 1:1 Backup original Blu-ray and DVD to computer hard drive with all languages, subtitle tracks and chapter info.
◈ Powered by Intel®, AMD® and NVIDIA® GPUs, the hardware acceleration can expedite Blu-ray ripping and transcoding up to 30X faster without compromising quality.
Tutorial: How to Rip Blu-ray for Uploading to Google Drive
To begin with, you need to download and install EaseFab Blu-ray Ripper Windows or Mac version on your computer. The guide below take Windows version for an example. Mac version has the same process.
Step 1: Load your Blu-rays.
Download After downloading, install and launch the program. Insert your Blu-ray disc into your BD Drive (necessary for ripping Blu-ray) and click Load Disc button to upload Blu-ray files. At the bottom, you can select your desired subtitle and audio track.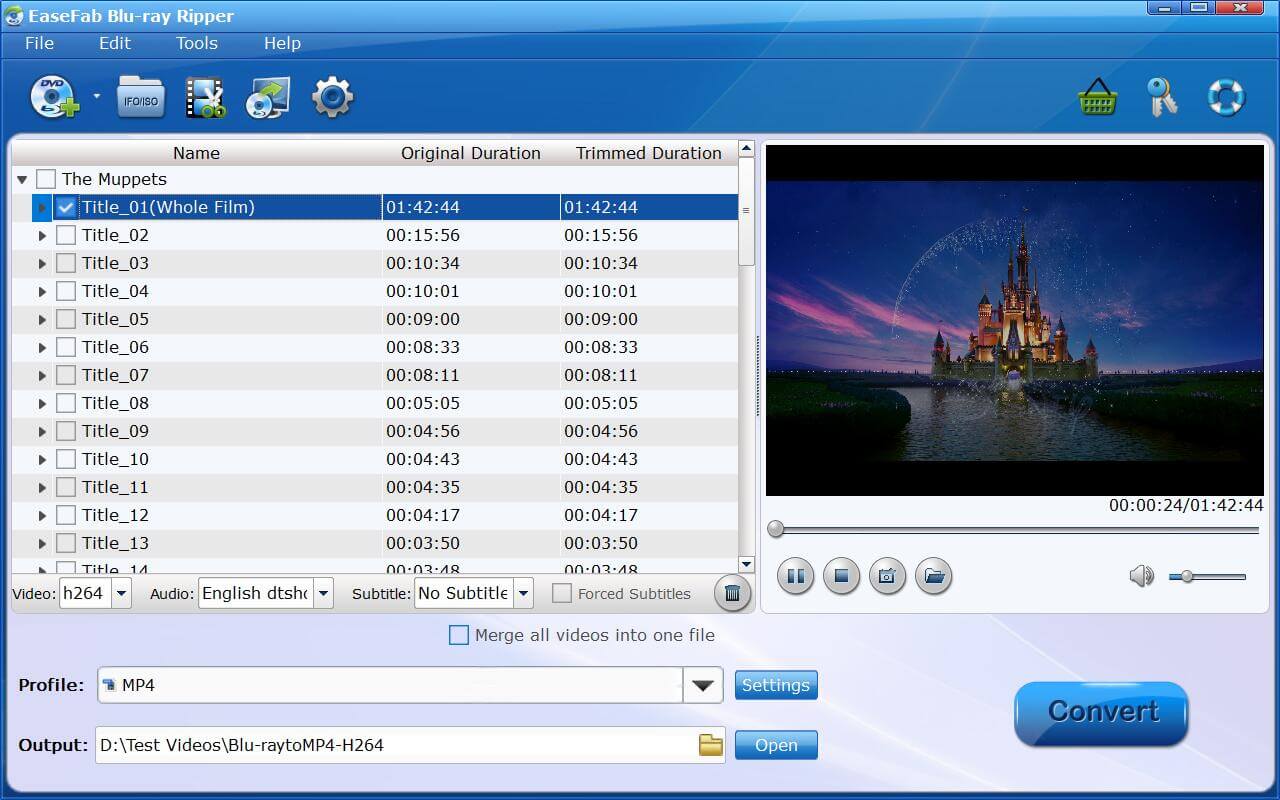 Step 2: Choose a proper output format for Google Drive.
The selection of output format depends on your specific need:
1. If you only need to store Blu-ray digitally and put the movie library to the Google Drive, you don't need to consider about the format matter. Generally, almost all the mainstream video and audio formats are supported by the Google Drive. If you are still unsure of the media format, check the table below.
Supported Video Formats: WebM, .MPEG4, .3GPP, .MOV, .AVI, .MPEGPS, .WMV, .FLV, .ogg
Supported Audio Formats: MP3, MPEG, WAV, .ogg, .opus
2. If the quantity of Blu-rayu movies to be saved is large, try to choose the output format with comparatively low quality (for small output size), and oppositely, choose the high quality.
3. If you desire to play the converted Blu-rays on Apple TV, iPad, iPhone Samsung table, PS4, Xbox One and any of other portable device, you can choose directly from the device profile listed on corresponding device category.
4. For general uses, MP4 in Common Video is recommended, as it is widely supported by many devices and media players. If need to get a good balance between file size and output quality, flexible options are offered to further reduce the size of the ripped video. Click Settings button beside the profile bar and enter into the parameter settings page. A slew of other variables such the video/audio codecs, pixel dimensions, frame rate, bit rate, audio sampel rate, etc. will help convert a Blu-ray at 40GB to a smaller MP4 file to make more room for your Google Drive.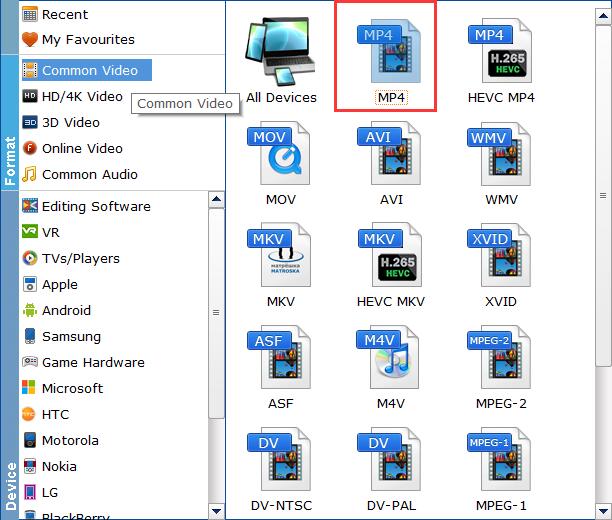 Recommended video size settings:
◆ You're not suggested to adjust the frame rate and aspect ratio, if not necessary.
◆ Lower the bitrate to a lower level. Adjusting the original Normal quality to bitrates of around 1800-2000 is acceptable and can make your ripped MP4 movie around 1.2-1.8GB in size, 96% smaller than the original Blu-ray movie, and to the naked eyes, it's highly unlikely to distinguish the difference between the original movie and the re-encoded video.
◆ Lower the resolution. Typical Blu-ray videos are 1920×1080 (Full HD). Adjust the resolution to lower 1280×720 or higher won't make any quality difference.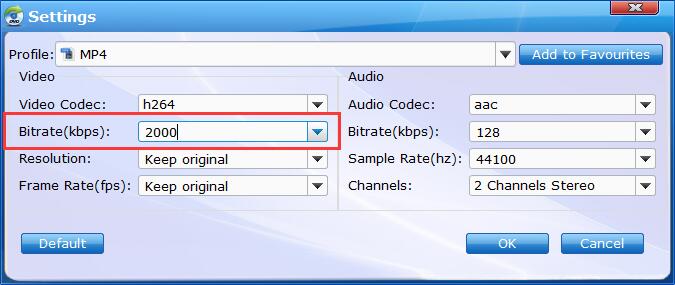 Step 3: Start ripping Blu-ray.
Simply click Convert button and then it will begin decrypting and digitizing the disc. Within minutes (note: the ripping speed varies depending on your computer configurations.), EaseFab Blu-ray Ripper will finish the ripping and put the digital copy of your Blu-ray in the destination folder. Then, you can upload it to Google Drive.
How to Upload Blu-ray rips to Google Drive
You can add ripped Blu-ray movies on your computer to Google Drive with the following 3 methods: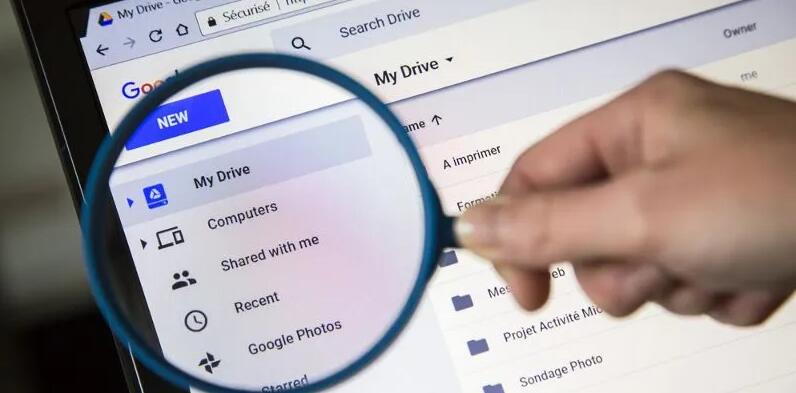 Method 1:
1. Go to drive.google.com.
2. Click + New button at the top left corner and click File Upload.
3. Browse and open the DVD movie to upload to Google Drive.
Method 2:
1. Go to drive.google.com.
2. Drag the DVD movie to a folder of your Google Drive. If you don't have a folder yet, create a folder now: click + New -> Folder -> give it a name and click CREATE.
Method 3:
1. Install Google Drive application on computer. And then you'll see a folder called Google Drive on your computer.
2. Drag the DVD movie to the Google Drive folder. The movie will be uploaded to Drive and shown on drive.google.com.