To this day, Video streaming subscription has surpassed physical media as a more popular choice for home entertainment. And there are very few ways to watch your Blu-ray disc on your PC or Mac without shelling out cash for the privilege, even if you already own a external or internal Blu-ray drive and bought your movies. Instead, it's simpler to rip and convert your Blu-rays to cloud-friendly format so that you can save digital copies to cloud. This way you can not only save up your local storage space, keep your Blu-ray discs from scratching, but also be able to access to your file library on various platforms as long as internet connection is available.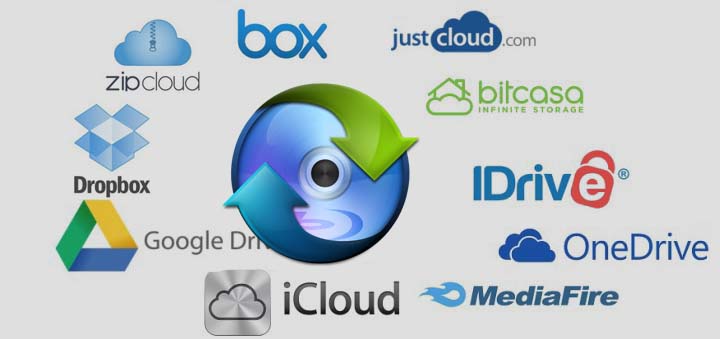 This way, you don't need to swap discs, you can play your movies in any app you want, and after uploading the result Blu-ray rips to cloud or something else, you can keep your Blu-ray digital library secure and stream them on demand to whatever cloud-compatible devices. If you want to digitize your old DVD collection and store them in cloud, this process will work as well. But we'll focus on Blu-rays. If you're interested in uploading your Blu-ray movies to cloud storage services, such as Dropbox, OneDrive, Google Drive, Amazon Drive, and iCloud, keep on reading for details.
What You Need to Rip Blu-ray to Cloud-Friendly Formats
● Your Blu-ray discs.
● A Blu-ray disc drive. If your computer came with any disc drive at all, it was probably a DVD drive. However, you'll need a Blu-Ray reader in order to rip your Blu-Ray discs (obviously). An external good Blu-ray drive can be purchased for as little as $25.
Note: If you want to rip 4K UHD Blu-rays, you'll need to get a 4K Blu-ray drive.
● A program to rip the files. We'll be using EaseFab LosslessCopy in this guide, which is available for both PC and Mac.
Why We Choose EaseFab LosslessCopy for Digitizing Blu-ray Collection for Cloud
EaseFab LosslessCopy earns its award as the best Blu-ray ripping tool mainly due to rich features and solid functions, while an ultimate fast speed on Blu-ray yet DVD ripping and decoding making it be highly praised by users and editors. It can convert video clips from almost all encrypted Blu-ray/DVD discs into MP4, MKV, AVI, WMV, 3GP, FLV, other mainstream video formats with good balance between image quality and file size.
Digitizing Blu-ray and DVD with LosslessCopy won't take you too much time. You can probably finish ripping a Blu-ray to lossless MKV within 5 minutes only. This is because it adopts multiple advanced technologies to boost ripping speed, among which, Intel QSV and NVIDIA CUDA/NVENC powered level-3 hardware acceleration is particularly worth mentioning. Level-3 hardware acceleration means that the hardware is used to assist all of the three main parts of video transcoding, including decoding, processing, and encoding, instead of only one or two of them.
If you're going to upload your Blu-ray movies to Cloud for streaming on device like iPhone (11/Pro/Max), iPad (Pro/Air/Mini), Apple TV, iPod, Google, HTC One, Samsung (Galaxy S10), Microsoft (WP8, Surface, Xbox), Amazon Fire phone, Sony (PSP/PS4) and more, there are a large library of ready and optimal presets for your choice. You just need to select the device profile as the output and that's very convenient.
With LosslessCopy, you will instantly experience the latest and most advanced technologies, including but not limited to Passthrough, HEVC, 4K, etc., and it will always keep updating to support the newest releases and devices. You can download a free trial version of this software, but you'll have to pay an annual subscription fee to use it for ripping Blu-ray or DVD discs longer than three minutes. Having to pay for Blu-ray ripping software isn't all bad though. It means you don't have to contend with in-app ads and upsells, and you get advanced features you wouldn't find in free Blu-ray rippers. Plus, LosslessCopy's price tag is fairly low, and we definitely think it's worth it.
Why Should you Use EaseFab LosslessCopy instead of MakeMKV?
MakeMKV is the first choice of many users when it comes to extracting MKV from a Blu-ray without quality loss. However, the output format is limited to MKV and the generated MKV file from Blu-ray disc is always in huge size (almost as the same as the original Blu-ray discs at 25-50GB). The huge MKV files will takes lots of time to be uploaded, or even can be uploaded to almost all cloud storage services. Let alone stream them to your smartphone, tablet or other device.
[Guide]How to rip Blu-rays to cloud-friendly formats with LosslessCopy
To begin with, you need to download and install EaseFab LosslessCopy Windows or Mac version on our computer. Digitizing Blu-rays with LosslessCopy is as simple as ABC. The below guide takes EaseFab LosslessCopy for Windows (Windows 10 compatible) screenshots for example.
Step 1. Insert the Blu-ray disc to the BD drive and then click the Load Disc button to have Blu-ray movies uploaded to EaseFab LosslessCopy. A few seconds later, the full title list of Blu-ray with the auto-checked main title are presented. Besides Blu-ray disc, BDMV Folder, ISO image and VIDEO_TS folder can also be taken as source for decoding.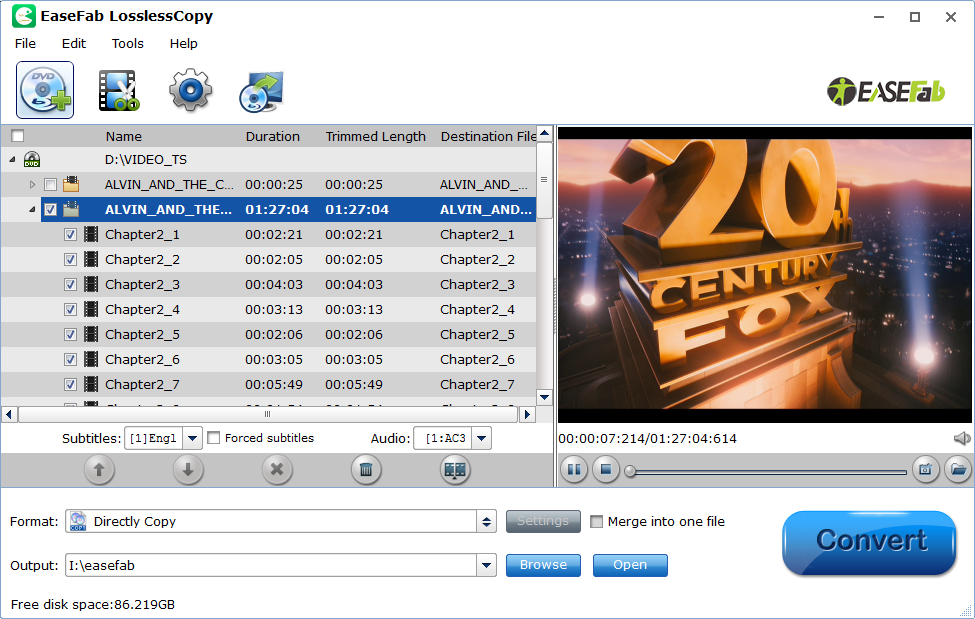 Step 2. Choose a desired output format profile. If you'll archive the result file into cloud, make sure the chosen format is supported by the cloud storage service you use. Bacially, H.264 MP4 is an universal format supported by almost all cloud storage service and multimedia devices. If you want to upload Blu-ray movies to cloud for streaming to your smartphone or tablet, you can easily find an optimal preset for your device from the correspoding category.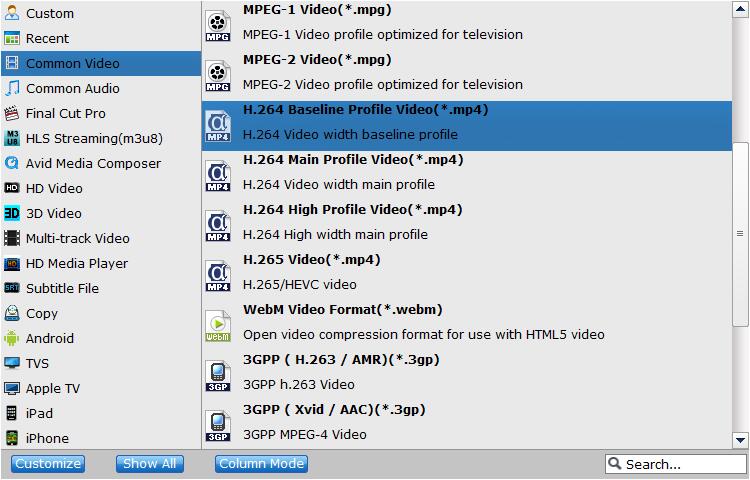 Step 3. To get a good balance between image quality and file size, you're suggested to click Settings button customize the parameter settings. Flexible options are offered to further reduce the size of the ripped MP4 video. A slew of other variables such the video/audio codecs, pixel dimensions, frame rate, bit rate, audio sampel rate, etc. will help convert a Blu-ray at 40GB to a MP4 file smaller than 3GB.
Recommended settings: (Refer to the following settings screenshot)
Please note: Adjusting these variables have some effect on the re-encoded video quality. Remember the file size and video quality is based more on bitrate than resolution which means video/audio bitrate higher results in big file size, and lower visible quality loss.
1. You're not suggested to adjust the frame rate, if not necessary.

2. Lower the bitrate to a lower level. For example, adjusting the bitrate from 1500-2000 is acceptable without noticeable pixellation.

3. Adjust bitrate from the Medium Qaulity to 1500 ~ 2500.

4. Lower the resolution of video. Typical Blu-ray videos are 1920×1080 (Full HD). Adjust the resolution to lower 1280×720 or higher won't make any quality difference.

5. Adjust audio Bitrate from original 320000 to 128000 and the Sample Rate from original 48000 to 44100.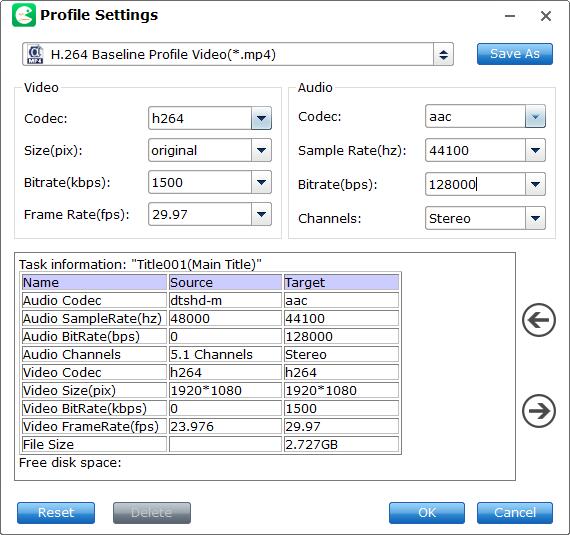 Step 4. Click the big blue Convert button and it will begin ripping Blu-ray to digital file immediately. You can check on the progress from the popup window.
How to Save Blu-ray digital copies to cloud
There're many choices of cloud storage services, such as Dropbox, OneDrive, Google Drive, Amazon Drive, and iCloud. They will keep your Blu-ray digital library secure and allow you to stream them on demand to whatever cloud-compatible devices.
It is easy to upload Blu-ray backups to cloud. Take Dropbox as an example. You just need to: open and sign in to dropbox.com -> click Upload -> choose Files or Folder to select target Blu-ray digital copies for sending to cloud. Certainly you can also upload videos via Dropbox application.